184953
Kotoučová řezačka - 3v1
Čepele 45 mm průměr
---
---
Obsahuje 2x rovnou, perforovací a vlnkovou čepel
Ergonomicky tvarovaná rukojeť s gumovými úchyty
Vhodné pro použití leváky i praváky
Řeže více vrstev zaráz
Použijte s řezací podložkou pro ochranu čepele
---
Kupte Online
Najít prodejce
Zhodnoťte tento produkt
8 recenze/í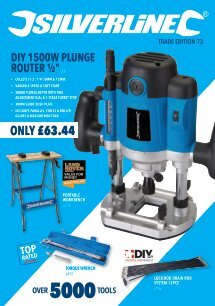 ---
Informace o produktu
| | |
| --- | --- |
| Povrch | Smooth with rubber grip |
| Hmotnost | 0.093kg |
---
Klíčové vlastnosti
Ergonomicky tvarovaná plastová rukojeť s gumovými úchyty a výklopným krytem kotouče. Obsahuje 4 x čepel 45 mm průměr: 2 x rovný, 1 x perforovací a 1 x vlnky. Použití s ​​řezací podložkou. Délka 170 mm. Vhodné pro použití leváky i praváky.
---
Balení obsahuje
---
Hodnocení zákazníků
kým: Tony M
2019-01-14T00:00:00
Even though the company I work for Has branched into digital print to add to our Litho range the Duplo system still needs swapping over for different sizes & for jobs of 50 copies or less it''s too much hassle: but with the ambidextrous 3-in-1 Rotary Cutter [we only use the perf disc] we can rule & perf without having to set up a machine & is just as quick. The only problem we foresee in the future is buying replacement perfs :-/ We''ve asked the CEO to buy one for the Repro & sales department so the customer can get a perforated copy at the sample stage. Thank You.
---
kým: Daniela S
2017-11-29T00:00:00
A useful tool when straight edge is needed.
---
kým: Norice M
2017-02-21T00:00:00
A superior product, with excellent cutting blade. Far exceeds quality of my previous rotary cutter and would not hesitate to recommend to other customers.
---
kým: Norice M
2017-02-14T00:00:00
I found the Silverline tool far superior to previous ones I have owned. The blade can be retracted for safety, a new feature to me and the handle is so well shaped to make it easier for the user. Excellent quality at the right price. Highly recommended.
---
kým: Angela M
2017-01-28T00:00:00
It takes a little time getting used to using it, so practice on your different fabrics first. Easy to change from right to left handed if you need to. The extra blades are great too
---
kým: Pablo
2017-01-22T00:00:00
I have just started to use it and it''''s fantastic.
---
kým: Angela M
2017-01-21T00:00:00
As a newbie to using rotary cutters, I was concerned it may not be to good, due to the cheapness of the item. I was pleasantly surprised at how good it is. I did do some practice use first, and discovered some pressure is needed to get a clean cut, and the different types of spare blades was good too, Love the wavy blade for "Pinking" fabric, which is a great addition. My only concern was, it wasn''''''''t immediately obvious that as a leftie, that the blade holder/cover needed to be moved to the other side of the rotary cutter to make it work correctly for me. I only spotted this when I was trying out the different blades, and spotted the "L" &amp "R" under where the blade is held. All in all, I would definitely recommend the rotary cutter.
---
kým: M
2016-09-26T00:00:00
Fantastic tool, makes cutting materials easy and accurate. Should have bought one a long time ago. Very usefull.
---
Doživotní záruka
Teto Silverline Kotoučová řezačka - 3v1 je během 30 dní od nákupu chráněn před vadami z důvodu použití špatného materiálu při výrobě nebo použitím nesprávného výrobního postupu. Tuto záruku můžete prodloužit tím, že svůj Doživotní registrujete během 30 dní od nákupu. Jakékoliv vadné výrobky budou opraveny nebo vyměněny zdarma.