269131
Pneumatický hřebíkovač a sponkovač 50 mm
Velikost 18
---
---
Lehký hřebíkovač s měkkou gumovou rukojetí
Ideální pro čalounické, obkládací a jiné řemeslné práce
Bezpečné ovládání chrání před náhodným spuštěním
Používá hřebíky s malou hlavou velikost 18 a sponky 10-32 mm
Obsahuje vnější 1/4" rychlospojku
---
Kupte Online
Najít prodejce
Zhodnoťte tento produkt
18 recenze/í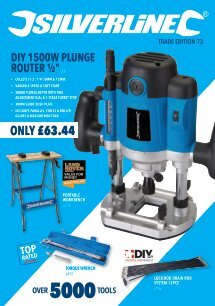 ---
Informace o produktu
| | |
| --- | --- |
| Spotřeba vzduchu | 4 - 6cfm |
| Connector Size | 1/4" Quick connect |
| Handle - Primary - Finish | Rubber |
| Materiál - vedlejší složení | Aluminium body |
| Hmotnost | 1.10kg |
---
Klíčové vlastnosti
Lehký hřebíkovač s měkkou gumovou rukojetí. Ideální pro čalounické, obkládací a jiné řemeslné práce. Bezpečné ovládání chrání před náhodným spuštěním. Používá hřebíky s malou hlavou velikost 18 a sponky 10-32 mm typ 90 a tp A. Provozní tlak 4-7 bar. Obsahuje vnější 1/4" rychlospojku.
---
Balení obsahuje
1 x Air nailer stapler 32mm
1 x 1/4" quick connector
1 x Bottle air tool oil
2 x Hex keys
1 x Instruction manual
---
Hodnocení zákazníků
kým: Glen
2017-03-10T00:00:00
Really nice...piece of kit. Just remember to add your oil before you use. We constructed a Hen shed from start to finish, no probs at all, worked really well :)
---
kým: ken w
2017-01-26T00:00:00
nice tool to use light easy to load easy to use can not fault the tool
---
kým: Michel D
2016-10-10T00:00:00
Je me demande comment j''''ai pu m''''en passer jusque maintenant !
---
kým: Glenn W
2016-08-30T00:00:00
My first silver line purchase that has since prompted me to buy several other products. Good quality nailer that has ran very well with only one blockage that was probably my fault with low pressure. Simple to clear it though with 3 screws. Will not hesitate to buy silver line products and with 3 years warranty you can''t go far wrong.
---
kým: Glenn s
2020-04-21T00:00:00
---
kým: Paul M
2020-02-15T00:00:00
This is the second nailer I have purchased, pleased with the first one. I now have a spare as I do use this nailer regularly . I would highly recommend this nailer, inexpensive but a reliable and superb piece of equipment
---
kým: Ruben G
2019-10-21T00:00:00
Does what it says on the tin, at a great price, I''m impressed! Well done Silverline!
---
kým: lodewijk
2019-10-11T00:00:00
het is een perfect stukje gereedschap en doet aan allen verwachtingen die wij goed kunnen gebruiken in ons werk
---
kým: Philippe G
2019-09-01T00:00:00
Tout à fait satisfait du produit qui fonctionne très bien et me permet de travailler vite.
---
kým: David R
2019-07-16T00:00:00
Great item good value very well made a must for the worksho
---
kým: Terry G
2019-01-18T00:00:00
I have used this product a couple of times and it works very well. Too early to tell it''s longevity but so far would highly recommend.
---
kým: Mike B
2018-12-09T00:00:00
We all love to buy trade rated tools but mostly the price is way outside the average DIYers budget, I always look for Silverline when I need a new tool. My latest acquisition, an Air Stapler/Nailer, is excellent, does exactly what it claims, cleanly and neatly, well built, it feels solid and of good quality. I have a lot of Silverline tools and accessories and will continue to source them when I am looking for any others, good quality at a very reasonable price.
---
kým: Jurij
2018-09-04T00:00:00
I bought a stapler less than a year ago, the shock part broke. Where can I order a shock part with a piston?
---
kým: julien l
2018-06-23T00:00:00
super outil bonne qualité je très content des outils silverline bravo et merci !!!!!!
---
kým: julien l
2018-06-05T00:00:00
très bon outil je suis content
---
kým: Tony D
2018-05-01T00:00:00
I needed a tool to fix some new cross members to my wooden vertilap fence panels, as the ones on the bottom of the fence panel had rotted away. I had tried using an electrical nailer in the past for fixing some other fence panels, but it was useless as the tool jammed after every five or six staples were used, so I took it back to the shop for a refund. My son offered to lend me this Silverline Stapler to see if it was any better than the electric one had been, as he had purchased this Silverline tool for fixing some trim in his camper van. Reluctantly I decided to give it a try. There is no comparison. I " fired" over 200 x 25mm staples in to my fence panels (2 into each board) and the nailer didn''t jam once. In my opinion this Nailer/Stapler represents excellent value for money, and I highly recommend it.
---
kým: Charles
2017-10-02T00:00:00
I''ve only been using this tool for a couple of weeks, but it''s surprisingly reliable, and strongly built. I purchased it as my first Air nailer, and have been suing it on a 24L compressor, it works just fine. I would however, next time, purchase a tool that accepts longer nails / staples, for stronger bonds. Another reason that motivated this purchase was its price: very, very, very competitive !!
---
kým: Peter S
2017-03-16T00:00:00
This is a very light tool to use,it does not have a ''kick'' like most nail guns and works well on my air compressor,no need for excessive pressure from gun to worksurface,and not that noisy as my last cordless gun.
---
3-letá záruka
Teto Silverline Pneumatický hřebíkovač a sponkovač 50 mm je během 30 dní od nákupu chráněn před vadami z důvodu použití špatného materiálu při výrobě nebo použitím nesprávného výrobního postupu. Tuto záruku můžete prodloužit tím, že svůj 3-letá registrujete během 30 dní od nákupu. Jakékoliv vadné výrobky budou opraveny nebo vyměněny zdarma.