508819
Vodící pouzdro na otvory pro spojovací kolíky
30 mm
---
---
Pro výrobu spojů tvaru E, L a T
Na spojovací kolíky 6, 8 nebo 10 mm, do materiálu až 30 mm silného
Vrtáte do obou částí spoje současně pro dokonalé výsledky
Pro použití s většinou 1/2" fréz
Rychloupínací T svěrky
---
Kupte Online
Najít prodejce
Zhodnoťte tento produkt
9 recenze/í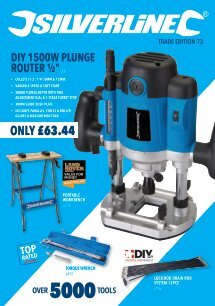 ---
Informace o produktu
| | |
| --- | --- |
| Povrch | Plastic with polished hardened steel inserts |
| Způsob konstrukce | Moulded with insterted steel alloy sleeves |
| Hmotnost | 0.186kg |
---
Klíčové vlastnosti
Pro výrobu spojů tvaru E, L a T se spojovacími kolíky 6, 8 nebo 10 mm, do materiálu až 30 mm silného. Obsahuje instruktážní návod.
---
Balení obsahuje
1 x Dowelling jig
1 x Instruction manual
---
Hodnocení zákazníků
kým: Rafał
2020-04-29T00:00:00
I used this jig first time. All hole was perfect. I never thought the making hole will be so easy :)
---
kým: David P
2019-08-30T00:00:00
Pleasantly surprised by the quality of the dowel jig. First thing, I checked the openings 6, 8 and 10mm. All spot on. Instructions were easy to follow and off I went. Great tool, very happy.
---
kým: Tadeusz
2019-06-27T00:00:00
---
kým: Bob
2017-09-26T00:00:00
Well made Jig that is simple to use, used it several times and each time the dwells have lined up...which is always a plus :-). The sleeves help ensure the drill makes the hole in the correct place - which is otherwise normally difficult with chipboard.
---
kým: John F
2017-07-16T00:00:00
I found this very easy to use, produce very good results and a good asset for any workshop
---
kým: John B
2017-05-15T00:00:00
A great item becomes a third hand to help ensure dowels sit in the correct position in my woodworking project. It made life so easy! And it was a great price as part of a ''kit''.
---
kým: Pat
2017-04-27T00:00:00
A neat and attractive item. Both seller and I had trouble to figure out how it worked. Eventually, everything fell into place. This is a trouble free good quality component to be used by newcomers to woodworking. I would like to make a suggestion if I may please. I would prefer dowel jig to be made using the same material (lightweight Aluminium) as the Pocket Hole Jig.
---
kým: Peter F
2017-03-09T00:00:00
This item was purchased to assist with the construction of a storage unit for my office. The unit is versatile and very well designed and performed just as was expected resulting in all dowels lining up perfectly.
---
kým: Ian R
2016-01-28T00:00:00
Never having used a dowelling jig before, I bought this as an educational learning curve before investing more money in an expensive product. In the 2 days I''ve had it, it has served its purpose. Using scrap wood, I''ve made mistakes by not marking my boards properly and I''ve also made some well-aligned joints by following the instructions carefully. It has helped me clarify my requirements for a professional jig - so in that respect, I can''t grumble at the price. It get''s 4 starts based purely on my use as a ''learning tool''. Almost went pear-shaped - the plastic is very brittle and before I had even used it, I knocked it off my Workmate and one of the protruding centre pins snapped off on the ceramic tile floor (about 3 ft drop). I managed to repair it by drilling the pin and screwing it to a piece of wood in one of the recesses on the other side. The repair doesn''t seem to have compromised the function of the tool. You get what you pay for
---
Doživotní záruka
Teto Silverline Vodící pouzdro na otvory pro spojovací kolíky je během 30 dní od nákupu chráněn před vadami z důvodu použití špatného materiálu při výrobě nebo použitím nesprávného výrobního postupu. Tuto záruku můžete prodloužit tím, že svůj Doživotní registrujete během 30 dní od nákupu. Jakékoliv vadné výrobky budou opraveny nebo vyměněny zdarma.