633493
Sada 1/4" metrických hlavic s klíči - 38 dílů
38 dílů
---
---
Leštěné, chrom vanadiové
Rychlouvolňovací obousměrná leštěná ráčna s gumovou rukojetí, 45 zubů
Univerzální kardan
2 x prodlužovací nástavec 50 a 150 mm
Vratidlo
---
Kupte Online
Najít prodejce
Zhodnoťte tento produkt
17 recenze/í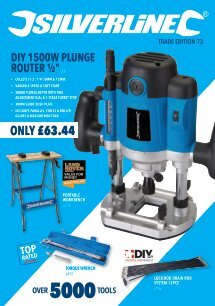 ---
Informace o produktu
| | |
| --- | --- |
| Handle - Primary - Finish | Hardened and tempered |
| Hmotnost | 1.500kg |
---
Klíčové vlastnosti
Chrom-vanadiové vratidlo, 1 x univerzální kardan, 13 x hlavice: 4, 4,5, 5, 5,5, 6, 7, 8, 9, 10, 11, 12, 13 a 14 mm, 3 x hlavice s plochým šroubovacím bitem: 4, 5,5 a 6,5 mm, 3 x hlavice s PZD šroubovacím bitem vel. 1, 2 a 3, 7 x hlavice s hvězdicovým bitem: T10, T15, T20, T25, T27, T30 a T40, 7 x hlavice s šestihranným bitem: 2,5, 3, 4, 5, 6, 8 a 10 mm, 2 x prodlužovací nástavec 50 a 150 mm. Rychlouvolňovací leštěná ráčna s gumovou rukojetí.
---
Balení obsahuje
No.1, No.2, (36150 for bits)
13 x 1/4" Socket 6 point 4, 4.5, 5, 5.5, 6, 7, 8, 9, 10, 11, 12, 13, 14mm (50BV30 mirror polished with knurling)
3 x 1/4" Slotted screwdriver sockets 4, 5.5, 6.5mm (mirror polished with knurling)
3 x 1/4" PZD screwdriver sockets No.1,2,3 (mirror polished with knurling)
7 x Trx bits T10, T15, T20, T25, T27, T30, T40 (6150 for bits)
7 x Hex key sockets 2.5, 3, 4, 5, 6, 8, 10mm (6150 for bits)
1 x 1/4" Universal joint (50BV30 mirror polished)
1 x 1/4'' Ratchet wrench (40CRV mirror polished)
2 x 1/4" Extension bar 50 and 150mm (50BV30 mirror polished with knurling)
1 x 1/4" Sliding T bar (50BV30 mirror polished)
---
Hodnocení zákazníků
kým: Adrie K
2016-09-19T00:00:00
A perfect set of tools. All the sizes are there.
---
kým: Stephen H
2016-08-22T00:00:00
This is one of the best purchases I have made. The tools are robust, cover a multitude of screw and nut types and come in a convenient closable box
---
kým: Baris G
2020-05-27T00:00:00
The tool, sockets and the bits are well manufactured and reliable. Recommended!
---
kým: Harvey
2020-04-14T00:00:00
I am a proffessional mechanic and think this product is of excellent quality. It looks, feels and works perfectly. with a very tough case. The ratchet is strong and reliable. I have bought many tools and silverline have been reliable, great value for money and in my opinion one of the best brands you can buy. I will continue using silverline tools happily.
---
kým: Luke S
2020-03-11T00:00:00
Amazing socket set, I''ve used this a set allot now and everything is of very high quality. I couldn''t be happier.
---
kým: Toni R
2019-08-10T00:00:00
I have to say, that really positive surprise. Very good quality with lifetime warranty, what more can DIY builder wish for.
---
kým: Amokrane
2019-07-19T00:00:00
Outil de très bonne qualité, prise en main facile et simple d'utilisation, Surtout pour un novice comme moi.
---
kým: Ian H
2019-05-02T00:00:00
Well what can I say, a fantastic little piece of kit Has everything you need for those little jobs, plus a lifetime guarantee, what more could you ask for. Thanks Silverline this kit has been a Godsend.
---
kým: Ian H
2019-04-24T00:00:00
What can I say, a compact little socket set with all the bits you need to tackle most things. Yes I would highly recommend this item.
---
kým: Richard C
2019-01-13T00:00:00
I was really impressed by the quality of this socket set, all chrome vanadium with a mirror finish. The plastic backing seems a bit cheap but hopefully it'll go the distance. Supplied with lifetime guarantee too, it's definitely worth getting this set over the countless cheaper ones that seem to be made of cheese.
---
kým: Brecht C
2018-03-16T00:00:00
compacte en gebruiksvriendelijke dopsleutel set. ideaal om mee te nemen voor kleine herstellingen aan de auto.
---
kým: Kelvin P
2017-03-25T00:00:00
Having been an engineer for most of my life, a good handy socket set is what most people would want. Then this set is just up your street. Most sockets and screw bits are all in this 1/4 drive set. Good quality, value and don''t forget - lifetime warranty. A win win situation.
---
kým: Abel F
2017-03-19T00:00:00
I purchased this set to help remove and repair panels from my car, it held up well the high torque and the occasional drop, it has socket big enough to remove most bolts from my car, the only downside i could fi d was that it dosent contain a universal joint
---
kým: Vee
2016-10-23T00:00:00
This socket set has all the sizes in common use, with smaller sizes than many sets include. The sturdy metal tin is a bonus and as well as being stronger than plastics it also is more compact easily fitting in a toolbox drawer. Great value piece of kit.
---
kým: steven o
2016-10-10T00:00:00
great value for money, a good selection of screwdriver, torx adaptors would definitely recommend this product
---
kým: Alex R
2016-10-10T00:00:00
Great little set of sockets that stay in the boot of the car for emergency''''s but was my main socket set for a lot of DIY jobs on the car for sometime and never let me down.
---
kým: Annesh
2016-09-19T00:00:00
This is a great little set of tools and an invaluable piece of kit for any household. Makes assembling flat pack furniture a doddle.
---
Doživotní záruka
Teto Silverline Sada 1/4" metrických hlavic s klíči - 38 dílů je během 30 dní od nákupu chráněn před vadami z důvodu použití špatného materiálu při výrobě nebo použitím nesprávného výrobního postupu. Tuto záruku můžete prodloužit tím, že svůj Doživotní registrujete během 30 dní od nákupu. Jakékoliv vadné výrobky budou opraveny nebo vyměněny zdarma.