633729
Sada pilových děrovek - 16 dílů
19 - 127 mm
---
---
Tvrdé děrovky pro dřevo, sádrokarton, plasty a neželezné kovy
Velikosti: 19, 22, 29, 32, 38, 44, 51, 64, 76, 89, 102 a 127 mm
Upínací stopka 6 mm (1/4") a 10 mm (3/8")
Výztužná deska a šestihranný klíč
Dodáváno v robustním kufru
---
Kupte Online
Najít prodejce
Zhodnoťte tento produkt
17 recenze/í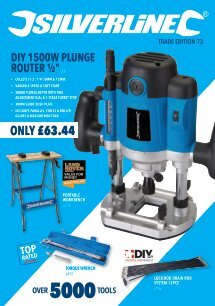 ---
Informace o produktu
| | |
| --- | --- |
| Materiál - vedlejší složení | N/A |
| Shank Length | N/A |
| Povrch | Painted holesaws, black oxide arbor and hex key |
| Materiál - abrazivum | High carbon steel |
| Hmotnost | 0.890kg |
| Velikost zubů/segmentů | 3mm |
| Zuby/segmenty na palec | 6tpi |
| Pitch | N/A - See tpi |
---
Klíčové vlastnosti
Tepelně ošetřené zuby. Pro tvrdé a měkké dřevo, plast, sádrokarton a neželezné kovy. Obsahuje 12 děrovek 19, 22, 29, 32, 38, 44, 51, 64, 76, 89, 102 a 127 mm, upínací stopku 6 mm (1/4") a 10 mm (3/8"), výztužnou desku a šestihranný klíč. V robustním kufru.
---
Balení obsahuje
1 x Holesaw 19mm
1 x Holesaw 22mm
1 x Holesaw 29mm
1 x Holesaw 32mm
1 x Holesaw 38mm
1 x Holesaw 44mm
1 x Holesaw 51mm
1 x Holesaw 64mm
1 x Holesaw 76mm
1 x Holesaw 89mm
1 x Holesaw 102mm
1 x Holesaw 127mm
2 x Arbors (1/4" and 3/8")
1 x Reinforcing plate
1 Hex key
---
Hodnocení zákazníků
kým: Paul P
2016-09-05T00:00:00
A hole is a hole - but it does need to be the correct size. Plenty of choice here, sixteen choices in fact. And all neatly packaged in a strong box. Maybe not for daily use by a tradesman but an excellent choice for the home handyman.
---
kým: Robert R
2020-02-26T00:00:00
A really good bit of kit - good range of very tough and sturdy cutters and associated bits and pieces, all oiled to prevent corrosion, and packed in a solid box. I have only used two different cutters so far, on very thick MDF and ply and they just sailed through very easily and with now problems. Easy to assemble the tool, and just as importantly to take apart and store. Great value, and if you shop around, a terrific price!
---
kým: Zach
2020-02-08T00:00:00
Good bit of kit at a reasonable price for the average DIYer.
---
kým: Robin L
2020-01-06T00:00:00
Brilliant piece of kit, all the sizes you could ever need. Robustly made and should last for years. Thanks Silverline.
---
kým: John D
2019-10-29T00:00:00
Good quality holesaw set, with a wide range of sizes. I needed the larger sizes for some large downlights I was installing, they cut very cleanly and quickly. The reinforcing plate is an excellent idea and definitely stabilizes the larger cutters. I would recommend this product for both trade and DIY
---
kým: E S
2019-10-16T00:00:00
This tool set is budget priced. However it punches above its weight. For the cost it is a good middle of the road quality with the ability to perform well in the home DIY environment.
---
kým: Ian S
2019-08-03T00:00:00
Impressed so far. Have used the 76mm cutter for 12 holes in pine internal fixings and it's atill cutting fast and sharp. Good quality set for robust use
---
kým: Shaun
2019-06-05T00:00:00
Much better quality than some of the cheaper kits. Some other kits are off centre leading to a wobble when cutting but not this kit. Big range of sizes included too. Great.
---
kým: William B
2018-05-13T00:00:00
It broke the first time I used it.
---
kým: George G
2017-06-09T00:00:00
I needed to cut some holes for downlights in our kitchen and ordered this hole set from Amazon. It arrived promptly and the holes are cut with the lights fitted. Looks a treat. Lifetime guarantee was a bonus! Excellent product at a fantastic price.
---
kým: Ernest P
2017-04-18T00:00:00
Good range of hole cutting sizes,supplied in a robust case and work well for lighter metal, wood and plasterboard,works well for what they are designed for. All in all a good buy only downside is the cutting depth could do with being a bit deeper
---
kým: STEVE
2017-03-25T00:00:00
Very good, like a hot knife though butter when drilling hole for extractor
---
kým: Gary s
2017-03-24T00:00:00
Great price. Wide range of sizes, more than most sets. Lifetime guarantee is icing on the cake. Would recommend
---
kým: Kelvin P
2017-01-19T00:00:00
Never had any problems with any Silverline products, this hole cutter is no exception. Cut clean fast and true into vehicle plastic, ready to fit a pair of daytime lamps (DRL). Have bought other products previously over years, no issues with any so far.
---
kým: s j
2016-12-17T00:00:00
only just purchased these so have not used them yet,but it looks a very sturdy tool indeed,much better than those weak tinny things you can buy.
---
kým: Michael
2016-12-15T00:00:00
Holesaw ok for plasterboard, but not great in wood. Very slow cutting.
---
kým: Pete s
2016-09-26T00:00:00
Very good value, sturdy, excellent wood working tool.
---
Doživotní záruka
Teto Silverline Sada pilových děrovek - 16 dílů je během 30 dní od nákupu chráněn před vadami z důvodu použití špatného materiálu při výrobě nebo použitím nesprávného výrobního postupu. Tuto záruku můžete prodloužit tím, že svůj Doživotní registrujete během 30 dní od nákupu. Jakékoliv vadné výrobky budou opraveny nebo vyměněny zdarma.