675070
3-ramenný rozstřikovač, odolný
100 mm
---
---
Odlévaná hliníková konstrukce
Nastavitelná ramena pro dobré pokrytí
1/2" konektor na rychlospojku
Je možné je řetězit
Performance depends on water pressure & number of daisy chains
---
Kupte Online
Najít prodejce
Zhodnoťte tento produkt
2 recenze/í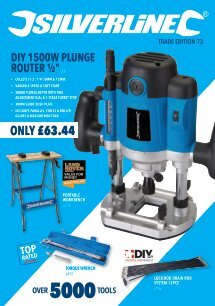 ---
Informace o produktu
| | |
| --- | --- |
| Povrch | Brass, painted aluminium |
| Hmotnost | 0.355kg |
---
Klíčové vlastnosti
Odlévaná hliníková konstrukce s kolečky. 3 otáčivá ramena. 1/2" konektor na rychlospojku. Je možné je řetězit.
---
Balení obsahuje
1 x Quick release connector 1/2"
1 x 3-Arm sprinkler attachment
---
Hodnocení zákazníků
kým: Peter L
2017-04-11T00:00:00
Well I bought one, worked well for a week so I ordered 2 more. Big mistake! ... within the month they started to sieze up! One after the other. Yes I registered them, but got no Gurantee Certificate. They replaced 2 and now they have failed agwin. Now Silverline want proof of purchase and some Gurantee card?? Er the fact they replaced them before isnt proof I registered it. The whole process of getting it replaced, is made as difficult as possible... it begs the question is this deliberate? Well again a tell tale sign is a company with no phone number! ... pretty much spells out they don''t want to hear about your problems. Sadly the product could be good IF the designer had a brain. Firstly the rotating shaft needs to be in a bearing grade nylon sleeve and the end needs to have a nylon washer. Instead it has a rubber washer. So when the water pressure lifts the rotating arm section it compresses the flanged end of the shaft against this ruber washer. This is more of a clamping device than a bearing. No wonder as soon as the brass flange corrodes a bit ... being rough it grabs the rubber washer ... and surprise surpise the arm stops rotating. Amazingly it dould have been modified t last for a long time. E.g. If the flange was polished stainless steel and was secured by a reverse thread, i.e. The rotation locks it. Then one could u do it and replace a nylon sleeve and a nylon washer. Not only would it rotate easily but in 5 years the user could change the nylon sleeve and the nylon washer and it would last another 5 years. Had this been done they could have charged a premium for the best, long lasting sprinkler. As it is they WILL start to degrade within 2 months and wont last 3 months. Save yourself the bother , dont waste your time .. the Lifetime warranty is a total CON job.
---
kým: Karen T
2016-09-26T00:00:00
Purchased this to use watering indoor riding arena - ideal for this task, reliable robust and works well so much so in fact i purchased a second one
---
Doživotní záruka
Teto Silverline 3-ramenný rozstřikovač, odolný je během 30 dní od nákupu chráněn před vadami z důvodu použití špatného materiálu při výrobě nebo použitím nesprávného výrobního postupu. Tuto záruku můžete prodloužit tím, že svůj Doživotní registrujete během 30 dní od nákupu. Jakékoliv vadné výrobky budou opraveny nebo vyměněny zdarma.