675213
Skládací plošinový vozík
100 kg
---
---
Ocelová konstrukce, nosnost 100 kg
Sklopné držadlo a otočná kolečka
Rozměry plošiny 725 x 460 mm
Materiál rámu: ocel
Pevný a spolehlivý
---
Kupte Online
Najít prodejce
Zhodnoťte tento produkt
17 recenze/í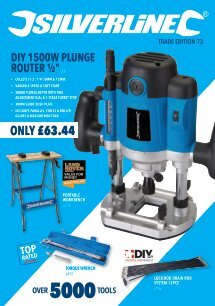 ---
Informace o produktu
| | |
| --- | --- |
| Nosnost - maximální zatížení | 100kg |
| Plate Depth | 725mm |
| Plate Thickness | 0.7mm |
| Plate Width | 460mm |
| Hmotnost | 8.4kg |
---
Klíčové vlastnosti
Plošinový vozík se sklopným držadlem a 2 otočnými kolečky. Velikost plošiny 725 x 460 mm.
---
Balení obsahuje
2 x Wheels (swivel)
2 x Wheels (fixed)
16 x Screws
16 x Spring washers
1 x Platform truck
---
Hodnocení zákazníků
kým: dave p
2020-06-15T00:00:00
absolutely perfect for my work at home moving paving slabs and more.
---
kým: dave p
2020-06-08T00:00:00
VERY good item. even better that I thought for the price. easy to store and use.
---
kým: Geoffrey K
2019-07-02T00:00:00
I have purchased Platform Trolleys in the past but they have all failed in one way or another, however, the Silverline Trolley is extremely well made, excellent value for money and a great quality product, will definitely recommend to others
---
kým: Mrs E
2019-06-01T00:00:00
Asked staff regarding putting the truck together was told we had to build it but it was only the wheels that had to be tightened weve just used it moving my son out of his uni digs was very useful and sturdy
---
kým: Ronald S
2019-05-30T00:00:00
Fantastic product great value for money
---
kým: Josiah J
2019-05-06T00:00:00
I bought this barrow because I needed one to carry my PA into gigs as I broke my hip last year. This is a God send, because it takes the load in every way shape and form, easy to open, easy to fold, and small enough to carry in my gig mobile amongst a massive PA. THANSK SILVERLINE, YOU HAVE SAVED MY BACK FROM BREAKING.
---
kým: M.P. M
2019-02-03T00:00:00
Easily portable platform truck with its folding handle, assembled with its revolving castors at the handle end. I''ve been using it to move boxes weighing up to 40Kg (the truck is rated to 150Kg) and, of course, it makes the task immeasurably easier. The overall finish and design of the truck is good - if you don''t mistreat it, I don''t see any reason why it shouldn''t last for years. A very happy customer.
---
kým: colin
2017-07-13T00:00:00
---
kým: David B
2017-04-05T00:00:00
Very strong little truck. Would recommend to everyone
---
kým: Pam B
2017-03-31T00:00:00
This product is amazing value for money and arrived promptly. Strong, robust and practical. Easily assembled and very simple to fold and unfold when transporting in the car. It has very good, strong wheels; the fixed ones go at the front and the swivel ones at the back. Ladies don''t be tempted (as I was at first) to treat it like a baby buggy... it is better pulled than pushed!
---
kým: Steve R
2017-03-11T00:00:00
Have been using it quite a few times now and find it to be a very good platform truck . A very handy piece.
---
kým: Reva B
2017-02-25T00:00:00
Love my new trolley, had made it much easier to cart around lots of boxes that I use for a class I run. Easy to manevour and fold up.
---
kým: Lex
2017-02-06T00:00:00
Hi the wheel bolts came out after two uses + currently missing 6 from four wheels (16) please advise where to buy replacements as they don''t look like ordinary nuts and bolts !
---
kým: Pauline
2016-11-07T00:00:00
Promptly delivered. Wheels very easy to fit. Folds down easily too. Seems robust and comes with a lifetime guarantee. Very pleased with my purchase and would highly recommend.
---
kým: Sarah
2016-10-10T00:00:00
Great product!! Just what I needed and at a great price too!!!
---
kým: Resh
2016-09-26T00:00:00
Great folding platform truck that is quite light to carry if needed. Fantastic for moving boxes, plastic crates and anything that fits on the platform especially when moving home which is more stable than using a folding trolley with a small carry area. Required assembly of caster wheels on to platform but once done, was great!
---
kým: Ken W
2016-09-05T00:00:00
My truck works well. It is strong but light enough to carry. Ideal for moving bags of compost and other gardening stuff. The folding handle makes it easy to put in the car.
---
Doživotní záruka
Teto Silverline Skládací plošinový vozík je během 30 dní od nákupu chráněn před vadami z důvodu použití špatného materiálu při výrobě nebo použitím nesprávného výrobního postupu. Tuto záruku můžete prodloužit tím, že svůj Doživotní registrujete během 30 dní od nákupu. Jakékoliv vadné výrobky budou opraveny nebo vyměněny zdarma.