196570
SDS-Plus-Steinbohrer und -Meißel, 15-tlg. Satz
15-tlg.
---
---
Steinbohrer: 110 mm (5,5 und 6 mm), 160 mm (5,5, 6, 6,5, 7, 8 und 10 mm)
Steinbohrer: 260 mm (10, 12 und 16 mm)
Steinmeißel: 250-mm-Flach- und Breitmeißel (20 und 40 mm), 250-mm-Spitzmeißel
und 245-mm-Fugenmeißel
Robuster Formkoffer
---
Online kaufen
Fachhändlersuche
Dieses Produkt bewerten
30 Bewertungen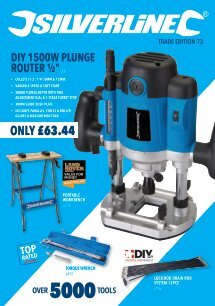 ---
Technische Daten
| | |
| --- | --- |
| Bitwechsel | SDS-Plus |
| Aufnahme | SDS-Plus |
| Ausführung | Kugelgestrahlt, trockenrostbeständige Beschichtung |
| Gehärtet | Ja |
| Spitzenmaterial | Wolframkarbid |
| Gewicht | 2,33 kg |
| Lagerung | Formkoffer |
---
Ausstattungsmerkmale
Praktischer Satz mit den gängigsten Bohrer- und Meißelgrößen im robusten Formkoffer: Steinbohrer: 110 mm (5,5 mm und 6 mm), 160 mm (5,5 mm, 6 mm, 6,5 mm, 7 mm, 8 mm und 10 mm) und 260 mm (10 mm, 12 mm und 16 mm); Steinmeißel: 250-mm-Flach- und Breitmeißel (20 mm und 40 mm), 250-mm-Spitzmeißel und 245-mm-Fugenmeißel.
---
Lieferumfang
Steinbohrer, 5,5 x 110 mm
Steinbohrer, 5,5 x 160 mm
Steinbohrer, 6,0 x 110 mm
Steinbohrer, 6,0 x 160 mm
Steinbohrer, 6,5 x 160 mm
Steinbohrer, 7,0 x 160 mm
Steinbohrer, 8,0 x 160 mm
Steinbohrer, 10,0 x 160 mm
Steinbohrer, 10,0 x 260 mm
Steinbohrer, 12,0 x 260 mm
Steinbohrer, 16,0 x 260 mm
Steinmeißel, 40 x 250 mm
Steinmeißel, 20 x 250 mm
Spitzmeißel, 250 mm
Nutenmeißel, 245 mm
---
Kundenbewertungen
von: Robert P
2020-04-16T00:00:00
Ordered and Received fast! No issue with compatibility or quality. I doubt I'll be in a rush to replace these. Now I need to find an excuse to keep drill holes in the wall...
---
von: Dan h
2020-04-13T00:00:00
Get set of bits has everything I need and not at a stupid price. Will be buying a lot more sliverline products from now on
---
von: Peter H
2020-02-16T00:00:00
Excellent product, very durable and great value for money. The only downside I found is the fact narrower gauge drill bits fall out of their slot in the plastic case. Storing the case upside down mitigates the issue.
---
von: Peter S
2020-02-14T00:00:00
Good selection of drills and 3 chisel's in box. They are doing the job for me without a problem. For the money you can't go wrong as there is a lifetime warranty with them. The only thing I can say against the set is the box they come in. The smaller drills won't try in place. Not a deal breaker though as the cost of them easily outweighs this small problem.
---
von: Frank B
2020-01-12T00:00:00
Great set of bits and chisels, look as they will last a long time, plus having the forever gaurantee, gives price of mind. One annoying thing though, the plastic holders moulded in the carry case dont hold all the bits in there place properly, so when you open the case, some fall out.
---
von: Gerard k
2019-12-20T00:00:00
I have Works with fitting tools it is fantastic And i hope chat i can uwe thuis tot many years
---
von: Harley
2019-08-18T00:00:00
I'm a novice DIYer who has recently started a complete renovation of my flat. I've never had the best tools but I thought it was time I get myself some decent bits and pieces. This kit absolutely did the trick and made everything so much easier. They performed perfectly and gave me the confidence to tackle bigger jobs on my own. Absolutely brilliant.
---
von: Phillip C
2019-08-17T00:00:00
Very well made. Really strong chisel piece and I''d recommend 100%
---
von: Alastair F
2019-07-08T00:00:00
Comprehensive set of drill bits which so far work well.
---
von: Euan G
2019-06-24T00:00:00
Very sturdy, top quality drill bits and chisels. Excellent price and delivery. Highly recommended.
---
von: Steve D
2019-06-19T00:00:00
Not used much yet but they look to be substantial and robust.
---
von: Andrew k
2019-06-16T00:00:00
Great value for the money drill set. Well pleased!
---
von: G M
2019-06-08T00:00:00
The drill bit set was exactly right for the job. The fitted case did not work quite for the smaller bits, but keeps them all in one place for later use.
---
von: Frank B
2019-04-25T00:00:00
I used the drill bits the other day and found them to be very good and when I drilled the hole into brick they drilled the hole like a hot knife cutting butter to say I was impressed is a bit of an understatement good quality accessory
---
von: Alan
2018-12-20T00:00:00
this was recommended by a friend. all the drills and chisels you could want, excellent product :)
---
von: Roger B
2018-10-24T00:00:00
I thought that this sds drill set would be ok for some light use and would keep me drilling until I could afford something better. It turned out to be super value for money and has already had a lot of hard use without any problems. The bits have stood up to use in a heavyweight drill and I haven't had to replace any of them yet. Excellent!
---
von: Roger B
2018-10-17T00:00:00
The drill bits and chisels are excellent value for money but the plastic case doesn''t hold them well. The whole point of buying a set is that the bits can be kept in order so that you can find the one you want easily. When you open this box (however carefully you replaced the bits) only the chisels are in place.
---
von: Paul M
2018-03-27T00:00:00
I bought this to smash out the remains of a concrete post. Done it with ease and saved me from doing it by hand.
---
von: shawn b
2017-10-28T00:00:00
Received this item from amazon.com and the drill components of the kit do not fit into the box but rather sat loosely in the box meaning that the box would only sometimes close. I returned the kit to amazon and ordered an identical one, [i have other silverline products that work perfectly fine for me an active diyer]. The exact same problem happened again. I raised the issue directly with silverline and despite a promise of response within 2 days, I am still awaiting a response now. I am very disappointed!
---
von: Dekker
2017-06-13T00:00:00
Good drills, did it job perfect in concrete floors and walls. non of de drills are broken after a thousend times using! great stuff!
---
von: Matt
2017-06-13T00:00:00
Perfect starters set. The only negative comments I can give at the moment is that the container does not hold the bits in place.
---
von: wurffel o
2017-05-30T00:00:00
Perfect for my home-use in the south of France.
---
von: Peter O
2017-03-22T00:00:00
Good Value and gave me everything i needed to clear a bathroom and drill masonary
---
von: Luis H
2017-03-01T00:00:00
Set very complete and good quality. So far the result that is giving me is very good
---
von: David S
2016-12-01T00:00:00
The drills and steels work well but are let down by the case which does not hold the items securely. The smaller items rattle around as soon as the case is picked up!
---
von: Hans
2016-11-26T00:00:00
Nice set of drill bits with most common sizes. Easy to store in the provided case, however some drill bits seem to end up loose in the case sometimes.
---
von: Nigel B
2016-10-18T00:00:00
Case is of poor quality. Bits do not stay in place in case. Pick it up.....bits fall out.
---
von: paul m
2016-10-10T00:00:00
A superb set of tools, well up to the job intended and a good quality.
---
von: christian r
2016-09-26T00:00:00
love it, all i needed to finish the job. Great box for the price
---
von: Helen
2016-09-05T00:00:00
We are renovating an old stone house and our old drill just couldn''t cope with the walls. This new sds drill is fantastic and goes through the stone like a knife through butter. What were difficult jobs are now easy. Great product and very happy with the performance.
---
Lebenslang Garantie
Dieser Silverline-Artikel SDS-Plus-Steinbohrer und -Meißel, 15-tlg. Satz verfügt über eine 30-tägige Garantie ab Kaufdatum, die ihn gegen Mängel infolge von Material- oder Verarbeitungsfehlern absichert. Um Ihre Lebenslang Garantie wirksam werden zu lassen, registrieren Sie Ihren Artikel bitte auf der Silverline-Webseite. Mangelhafte Artikel werden kostenlos ersetzt oder repariert.