200111
Stabile Lochzange
2–4,5 mm
---
---
Drehbarer Kopf aus Kohlenstoffstahl
Lochdurchmesser 2, 2,5, 3, 3,5, 4 und 4,5 mm
Griff mit Rückstellfeder
Geformte Kunststoffgriffe mit Abgleitschutz
---
Online kaufen
Fachhändlersuche
Dieses Produkt bewerten
16 Bewertungen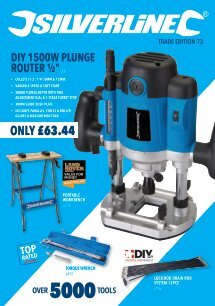 ---
Technische Daten
| | |
| --- | --- |
| Bereich | 2, 2,5, 3, 3,5, 4 und 4,5 mm |
| Kapazität: Backen | 12 mm |
| Ausführung | Rahmen mit Pulverbeschichtung |
| Griffausführung | Kunststoff |
| Gehärtet | Ja |
| Einstellmechanismus | Rotierend |
| Gewicht | 0,366 kg |
---
Ausstattungsmerkmale
Drehbarer Kopf aus Kohlenstoffstahl und Griff mit Rückstellfeder. Lochdurchmesser 2, 2,5, 3, 3,5, 4 und 4,5 mm. Geformte Kunststoffgriffe mit Abgleitschutz.
---
Lieferumfang
---
Kundenbewertungen
von: Simon A
2020-02-08T00:00:00
It's a hole punch. It does what it says on the packaging- in a variety of sizes. No more loose belts!
---
von: mark r
2020-01-01T00:00:00
Strong and easy to use, what more could you want? Easily popped a few new holes in a very thick leather belt of mine.
---
von: mark r
2019-12-25T00:00:00
I bought this tool to add a few extra holes to a very expensive and very thick leather belt, that I''ve had for a long time. The belt has sentimental value, so I needed a tool that I could trust. The tool quickly, cleanly, and almost effortlessly performed the task I had bought it for.
---
von: Rashid
2019-12-08T00:00:00
Well made excellent quality solid item. Easy to use first unclip the clip i set the hole size i need then press. I get a clean hassle free hole punch. Goes through the leather easy. After put the safety clip back on to keep it closed and safe. As always Silverline products are warranted for life which gives great peace of mind.
---
von: Jared B
2019-11-14T00:00:00
Made light work of putting new holes in belts. Very good and very easy to use. Can''t fault it.
---
von: Peter S
2019-09-13T00:00:00
Very good, although I had difficulty turning the wheel to change the hole size. Once I had mastered that it was great to use.
---
von: Bouilly
2019-08-30T00:00:00
Produit reçu dans les délais et d''une qualité/prix inegalable. Je suis très satisfait des prestations de Silverline
---
von: Sam
2019-08-28T00:00:00
Needed to put in some more holes in my belt but no one locally stocked the hole punch. Ordered one and it arrived by return post. It is heavy duty and good quality & so easy to use. It was a good price.
---
von: john e
2019-08-12T00:00:00
Unbelievable value for money! So well made...no wonder you give a lifetime guarantee!
---
von: Paul N
2019-07-22T00:00:00
Very quick delivery and the hole punch was a reasonable price. Works very well I have already used it on all my belts. I will use Silverline again excellent tool supplier.
---
von: Bogdan N
2019-06-18T00:00:00
Hello, To be honest, I have chosen this particular model because it was Amazon Best Choice recommendation, but I believe I have made the right choice with this high quality tool. Thank you, Bogdan Neacsu
---
von: Annaliese B
2019-05-15T00:00:00
I was really pleased with the quality of these pliers but I am struggling with using them. I just don't seem to have the strength the make a hole cleanly with only one squeeze...
---
von: Stuart
2018-07-03T00:00:00
Very easy to use, self-explanatory, with 6 different size settings (2mm to 4.5mm in 0.5mm intervals) - perfect for punching holes in leather with ease!! Seems robust enough to stand the test of time. Would definitely recommend
---
von: Roy s
2017-06-22T00:00:00
This tool is far better than any other on the market.It is sturdy and robust.
---
von: TESSIER
2016-09-06T00:00:00
This pliers is good quality but the plastic hurts hands . I still recommend this product.
---
von: S.Henseleit
2016-08-30T00:00:00
---
Lebenslang Garantie
Dieser Silverline-Artikel Stabile Lochzange verfügt über eine 30-tägige Garantie ab Kaufdatum, die ihn gegen Mängel infolge von Material- oder Verarbeitungsfehlern absichert. Um Ihre Lebenslang Garantie wirksam werden zu lassen, registrieren Sie Ihren Artikel bitte auf der Silverline-Webseite. Mangelhafte Artikel werden kostenlos ersetzt oder repariert.