290192
Einhandmesser und 10 Ersatz-Universalklingen
90 mm
---
---
Verschlussmechanismus arretiert Klinge in geöffneter Position
Einfacher Klingenwechsel dank Schnellspannhebel
Inkl. 10 Ersatzklingen
---
Online kaufen
Fachhändlersuche
Dieses Produkt bewerten
11 Bewertungen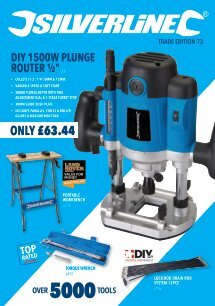 ---
Technische Daten
| | |
| --- | --- |
| Blattgröße | 0,6 mm |
| Blattbreite | 20 mm |
| Gewicht | 0,161 kg |
---
Ausstattungsmerkmale
Verschlussmechanismus arretiert Klinge in geöffneter Position. Einfacher Klingenwechsel dank Schnellspannhebel. Zehn solide Allzweckklingen im Lieferumfang enthalten.
---
Lieferumfang
1 Einhandmesser
10 Ersatz-Universalklingen
---
Kundenbewertungen
von: Sam
2020-03-21T00:00:00
Great knife, made to a high quality and can feel it will stand the test of time.
---
von: Gary C
2020-03-06T00:00:00
Great knife,good quality, I use it every day at work
---
von: Gary C
2020-02-28T00:00:00
Good quality tool,I use it every day. Compact enough to keep in my pocket while working.
---
von: Ian A
2020-02-17T00:00:00
I bought this product to replace a Stanley folding knife that after a couple of years was falling apart. Immediately I was impressed by the far superior blade retention system of the Silverline knife and more durable handle. This coupled with the lifetime guarantee makes it a definite 5 star product!
---
von: Graeme
2019-10-04T00:00:00
Great knife at a great price and ten spare blades as well. Fits in the hand beautifully. Nice narrow width handle allowing me to get the blade as flush as possible with the surface I was cutting against. Most other knives seem to have bulbous handles which isn''t great for finer work.
---
von: mike p
2018-03-08T00:00:00
bought this knife for work, excellent quality and design, and blade changes are a doodle to carry out, would recommend this product
---
von: Allen S
2018-01-12T00:00:00
Excellent quality, very happy with purchase.
---
von: Gonzalo
2017-02-22T00:00:00
Tenia uno similar, pero con el cabo de plástico, con el tiempo se le pasaron las roscas de los tornillos y tuve que buscar otro, en este caso este cutter, esta construido totalmente en metal, lo uso a diario para pelar cables y va de lujo
---
von: Peter p
2017-01-20T00:00:00
Handy little knife I use it for making fishing tackle and it does the job excellent. Would highly recommend this product
---
von: james c
2016-10-26T00:00:00
Proper quality knife, not had one problem with it, great build quality and easy to change blades. Also has a lifetime Warranty
---
von: Rich
2016-10-11T00:00:00
Sturdy and robust knife, lifetime guarantee is a bonus too
---
Lebenslang Garantie
Dieser Silverline-Artikel Einhandmesser und 10 Ersatz-Universalklingen verfügt über eine 30-tägige Garantie ab Kaufdatum, die ihn gegen Mängel infolge von Material- oder Verarbeitungsfehlern absichert. Um Ihre Lebenslang Garantie wirksam werden zu lassen, registrieren Sie Ihren Artikel bitte auf der Silverline-Webseite. Mangelhafte Artikel werden kostenlos ersetzt oder repariert.