508819
Dübel-Bohrschablone
30 mm
---
---
Zum Erstellen von E-, L- und T-Verbindungen
Für 6-, 8- bzw. 10-mm-Dübel und bis zu einer Materialstärke von 30 mm
Für beste Ergebnisse beide Verbindungsstücke nacheinander in derselben Bohrschablone bohren!
Für die gängigsten Hand- und Elektrobohrer geeignet
Mit dem 3-tlg. Satz Dübellochbohrer von Silverline kompatibel
---
Online kaufen
Fachhändlersuche
Dieses Produkt bewerten
9 Bewertungen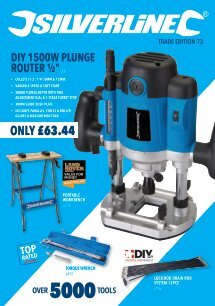 ---
Technische Daten
| | |
| --- | --- |
| Ausführung | Kunststoff mit Einsätzen aus gehärtetem Stahl |
| Bauweise | Gegossen und mit aluminiumlegierten Hüllen |
| Gewicht | 0,186 kg |
---
Ausstattungsmerkmale
Dübel-Bohrschablone zur Herstellung von E-, L- und T-Verbindungen mit 6-, 8- bzw. 10-mm-Dübeln. Bis zu einer Materialstärke von 30 mm. Für beste Ergebnisse beide Verbindungsstücke nacheinander in derselben Bohrschablone bohren! Mit den gängigsten Hand- und Elektrobohrern kompatibel. Mit dem 3-tlg. Satz Dübellochbohrer von Silverline verwendbar.
---
Lieferumfang
Dübel-Bohrschablone
Bedienungsanleitung
---
Kundenbewertungen
von: Rafał
2020-04-29T00:00:00
I used this jig first time. All hole was perfect. I never thought the making hole will be so easy :)
---
von: David P
2019-08-30T00:00:00
Pleasantly surprised by the quality of the dowel jig. First thing, I checked the openings 6, 8 and 10mm. All spot on. Instructions were easy to follow and off I went. Great tool, very happy.
---
von: Tadeusz
2019-06-27T00:00:00
---
von: Bob
2017-09-26T00:00:00
Well made Jig that is simple to use, used it several times and each time the dwells have lined up...which is always a plus :-). The sleeves help ensure the drill makes the hole in the correct place - which is otherwise normally difficult with chipboard.
---
von: John F
2017-07-16T00:00:00
I found this very easy to use, produce very good results and a good asset for any workshop
---
von: John B
2017-05-15T00:00:00
A great item becomes a third hand to help ensure dowels sit in the correct position in my woodworking project. It made life so easy! And it was a great price as part of a ''kit''.
---
von: Pat
2017-04-27T00:00:00
A neat and attractive item. Both seller and I had trouble to figure out how it worked. Eventually, everything fell into place. This is a trouble free good quality component to be used by newcomers to woodworking. I would like to make a suggestion if I may please. I would prefer dowel jig to be made using the same material (lightweight Aluminium) as the Pocket Hole Jig.
---
von: Peter F
2017-03-09T00:00:00
This item was purchased to assist with the construction of a storage unit for my office. The unit is versatile and very well designed and performed just as was expected resulting in all dowels lining up perfectly.
---
von: Ian R
2016-01-28T00:00:00
Never having used a dowelling jig before, I bought this as an educational learning curve before investing more money in an expensive product. In the 2 days I''ve had it, it has served its purpose. Using scrap wood, I''ve made mistakes by not marking my boards properly and I''ve also made some well-aligned joints by following the instructions carefully. It has helped me clarify my requirements for a professional jig - so in that respect, I can''t grumble at the price. It get''s 4 starts based purely on my use as a ''learning tool''. Almost went pear-shaped - the plastic is very brittle and before I had even used it, I knocked it off my Workmate and one of the protruding centre pins snapped off on the ceramic tile floor (about 3 ft drop). I managed to repair it by drilling the pin and screwing it to a piece of wood in one of the recesses on the other side. The repair doesn''t seem to have compromised the function of the tool. You get what you pay for
---
Lebenslang Garantie
Dieser Silverline-Artikel Dübel-Bohrschablone verfügt über eine 30-tägige Garantie ab Kaufdatum, die ihn gegen Mängel infolge von Material- oder Verarbeitungsfehlern absichert. Um Ihre Lebenslang Garantie wirksam werden zu lassen, registrieren Sie Ihren Artikel bitte auf der Silverline-Webseite. Mangelhafte Artikel werden kostenlos ersetzt oder repariert.