633950
Magnetleisten, 3-tlg. Satz
200, 300 u. 460 mm
---
---
Aus robustem Kohlenstoffstahl
Haftstarke Magneten halten Werkzeuge fest und sicher
Größen: 200, 300 und 460 mm
Befestigungsmittel im Lieferumfang enthalten
---
Online kaufen
Fachhändlersuche
Dieses Produkt bewerten
11 Bewertungen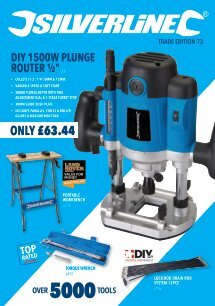 ---
Technische Daten
| | |
| --- | --- |
| Ausführung | Lackiert |
| Befestigungsmittel | 6 Phillips-Schrauben/6 durchscheinende Dübel |
| Einspannverfahren | Magnetisch |
| Max. Tragfähigkeit | 2,5 kg |
| Gewicht | 0,261 kg, 0,417 kg, 0,645 kg |
---
Ausstattungsmerkmale
Aus robustem Kohlenstoffstahl. Die haftstarken Magneten halten Werkzeuge fest und sicher. Größen: 200, 300 und 460 mm. Befestigungsmittel im Lieferumfang enthalten.
---
Lieferumfang
3 Magnetleisten
6 Schrauben
6 Dübel
---
Kundenbewertungen
von: Mike B
2019-11-15T00:00:00
Excellent quality, easy to fit, at last a magnetic tool rack that actually holds tools. Much stronger magnets than anything else on the market
---
von: Stewart
2019-09-05T00:00:00
Exactly as described. 3 very solid tool strips. Strong enough to hold multiple hand tools. Very reliable.
---
von: angela
2019-07-02T00:00:00
excellent magnetic very strong holds all the tools
---
Brilliant set, considered a number of others online, but decided on these 3 and really not sorry I purchased. Considering another set just figuring the appropriate place in the garage.
---
von: Does t
2018-09-14T00:00:00
good value excellent for holding metal tools obviously not aluminium brass or copper though. cant fault the price either.
---
von: totalguy
2018-09-07T00:00:00
These are pretty good value for money i like that they included rawl plugs with the screws not all companies do this with this type of product sometimes it is just screws. i really like these they do the job right and seem pretty sturdy as well the big one can even hold my drill press vice! Impressive considering the weight of it
---
von: Kieran
2018-01-07T00:00:00
Fantastic space saving piece of kit. Strong magnets, easy to install and extremely useful. Worth every penny.
---
von: Pauline A
2017-09-13T00:00:00
Fantastic product just brilliant for quickly sorting my tools
---
von: Marc
2017-04-19T00:00:00
Always took me so long to find the right tool in my many toolchests; now I just hang them in front of my eyes and all is within easy reach. The magnets of the tool rack are strong enough for good hold and the three sizes allow to sort different types/sizes/weights of tools accordingly. Really recommend this to optimize sorting your tools.
---
von: Moritz v
2016-10-11T00:00:00
The Silverline magnetic tool rack set works great for me! It holds everything in place just fine. Even bigger and heavier tools.
---
von: Steve K
2016-10-10T00:00:00
Excellent accessory that holds many of my hand tools firmly with a very strong magnetic grip. Much better than using multiple hooks which would be either impractical or take up too much space. Highly recommended !!!
---
Lebenslang Garantie
Dieser Silverline-Artikel Magnetleisten, 3-tlg. Satz verfügt über eine 30-tägige Garantie ab Kaufdatum, die ihn gegen Mängel infolge von Material- oder Verarbeitungsfehlern absichert. Um Ihre Lebenslang Garantie wirksam werden zu lassen, registrieren Sie Ihren Artikel bitte auf der Silverline-Webseite. Mangelhafte Artikel werden kostenlos ersetzt oder repariert.