675078
Druckluft-Reifenfüller
400 mm
---
---
Geeignet für Kraftfahrzeuge, Fahrräder, Schlauchboote u.a.
Anzeige: 0–15 bar, 0–220 psi und 0–1500 kPa
Schrader Ventilanschluss
Schlauchlänge: 400 mm
Mit M12- auf 1/4-Zoll-BSP-Adaptor und Bajonett-Verbinder für GB und europäisches Festland
---
Online kaufen
Fachhändlersuche
Dieses Produkt bewerten
13 Bewertungen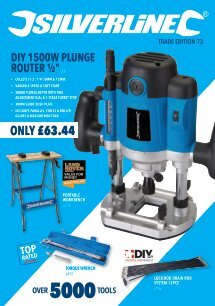 ---
Technische Daten
| | |
| --- | --- |
| Aufnahme | 1/4-Zoll-Bajonettanschluss (EU/GB) |
| Ausführung | Vernickelt |
| Gauge | 0–15 bar / 0–220 psi / 0–1500 kPa |
| Griffausführung | Poliert |
| Schlauchlänge | 400 mm |
| Max. Druck | 8 bar |
| Betriebsdruck | Max: 8 bar / 116 psi |
| Gewicht | 0,413 kg |
| Arbeitsdruck | Max. 8 bar |
---
Ausstattungsmerkmale
Für Kraftfahrzeuge, Fahrräder, Schlauchboote und die meisten anderen aufblasbaren Artikel geeignet. Anzeige: 0–15 bar, 0–220 psi und 0–1500 kPa. Schrader Ventilanschluss. Schlauchlänge: 400 mm. Inklusive M12- auf 1/4-Zoll-BSP-Adaptor und Bajonettanschluss für GB und europäisches Festland im Lieferumfang enthalten.
---
Lieferumfang
Druckluft-Reifenfüller, 400 mm
M12 auf 1/4-Zoll-Bajonett-Adapter(installiert)
1 x 1/4-Zoll BSP-Bajonettverbinder GB
1 x 1/4-Zoll BSP-Bajonettverbinder EU
Bedienungsanleitung
---
Kundenbewertungen
von: Daniel S
2020-03-25T00:00:00
Great product, comes with all connections required to fit to your air hose.
---
von: paul w
2020-01-18T00:00:00
bought as replacement for a lost tool. worked well
---
von: Ferg
2019-07-16T00:00:00
Nothing special but works well enough for the price and lifetime guarantee if you make sure to register. Hose was loose out of the box but easily tweaked up
---
von: Thomas J
2019-05-06T00:00:00
good basic product at sensible price
---
von: Stephen M
2017-07-31T00:00:00
Does as it should with useful additional connecters.Good value.
---
von: Joseph R
2017-07-11T00:00:00
The Silverline Tyre Pressure gauge is one of the best in terms of quality and performance, recommend to everyone
---
von: Jeremie
2017-06-12T00:00:00
Very good product with lifetime guarantee
---
von: Mark C
2017-05-12T00:00:00
Great product at a great price,Hard to beat a lifetime guarantee! 😎
---
von: Ed
2017-03-23T00:00:00
Came boxed, together with 2 airline connectors (latter was an unexpected bonus). Easily fitted to my airline, easy to use, pressures accurate. Recommended
---
von: Iain
2016-12-02T00:00:00
This tyre inflator is the third I have purchased in fifteen years. Hopefully it will outlast its predecessors which were not Silverline tools. It was cheap to buy (Toolstation) and came with a male snap adaptor for fitting to an airline, so very good value indeed. The flexible tube is very flexible and a good seal is formed between the connector and the tyre valve. The gauge seems to be accurate in that it reads the same as a manual tyre pressure gauge I used to use with the previous inflators. If I have one criticism, it is that air delivery is noticeably slower than the previous devices, suggesting that there is some form of internal restriction on air flow. I have given it four stars and not five, partly because of the airflow and partly because I cannot attest to its longevity yet. It does, however, come with a very good guarantee.
---
von: Paul M
2016-10-10T00:00:00
A really easy to use air grease gun. I can now grease areas of machines that were previously very difficult. Well made product.
---
von: Samuel B
2016-09-29T00:00:00
---
von: Walter R
2016-09-05T00:00:00
Great drill really good value
---
Lebenslang Garantie
Dieser Silverline-Artikel Druckluft-Reifenfüller verfügt über eine 30-tägige Garantie ab Kaufdatum, die ihn gegen Mängel infolge von Material- oder Verarbeitungsfehlern absichert. Um Ihre Lebenslang Garantie wirksam werden zu lassen, registrieren Sie Ihren Artikel bitte auf der Silverline-Webseite. Mangelhafte Artikel werden kostenlos ersetzt oder repariert.