927687
Zange zum Lösen von Verkleidungsklipps
235 mm
---
---
Zum schnellen, mühelosen und sicheren Entfernen von Verkleidungsteilen
Aus wärmebehandeltem Kohlenstoffstahl mit geschwärztem Körper
Kunststoffbeschichtete Griffe
Federbelastet für zusätzliche Hebelkraft
Einfacher Zugang zu Bereichen mit begrenztem Platzangebot
---
Online kaufen
Fachhändlersuche
Dieses Produkt bewerten
14 Bewertungen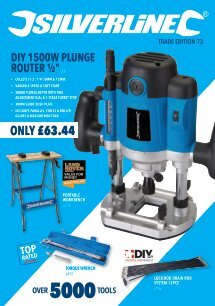 ---
Technische Daten
| | |
| --- | --- |
| Griffausführung | Vinxyl getaucht |
| Spitzenmaterial | Kohlenstoffstahl |
| Gewicht | 0,201 kg |
| Weitere Materialien | Stahlfeder |
---
Ausstattungsmerkmale
Zangen aus wärmebehandeltem Kohlenstoffstahl mit geschwärztem Körper und tauchbeschichteten Griffen. Federbelastet für zusätzliche Hebelkraft. Einfacher Zugang zu Bereichen mit begrenztem Platzangebot.
---
Kundenbewertungen
von: Barry D
2020-02-02T00:00:00
Works well, a lot better made than expected.
---
von: James S
2019-01-27T00:00:00
Robust and effective on my door panels. The only thing I did was to cover the blades in gaffer tape to protect the paint on the doors and the panels themselves. Maybe at some point Silverline could consider plastic coating the blades on this tool to make it even better?!
---
von: John K
2018-12-06T00:00:00
Needed to tighten one of those big nuts on a bath waste ( 11/2" ), no spanner large enough so bought the wide jaw plumbing pliers - worked a treat and saved me lot of profanities!
---
von: Ort R
2018-04-28T00:00:00
Excellent pour dégrafer les panneaux de portes et elle devient même indispensable car avant je le faisais avec un coin en plastique mais la pince est beaucoup plus rapide et sûre. H
---
von: kevin u
2018-03-17T00:00:00
Great quality pliers. Work very easy no more trying to jam stupid not fit for purpose tools in car trim, or damaging car trim.
---
von: Mark N
2017-06-23T00:00:00
Very pleased with the pliers.
---
von: Antonio M
2017-03-04T00:00:00
Facilitan el trabajo de desmontaje en guarecidos, funcionando en la mayoría de anclajes normales.
---
von: Antonio M
2017-03-04T00:00:00
Funcionan perfectamente a la hora de desmontar los guarecidos interiores del vehículo, agilizan mucho el trabajo. Casi todas las sujeciones normales salen con este alicate.
---
von: Martyn321
2017-02-01T00:00:00
Not much to review, but the item seems nicely made and pretty solid. Very impressed with the lifetime guarantee which I have registered for.
---
von: philou
2017-01-13T00:00:00
---
von: Peter B
2016-11-19T00:00:00
Very useful and handy tool, not only for trim clips but also for removal of devices that are fastened using double sided tape.
---
von: Christopher C
2016-10-20T00:00:00
The item is fantastic and much better than using a screwdriver causing all sorts of scratches. Really good for door cards and larger objects.
---
von: Sir C
2016-10-10T00:00:00
You cannot afford to use cheap tools. These have been used repeatedly and virtually daily since purchase and they are still as good as the day that they were delivered. Cheaper ones may work once, or they may end up wrecking the very thing you need to remove gently. Don''''t take the risk, buy the proper tool for the proper job and you end up saving in the long run.
---
von: Ian
2016-09-26T00:00:00
As people say Does what it says on the tin. I was a bit worried that these were too cheap to be any good but I was wrong.
---
Lebenslang Garantie
Dieser Silverline-Artikel Zange zum Lösen von Verkleidungsklipps verfügt über eine 30-tägige Garantie ab Kaufdatum, die ihn gegen Mängel infolge von Material- oder Verarbeitungsfehlern absichert. Um Ihre Lebenslang Garantie wirksam werden zu lassen, registrieren Sie Ihren Artikel bitte auf der Silverline-Webseite. Mangelhafte Artikel werden kostenlos ersetzt oder repariert.