DA70
Schraubenausdreher, 5-tlg. Satz
3–18 mm
---
---
Aus solidem, gehärtetem Stahl; kegelförmige Ausführung für unterschiedlich große Befestigungsmittel
Für den Einsatz mit Bohrmaschinen im Linkslauf
Schäfte mit Umkehrgewinde: gleichzeitiges Eingreifen in und Entfernen von beschädigten Schrauben
Vorbohrung erforderlich
Schraubenausdreher für Befestigungsmittel in den Größen 1/8–3/4 Zoll (M3–M18)
---
Online kaufen
Fachhändlersuche
Dieses Produkt bewerten
21 Bewertungen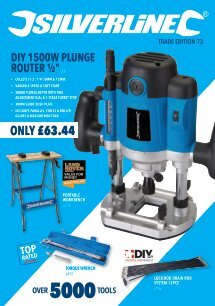 ---
Technische Daten
| | |
| --- | --- |
| Ausführung | Korrosionsbeständige Oberfläche |
| Gehärtet | Ja |
| Gewicht | 0,12 kg |
| Gewindeart | Umkehrspirale, verjüngt, grobgewindig |
---
Ausstattungsmerkmale
Solide Schraubenausdreher aus gehärtetem Stahl. Kegelförmige Ausführung erlaubt die Verwendung an Befestigungsmitteln in unterschiedlichen Größen. Für den Einsatz mit Bohrmaschinen im Linkslauf. Schäfte mit umgekehrtem Gewinde erlauben das gleichzeitige Eingreifen in und Entfernen von beschädigten Schrauben und Bolzen in einem Arbeitsgang. Eine Vorbohrung von ca. 50 % des Schraubendurchmessers ist erforderlich. Größen: 1/8 Zoll–1/4 Zoll/M3–M6, 1/4 Zoll–5/16 Zoll/M6–M8, 5/16 Zoll–7/16 Zoll/M8–M11, 7/16 Zoll–9/16 Zoll/M11–M14, 9/16 Zoll–3/4 Zoll/M14–M18.
---
Lieferumfang
1 Schraubenausdreher: 1/4 Zoll–5/16 Zoll/M6–M8
1 Schraubenausdreher: 5/16 Zoll–7/16 Zoll/M8–M11
1 Schraubenausdreher: 7/16 Zoll–9/16 Zoll/M11–M14
1 Schraubenausdreher: 9/16 Zoll–3/4 Zoll/M14–M18
1 Schraubenausdreher: 1/8 Zoll–1/4 Zoll/M3–M6
---
Kundenbewertungen
von: Ronald M
2019-12-05T00:00:00
Bought this tool set to remove a broken bolt. The quality is good for the reasonable cost .
---
von: R.Martin
2019-11-28T00:00:00
Excellent well made product at a good price.
---
von: SAXONLAND
2019-06-17T00:00:00
---
von: Robin
2019-06-07T00:00:00
I tried to extract a bolt, but the thread didn''t bite into the bolt properly and it stripped itself immediately. The steel wasn''t hard enough to get a good grip.
---
von: AL D
2018-07-20T00:00:00
---
von: Kev j
2018-06-26T00:00:00
I bought this set to remove some hardened steel bolts from an aluminium subframe. The issue I found was that they wasn''t strong enough to bite in. Instead they stripped themselves!! I had to drill the bolts completely out and re-tap.
---
von: Jase
2017-08-03T00:00:00
I''ve used these on a variety of tasks with great success. Preparation is key &amp as long as you keep in mind that any diy extraction of a broken part is a risky thing. I personally have removed several broken studs &amp a broken spark plug. A few hours carefully &amp meticulously spent have saved me literally hundreds of pounds in garage bills and with a lifetime guarantee I''d highly recommend trying any silverline product. Saying that I need to register a set of nut splitters and an angular torque gauge I''ve recently purchased
---
von: james u
2017-07-18T00:00:00
This 5 piece screw and stud extractor set saves time and money by allowing me to quickly remove bolts and screws whose heads are damaged or missing. No more problems when a bolt or screw breaks on my restoration project!
---
von: Colin M
2017-05-05T00:00:00
After trying to remove a set of wheel bolts (that some wally had done up way too tight) one of them snapped! "Oh bugger!" I thought and then after seeing a YouTube video on how to remove broken studs, I chose to order a set of Screw Extractors from Silverline. "I have a few of their products, and never really had any problems " I muttered to myself. Anyways, the Extractors turned up in the post and after drilling out a pilot hole in what was left of the stud, I inserted one of the extractors, gave I a tap or two with my hammer and began to unwind said bolt using an adjustable spanner..... It worked brilliantly! Once the bolt was out, I refitted the wheel, torqued it up and was back on the road again. Great product, recommended to many friends, will definitely be buying more Silverline products in the future:-) Well done! Tools for the engineering mind :-)
---
von: Laurence N
2017-04-17T00:00:00
Having snapped the head off my M16 bolt in my hearbox on my golf i needed it out quick. I carefully punched a center point. Using the smallest drill bit i have then bathed it in motor oil to slowly drill it out. Having a big enough hole i then i used the extractor first time it gripped successfully.
---
von: David J
2017-03-31T00:00:00
I''ve used these now on a few occasions for bolts where the heads have sheared off. They work perfectly every time, after drilling a pilot hole. I have a set of Silverline cobalt drill bits which help with the pilot holes. I''m more than happy with all of Silverline''s range of products and own a wide variety of their hand and powered tools.
---
von: Guilhem
2016-12-20T00:00:00
very happy with this set, always wish you have one when you do not...
---
von: Steve H
2016-11-08T00:00:00
Great little kit that works just fine. Drill out a pilot hole and then sink one of these beauties in. So far, so good! Comes in a handy little case too so that it stays as a set, rather than rattling around in your tool chest.
---
von: john d
2016-09-24T00:00:00
Used a couple of times now and it has got me out of some tight spots one of the best little kits I have bought
---
von: Craig S
2016-09-19T00:00:00
Working well and reliable
---
von: Philip
2016-08-22T00:00:00
These chew up at the first use, a total waste of money.
---
von: Michael W
2016-08-22T00:00:00
Good quality stud extractor set at a great price. Highly recommended.
---
von: Aaron S
2016-08-22T00:00:00
Great tool, very effective at getting the screws out.
---
von: Graham R
2016-08-22T00:00:00
Cheap enough and work well. Case is a nice touch too.
---
von: Gilles V
2016-08-22T00:00:00
It''s not the first time I buy something from Silverline. As always, this Screw extractor works fine! It comes in a little box as well. not so expensive but good quality!
---
von: bob
2015-09-11T00:00:00
Would have been more effective in an ordinary broken bolt, not so good on high tensile BMW bolts though!
---
Lebenslang Garantie
Dieser Silverline-Artikel Schraubenausdreher, 5-tlg. Satz verfügt über eine 30-tägige Garantie ab Kaufdatum, die ihn gegen Mängel infolge von Material- oder Verarbeitungsfehlern absichert. Um Ihre Lebenslang Garantie wirksam werden zu lassen, registrieren Sie Ihren Artikel bitte auf der Silverline-Webseite. Mangelhafte Artikel werden kostenlos ersetzt oder repariert.