675032
Double Pinion Hand Drill
290mm
---
---
Double-pinion milled gears
Hardwood handles
6mm, 3-jaw, hand-tightened chuck
Comfortable to handle
290mm
---
Buy Online
Find a Dealer
Review this Product
8 review(s)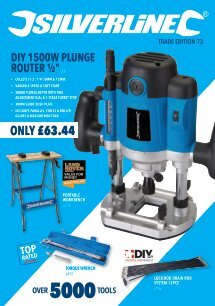 ---
Product Specification
| | |
| --- | --- |
| Chuck Size | 6mm |
| Product Weight | 0.750kg |
| Handle - Primary - Finish | Hardwood |
---
Key Features
Hardwood handles and double-pinion, milled gears for smoother running. Fitted with 6mm, 3-jaw, hand-tightened chuck.
---
Box Contents
1 x Double pinion hand drill
---
Customer Ratings
By: David E
2019-08-30T00:00:00
My old hand drill which had given me many years service broke so I looked for a replacement. My local builder''s merchants only had a Stanley priced at over £40 which is far too pricey for a tool that isn''t used very often. I found the Silverline version on the Toolstation website at a fraction of the price. The tool doesn''t have any fancy finish or refinements but does the job at a realistic price.
---
By: Edward H
2019-08-26T00:00:00
I bought this drill for drilling fine pilot holes in acrylic sheets and blocks, and also aluminium sheets to take rivets. I found a power drill a bit too brutal and too much torque for these softer materials. It is just perfect for my needs, and I''ve even used it on woodwork and sheet steel when I just needed a few holes. It saved time from taking my power drill out of its case and setting it up. It is very well made and to prove the point, it comes with a lifetime guarantee! The only annoying thing about it is that the handle tends to unscrew itself when you''re using it. However, I cured this problem with a small drop of locktite threadlock on the screw thread. Overall, for what it cost and a lifetime warranty, you can''t go wrong. A quality hand drill for many uses, that I believe will last a lifetime.
---
By: Derrick M
2019-01-21T00:00:00
The hand tightening of the chuck is very poor. When drilling into wood, the drill bit comes loose and is therefore frustrating. A key to operate the chuck should be better.
---
By: Kirk C
2016-10-21T00:00:00
Adjustable Bit on the hand drill was defective. I posted a service report and requested a warranty replacement but have heard nothing.
---
By: Jez P
2016-09-26T00:00:00
Reasonably good quality though chuck can be very fiddley for installing drill bit and handle works loose in time but overall for price compared to other similar handrills is quite good value for money and does get the job done ok!
---
By: Phil P
2016-09-26T00:00:00
I have bought quite a few Silverline tools over the years and I am sorry to say this was the worst one. It looked good out of the box but was just not the standard I have been used to from this maker. The mechanism was sloppy and the pinions were not aligned properly so the drilling actions was jerky and occasionally jammed. I was grateful for the lifetime guarantee because it went straight back to the dealer who refunded the purchase price with no queries.
---
By: Deke R
2016-09-05T00:00:00
You''d think that in a world of zippy little portable battery powered drills there''d be no place for old tech like a hand drill, but this little thing is just light, reliable, and most importantly, not so prone to mis-drilling, that I wouldn''t be without it. For all those little drilling jobs I''ll take a hand drill any time, and this one has proved to be very reliable indeed so far.
---
By: Timothy S
2014-11-23T00:00:00
Drill comes in three section and you have to put the drill together. Finish looks like they dipped and just let it drip off till it dried. Upper gear moves up and down, makes cranking jittery. I had to put a piece of wire in the lower gap and oiled it to make it crank smoothly. One plus is it comes with a Lifetime Guaranty.
Thanks for your feedback, we are always keen to hear how our products perform and we have passed your comments on to our buying department.
---
Lifetime Guarantee
This Silverline Double Pinion Hand Drill is guaranteed for a period of 30 days from date of purchase against a fault developing in either the materials or the workmanship during manufacture. You can register for your Lifetime guarantee by registering your product online. Any faulty goods will be repaired or replaced free of charge.