675108
Pressure Sprayer 5Ltr
5Ltr
---
---
Long-reach stainless steel lance with adjustable nozzle
Pressure-release safety valve
Wide funnel-type opening for easy filling
Carrying strap & trigger lock for continuous spraying
For easy distribution of plant feed, fertiliser & weed killer
---
Buy Online
Find a Dealer
Review this Product
17 review(s)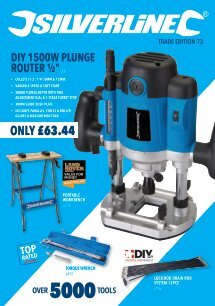 ---
Product Specification
| | |
| --- | --- |
| Finish | Plastic |
| PSI / BAR | 40psi |
| Product Weight | 1.044kg |
| Capacity - Volume | 5Ltr |
| Graduation | Yes |
---
Key Features
For easy spraying of water-based liquids including lawn feed, fertiliser and weed killer. Long-reach stainless steel lance with adjustable nozzle and trigger lock. Comfortable adjustable shoulder strap plus combined carrying and pressurising handle. Reinforced semi-transparent pressure container with safety valve. Wide funnel-type opening for easy filling. Colours may vary.
---
Box Contents
1 x Long reach stainless steel lance with adjustable nozzle
1 x Carrying strap
1 x Container with safety valve
---
Customer Ratings
By: Sonny S
2017-01-13T00:00:00
The pressure is quick to build up and though it states to pump it 30 times and no more you will be pressed to get that far. A dozen or so pumps and I get minutes of pressurized spray, often more than I need to complete my job. With a life time guarantee proves that it''''s built to last and gives me piece of mind I only have to ever buy one of these. Highly recommend.
---
By: KEITH H
2016-09-26T00:00:00
TRIED OTHER GARDEN SPRAYERS AND BEEN MOST DISSAPOINTED, THIS ONE IS A GEM AND AT AN EXCELLENT PRICE, AND A LIFETIME GUARANTEE TO BOOT, AMAZING VALUE !!!!!!!!!!!!!
---
By: Peter b
2020-05-12T00:00:00
Have only used once so far but very pleased. Easy to use and clean afterwards.
---
By: Sharon
2020-04-27T00:00:00
compact and easy to use - great value for money
---
By: Raj
2020-02-19T00:00:00
Well built product. Easy to put together. Spray pattern can be varied easily. Priming the pump was straight forward. Managed to spray entire garden full of weeds in 30 minutes. Using a watering can would have taken ages to do same job.
---
By: Michael W
2019-12-16T00:00:00
I have been using a watering can to bleach the gravel in my garden and to spray the k rendered garden wall to remove algae. Using this spray is so much easier than using a watering can and I have already saved the cost of buying this sprayer in savings i have made by purchasing significantly less bleach. Very straight forward operation and easy to clean,
---
By: les b
2019-12-05T00:00:00
Bought this garden sprayer, not for the garden, but to keep in the garage for those little jobs when it is not worth getting a hosepipe out. Cleaning my golf trolley (after a muddy game), removing "spots" of dirt on the cars body or wheels. Very handy.
---
By: Roger H
2019-08-07T00:00:00
The unit was easy to assemble. pressurisation was good with the pump handle. Spray nozzle was easy to adjust to obtain requird mist or droplet
---
By: Jerry
2019-07-09T00:00:00
Well designed and effective. Shoulder strap is very narrow and not very supportive when spray is full with 5 litres of liquid.
---
By: John h
2019-07-06T00:00:00
Nice and very easy to use. Gives a good spray pattern with little waste of whatever product you are using. I used it for a patio sealer and was very pleased with the finish
---
By: Simon
2019-05-31T00:00:00
Weeds sprayed & killed, works a treat - champion.
---
By: Keith H
2018-09-07T00:00:00
Very pleased with the sprayer. Bought it to spray algae on block paving. The lance allowed me to carry out the work with minimal bending and over spraying. A slightly longer lance would be better for this task.
---
By: Dennis R
2018-06-11T00:00:00
more than i could have wished for
---
By: David M
2017-07-13T00:00:00
Came part assembled with the joints not screwed up tightly, so leaked when first tried out. Once tightened up, the sprayer works very well, especially as the spray is easily adjustable from narrow to wide spread. The included spare seals and lifetime guarantee are a bonus.
---
By: Valerie W
2017-03-30T00:00:00
I love it . so easy to use, great style , does the job perfect. What else can you ask for a life times guarantee what more could you ask for..
---
By: Valerie W
2017-03-25T00:00:00
very well made, A good style and shape.Small but mighty.Does what it says on the box but better.
---
By: Richard S
2017-03-17T00:00:00
It comes with a spare bag of replacement washers for each various bit. As of yet it does not seem to leak as other ones do that I have had before. The metal pipe at the end works it''s way out if you move it side to side to quickly Apart from this an excellent product and comes with a forever guarantee.
---
Lifetime Guarantee
This Silverline Pressure Sprayer 5Ltr is guaranteed for a period of 30 days from date of purchase against a fault developing in either the materials or the workmanship during manufacture. You can register for your Lifetime guarantee by registering your product online. Any faulty goods will be repaired or replaced free of charge.