868552
Spiked Impulse Sprinkler
1/2" Male - 300mm
---
---
Pulsating garden watering
Metal construction with precision brass nozzle
360° or adjustable spray pattern
Universal 1/2" male hose connector
Daisy chain facility
---
Buy Online
Find a Dealer
Review this Product
10 review(s)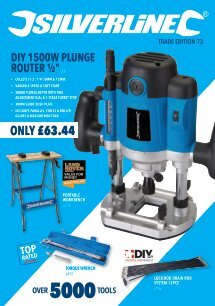 ---
Product Specification
| | |
| --- | --- |
| Finish | Aluminium, brass, painted metal |
| Product Weight | 0.306kg |
---
Key Features
Spiked, pulsating garden sprinkler made from metal with precision brass nozzle. 360° or adjustable spray pattern. Universal ½" male hose connector and daisy chain facility.
---
Box Contents
1 x Impulse Garden Sprinkler 300mm
---
Customer Ratings
By: mary m
2017-06-21T00:00:00
best sprinkler ever will recomend this item
---
By: Steve M
2016-09-06T00:00:00
The item is of exceptional quality and has been in regular use since purchase and hopefully will last many more years
---
By: Tom C
2019-07-24T00:00:00
Good robust product that unfortunately needs high water pressure to work, higher pressure than available at my house. Requests for advice from Silverline went unanswered so the sprayer was returned.
---
By: Simon P
2019-07-06T00:00:00
This is a mini version you can see on fields during dry periods. I understand why it is guaranteed for life as it is of very high quality. It's probably me however it takes a little time to sort out the trajectory of the spray, but afterwards the sprinkler works very well.
---
By: Stuart N
2019-06-11T00:00:00
Bought this online, as fed up with expensive plastic sprinklers that give up the ghost in one season. When I unpackaged it I didn't notice that the little spring that fits into the trip pin for controlling direction of spray had come out... so tried it...worked, then stopped...stuck in end of arc location... inspected it, noticed the spring and saw the hole through the trip pin...got some small pliers and put it through the hole...hhmmm the leg of the spring was very short...and yes, it would not stay put in place...so I pulled it through again and bent the last 3/4 minute over so it would stay put...it does now stay put, but in use it does still occasionally stop and the end of the spray arc...so investigated...two things...firstly, pulling the spring through and bending the bottom over to keep it retained tightened it up, so it's not as easy to 'trip', and secondly, it appears the the 'arc adjuster collars' actually move from the set places in use, presumably by being gentry hammered by the rotating sprinkler head...a little bit at a time, so over a period of an hour I found the arc set by the collars had moved several metres, making and area I wanted to keep dry, sopping wet...so not very happy with that either... to round up the actual sprinkler head works fine, but the spring leg through the trip pin was too short (can you send me a replacement please), and the collars slip around, presumably the water from the sprayer acts as a lubricant aiding this movement... other than that fine...!! So to end this review I also bought another more expensive, non silverline, bigger better sprinkler...with a three spike cast footing...but have yet to try it...as all it's done since it arrived is ruddy rain...!!
---
By: Andy G
2019-05-04T00:00:00
Not had much opportunity to use this as yet but tested once before rain meant not required but test went well. Seems well constructed, decent reach of spray and adjustable as expected. I have read reviews that the spike snaps off but I can only presume that it is being forced into ground that is too hard. First impressions are good but will await full summer to see if robust enough.
---
By: Karen c
2019-04-19T00:00:00
Spread and length fabulous. Problem with rotation though as it only does 360 degrees after first few uses. When on other settings (eg 90,180 etc) it gets stuck at end of cycle and does not return . The clip mechanism does not click into the right position once it hits the post and therefore sticks. I purchased two more to see if I had a faulty one but they all seem to do the same thing.
---
By: Paul P
2018-07-19T00:00:00
Brilliant machine - does short range as well as 8m radius, full circle and small wedge, fine and course spray.
---
By: Brian B
2017-07-24T00:00:00
Sprinkler arrived quickly couple of minor adjustments and we were watering the lawn . Only got medium garden but from one place could cover it all.
---
By: Brian B
2017-07-17T00:00:00
Great sprinkler adjustable spray and pressure storm to a mist. Very good service.
---
Lifetime Guarantee
This Silverline Spiked Impulse Sprinkler is guaranteed for a period of 30 days from date of purchase against a fault developing in either the materials or the workmanship during manufacture. You can register for your Lifetime guarantee by registering your product online. Any faulty goods will be repaired or replaced free of charge.