946680
Perceuse à percussion sans fil 18 V
18 V (UK)
---
---
Batterie Li-ion 1,3 Ah avec chargeur intelligent 3-5 h
Mandrin sans clé de 10 mm à double manchon
Réglages du couple 16+2 et inversion du sens de rotation
Capacité de perçage : bois - 20 mm, maçonnerie - 10 mm et acier - 8 mm
Éclairage intégré
---
Achetez en ligne
Trouver un magasin
Évaluez ce produit
18 évaluations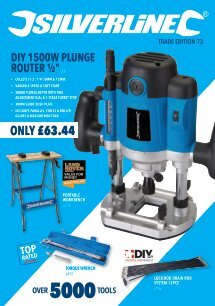 ---
Caractéristiques techniques du produit
| | |
| --- | --- |
| Longueur du câble | 1,8 m |
| Finition | Plastique |
| Classe de protection | IPX0 |
| Tension d'entrée | 100 - 240 V, 50/60 Hz |
| Puissance de sortie | 23 V, CC, 400 mA |
| Puissance | 18 V |
| Type de batterie/pile | Li-Ion 1,3 Ah |
| Chargeur | 3-5 h |
| Vitesse à vide | 0-400 / 0-1450 min-1 |
| Couple max. | 30 Nm |
| Taille du mandrin | Capacité du mandrin 0,8 - 10 mm |
| Couple variable | 16+2 |
| Capacité de perçage max. - bois | 20 mm |
| Capacité de perçage max. - maçonnerie | 10 mm |
| Capacité de perçage max. - acier | 8 mm |
| Nombre de batteries/piles | 1 |
| Poids du produit | 1,2 kg |
---
Caractéristiques principales
Perceuse à percussion à batterie Li-ion 1,3 Ah avec chargeur intelligent. Mandrin sans clé de 10 mm à double manchon. Réglages du couple 16+2 et inversion du sens de rotation. Poignée surmoulée et indicateur LED du niveau de charge de la batterie intégré. Frein électrique. Éclairage intégré. Vitesse à vide : 0-400 / 0-1450 min-1. Capacité de perçage max de 20 mm dans le bois, 10 mm dans la maçonnerie et de 8 mm dans l'acier. Couple max 30 Nm. Temps de charge entre 3 et 5 heures. Batterie, chargeur de batterie et boîtier d'alimentation électrique du chargeur inclus.
---
Contenu
1 x Perceuse à percussion 18 V
1 x Batterie 1,3 Ah
1 x Chargeur 3-5 h
1 x Manuel d'instructions
---
Évaluations de clients
par : Kelly B
2021-02-17T00:00:00
Purchased this as had several other cordless drills but got fed up with charging them every time I need to use them, but this one as lasted months without a recharge and so comfortable to use.
---
par : RICHARD
2020-05-01T00:00:00
EXCELLENT QUALITY PRODUCT. LIGHT WEIGHT AND POWERFULL.
---
par : Clive
2020-04-28T00:00:00
I am very pleased with this drill. It is goog value for the money and performs as well as some of the much more expensive ones I use in my workshop. Don't be put off buy the low price. Thanks Silverline.
---
par : r.silcocks
2020-04-20T00:00:00
lightweight easy to handle good battery life charge time good when using the drill you have not got cable hanging its cordless great
---
par : Matthew B
2020-04-15T00:00:00
Great quality product, ideal for projects and DIY around the house.
---
par : Pavel S
2019-11-05T00:00:00
This hammer drill is very good. I use it home for everything. Its worth the money!
---
par : Kuldeep R
2019-09-03T00:00:00
Currently I am very happy
---
par : Kuldeep R
2019-09-03T00:00:00
Currently I am very happy
---
par : colin s
2019-01-31T00:00:00
light to use very torquey good range of torque settings ok battery not quick charge but for normal diyer does job with ease would highly recommend and a good price to match
---
par : colin s
2019-01-31T00:00:00
build quality very good.lighter than previous cordless drill ok not a fast charger but for price would highly reccomend for a diyer .very torque all torgue settings feel precise varible speed good all in all a really well made piece of kit
---
par : michael e
2019-01-25T00:00:00
i bought this drill because its made by silverline . ive had several tools in the past and they have never let me down .the only thing i can find wrong with this item is silverline do not seem to sell spare batteries for this model , but for the price its nearly as cheap to just buy a second drill .its nice and light weight and compact .it does everything a cordless hammer drill should do so i highly recommend this product .
---
par : Eddie B
2019-01-05T00:00:00
Very pleased with the drill. Works well, long lasting battery & even better with the extended 3 year warranty - would recommend this product
---
par : PABLO A
2018-05-14T00:00:00
My experience with the product has been great so far. Lightweight and quite useful to have a driller that can be used for screwing too. When used with the hammer feature it works reasonably well even with half battery, making a hole in concrete took seconds. Obviously it is not a heavy duty tool since the body is made of plastic so not recommended for everyday professional use.
---
par : Adrien P
2017-12-29T00:00:00
This little machine is well designed and well configured. It is light and very practical to use. The fact that it runs on battery and has lighting, makes it a product to recommend.
---
par : Bev
2017-09-04T00:00:00
Purchased two of these in March 2016 and products have been fairly OK. However, first one packed up a month ago and the second packed up recently! These units have been kept clean, dry and regularly charged / discharged. Unfortunately, we didn''t register the warranties online, but I do have the printed receipt for these items but, Silverline flatly refuse to honour their 3 year warranty without registration - they just offered a chargeable repair... So BE WARNED, no registration within 30 days NO WARRANTY!
---
par : christian m
2017-03-09T00:00:00
bon produit et esthétique
---
par : mahé c
2017-03-02T00:00:00
---
par : Carlos D
2017-02-22T00:00:00
- Para el precio que tiene esta muy bien,el funcionamiento es bueno.
---
Garantie 3 ans
Ce produit Silverline est garanti pendant une période de 30 jours à partir de la date d'achat contre tout vice de matériaux ou défaut de fabrication. Vous pouvez obtenir une garantie à vie en enregistrant votre produit en ligne. Tout bien présentant un défaut sera réparé ou remplacé gratuitement.
Les clients qui ont visualisé ce produit ont également consulté...
Aucun autre produit visualisé