123557
Doe-het-zelf 600 W Mixboormachine met lage snelheid
600 W
---
---
Zachte start en variabele snelheid
Dubbele rotatierichting
Te vergrendelen schakelaar
Sterke, metalen gegoten tandwielkast
Groot D-handvat met meerdere posities
---
Koop online
Vind een handelaar
Beoordeel dit product
5 review(s)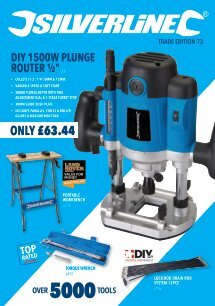 ---
Product specificaties
| | |
| --- | --- |
| Snoerlengte | 2 m |
| Boorhouder type | Zonder sleutel, capaciteit 1,5-13 mm |
| IP waardering | IP20 |
| Max. koppel | 52 Nm |
| Onbelaste snelheid | 0-800 min-1 |
| Vermogen | 600 W |
| Variabele snelheid | Ja |
| Gewicht | 2,15 kg |
---
Product beschrijving
Voor het mixen van multifunctioneel gips, textuurverf, vloerverven en coatings. Sterke, metalen gegoten tandwielkast. Variabele snelheidstrekkerschakelaar. Groot D-handvat en zijhandvat met meerdere posities. Onbelaste snelheid 0-800 min-1.
---
Doos inhoud
1 x Mixboormachine lage snelheid 600 W
1 x D-handvat
1 x zijhandvat
1 x boorkopsleutel
1 x Koolstofborstel (paar)
1 x instructiehandleiding
---
Klanten reviews
Door: Dennis L
2017-11-25T00:00:00
I''m a retired professional from my kitchen, bedroom and bathroom business. Currently refurbishing my retirement bungalow and had a lot of mixing to do, plaster and dibs and dabs adhesive, last weekend. My very old mixer finally packed up after many years of abuse. I only needed one for this job so bought this one hoping it would last the weekend.I have to say I am very impressed with this mixer, it went the weekend with no problems and certainly powerful enough for the job, mixing in a std. bucket. It feels very solid and quite heavy, metal gears, and well made for the price. The speed control worked very well with a no loss of power on lowest speed. It has a quality metal chuck with key. Has two removable handles and one of which is adjustable for position. I now have an extra drill if I need it which is a bonus. Very satisfied and a big thumbs up for Silverline.
---
Door: Richard S
2017-01-22T00:00:00
Second of these I''''ve had, first lasted ten years and would probably be ok again with new brushes. These machines come with a spare set of brushes anyway. They also have a normal drill chuck which means you can use any paddle you like and you''''re not restricted to one that''''s supplied. At this price you can''''t really go wrong!
---
Door: kevin
2016-09-14T00:00:00
---
Door: J
2016-09-12T00:00:00
Really good drill for the money not the most powerful but still good for light mixing job''s silverline Tool are great quality tool''s well worth the money.
---
Door: Mike K
2016-08-16T00:00:00
I bought this to mix plaster for a large DIY project. It did the job nicely, mixing bucket after bucket of plaster with no problems. The handles are easily attached and fit the hand nicely. The drill can be locked on for continuous running without you having to hold the trigger. I particularly liked the reversible function, which makes mixing a lot quicker and more efficient.