129659
1500 W Schuur-/polijstmachine, 180 mm
1500 W
---
---
Variabele snelheid
Veiligheidsknop voorkomt onopzettelijke start
Verstelbaar hulphandvat voor een optimale gebruikscontrole.
Voor medium schuur- & polijstwerkzaamheden
Inclusief klittenband-schuurschijf & polijstkussen
---
Koop online
Vind een handelaar
Beoordeel dit product
39 review(s)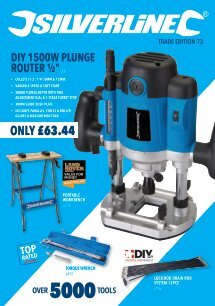 ---
Product specificaties
| | |
| --- | --- |
| IP waardering | IP20 |
| Veiligheidsschakelaar | Ja |
| Vermogen | 1500 W |
| Schuurschijf diameter | 180 mm |
| Variabele snelheid | Ja |
| Onbelaste snelheid | 1000 - 3200 min-1 |
| Gewicht | 2,99 kg |
---
Product beschrijving
De Silverline schuur- en polijstmachine is perfect voor diverse abrasieve bewerkingen, maar wordt het meest gebruikt voor polijstwerkzaamheden en het opschonen van carrosserieën van auto´s en rompen van boten, zij het om esthetische redenen of om een oppervlak voor te bereiden voor het schilderen of voor een ander type bewerking.
.Met een krachtige 1500 W motor kunt u de werkzaamheden op de juiste wijze uitvoeren. Een korte startvertraging na het gebruik van de trekker is nuttig omdat dit het van het werkstuk wegschuiven va de machine voorkomt en het u mogelijk maakt om de snelheid gemakkelijker in te schatten. De variabele snelheid is aan te passen aan uw specifieke behoeften, en gecombineerd met de zachte start biedt dit u een perfecte controle over het gereedschap.
Goed uitgebalanceerd en met een groot handvat biedt de Silverline schuur- en polijstmachine een goede stabiliteit en een comfortabele werkpositie. Geschikt voor 180 mm klittenband-schuurschijven met verschillende korrelmaat, perfect voor gebruik op grote oppervlakken waar een snelle werking van belang is.
Compatibel met een breed aanbod aan polijstkussens, zoals Silverline 107974, schuurvellen, zoals Silverline 427660, en polijstpasta´s, zoals Silverline 107874.
De Silverline schuur- en polijstmachine wordt geleverd met 1 x klittenband-steunschijf, 1 x klittenband-polijstkussen, 1 x klittyenband-schuurschijf, 1 x zeskantsleutel, en 2 x vervangkoolstofborstels.
---
Doos inhoud
1 x Schuur-/polijstmachine, 1500 W
1 x Wollen polijstkussen
1 x Klittenbandschijf, 120 korrel
1 x Polijststeunschijf
1 x Hulphandvat
1 x Zeskantsleutel
1 x Paar koolstofborstels
1 x Handleiding
---
Klanten reviews
Door: Ian d
2020-01-07T00:00:00
Great polisher with loads of variable speed settings. Only used for polishing my glass shower doors up to now but did a great job with ease.
---
Door: Sean
2019-09-18T00:00:00
Overall the Polisher is performing as I expected. I have only purchased it less than a month ago so have only used it to polish 1 car to date.
---
Door: Jim H
2019-09-18T00:00:00
I found this sander/polisher to be a good solid piece of equipment. With fingertip access to the speed control, it is easy and simple to adjust the speed to suit your needs without funbling around. The safety switch is ideal to prevent accidental starts, and the 180mm/6in hook & loop pad makes the changeover from polish to buffing a breeze. The added advantage is that you get a 3 year warranty on the package. Highly recommended for the DIY''r or Professional.
---
Door: Glenn H
2019-07-26T00:00:00
Polisher is very well made and does everything you could wish of a high quality car polisher. It is a little heavy. Has multi speeds and spare carbon electric motor brushes. I highly recommend.
---
Door: Ian P
2019-06-22T00:00:00
What a brilliant bit of kit wasn''t expecting the results that I got with this machine Absolutely brilliant 😎
---
Door: Doug G
2018-09-09T00:00:00
excellent item, works fine, does a good job
---
Door: Vince
2018-04-30T00:00:00
Recently bought. So far so good..
---
Door: Maurice P
2018-03-29T00:00:00
Good quality easy to use and powerful enough for the job
---
Door: Michal W
2017-07-24T00:00:00
---
Door: Paul M
2017-07-19T00:00:00
Bought the silverline Polisher/Sander for polishing cars. what can I say , good build quality,well balanced,works great. I did not use the included mop. I bought some farecla mops which complement this machine. Well pleased.
---
Door: Adrian C
2017-07-13T00:00:00
I am very pleased with my purchase of the Silver storm sander/ polisher. It is extremely well built and comes with a wool bonnet and sanding sheet to get you started. The spare motor brushes are an added bonus which should enhance the longevity of this product. Extended warranty when you register online completes a great package, well done Silver line.
---
Door: Adrian C
2017-07-06T00:00:00
I recently purchased the Silver line 1500 sander/polisher and its a winner on quality and value. The build quality suggests an item of a much higher price . The package includes enough accessories to get started right away with the availability additional pads and discs in the professional range. I also love the spare motor brushes coupled with the three year guarantee building confidence in the longevity of this product. Well done.
---
Door: Tim P
2017-05-05T00:00:00
There are cheaper polishers around, also more expensive ones. Like other Silverline products I have had in the past this one feels solid and gives confidence of long service life. I practiced on an old car door first, but it was easy to pick up the technique.
---
Door: Steven S
2017-04-28T00:00:00
Bought this item to compound and polish a large grp panel. So far so good. Easy to use and worked well. One handle fixing hole was poorly made but a quick clean out with a thread cutter solved that, not worth returning for a quick fix. One star lost for quality control.
---
Door: burt t
2017-03-30T00:00:00
Yet another great tool from Silverline power-full smooth actiongood value for money
---
Door: Chris M
2017-03-24T00:00:00
First impressions indicate a tool of substance which should provide me with many years use
---
Door: Mr M
2017-03-22T00:00:00
Have not used it yet but tried it out for power & I found it quite powerful,I brought it to polish the Caravan & can''t wait to use it later on in the year, pleased with product.
---
Door: Martin S
2017-03-22T00:00:00
This is the second Silverline product I have owned. The sander is well made, sturdy and nicely balanced. I hope to have many years of faithful service, especially with the long warranty.
---
Door: Martin S
2017-03-15T00:00:00
It''s the second Silverline tool that I''ve purchased. And like the first, I''m impressed with the quality, price and warranty.
---
Door: Òscar F
2017-03-06T00:00:00
Very good tool, easy to use and reliable
---
Door: Rob W
2017-03-05T00:00:00
I wasn''t expecting as much as I got. The build quality is substantial, the noise is not excessive, and the D handle is comfortable to use. I''ve used this with Farecla D3 paste to restore the finish on my 20 foot fibreglass boat. The results were excellent. Although it is quite heavy that''s not all bad news, it makes it easy to hold the foam pad steady and flat. The handle layout makes it easy to change hands. Previously I''ve done this job with a butterfly handled dual action polisher which I found difficult to control and very tiring. I haven''t had to use them but I thought the inclusion of spare brushes nice touch.
---
Door: charles s
2017-03-02T00:00:00
This well made machine is a joy to use as it is easily handled and feels well balanced. The variable speed control makes it do the job comfortably and importantly.....safely. This a machine which can be used by the amateur or professional, giving very good results.
---
Door: Paul G
2017-02-27T00:00:00
Used for restoration and repair of surfboards. Variable speed perfect for sanding repair work, without burning through. Mop attachment worked well for giving a glossy finish to repaired boards. Good control and easy to handle.
---
Door: Tom S
2016-12-06T00:00:00
Wonderful value for money,a godsend when polishing my boat
---
Door: Alex
2016-11-29T00:00:00
Excellent product in use daily without any problems. Works better than far more expensive machines. Would highly recommend
---
Door: Lee b
2016-09-26T00:00:00
Bought this sander and polisher to do the cars I was astonished of how brilliant the cars came out took scrarches out as well I would recommend any body to buy this product it''s absolutely fantastic a+++++++++++
---
Door: Michael S
2016-09-14T00:00:00
---
Door: Chris Y
2016-09-12T00:00:00
I bought this to help me buff the front of my caravan, To be honest I thought this was an idle persons toy, how wrong I was. This bit of kit is essential for anyone, it''s not to heavy to hold and is comfortable to work with. An Excellent product for anyone who needs to detail polish a vehicle of any description.
---
Door: Mr P
2016-09-12T00:00:00
I have had this tool a while I have used it to polish the car and to grind and buff some serious scratches out of a picture window. The speed control has been invaluable as well as the soft start. So far this tool has been a stand up winner it is solid and appears well built, it does what you expect which is just what I need. I have never used or owned this sort of tool beofre so I can''t really make any comparisons, but it works great.
---
Door: Neville F
2016-09-12T00:00:00
Bought this as a polisher for my caravan. Made easy work of it. Since then I have used it on my car and Land Rover, and it works really well. So far, no problems. Would recommend!
---
Door: Trevor P
2016-09-12T00:00:00
Good item at a reasonable price Soft start very handy. Only problem I found is that it is rather heavy for prolonged use.
---
Door: Alan m
2016-09-12T00:00:00
Been a brilliant bit off kite
---
Door: JAMES W
2016-09-12T00:00:00
We have used this extensively and it has proved very capable - unbeatable for the price . A warranty claim dealt with instantly .
---
Door: Ray P
2016-09-12T00:00:00
Fantastic tool that is still performing just as good.Value for money and well made item.Very pleased indeed.
---
Door: Brian B
2016-09-12T00:00:00
Excellent product can''t fault it. Bought second hand car for daughter which had some minor scratches. I bought some rubbing compound and a foam pad and polished the whole car. Then I finished off with lambswool mop and some wax polish. After less than 2 hours you would just think that the car had came out of the showroom. Daughter was over the moon.
---
Door: Richard H
2016-09-12T00:00:00
Well at first I wasn''t sure as the price seemed too cheap. I decided to buy as it is only for occasional use. I used to be in the vehicle bodywork industry years ago and very familiar with buffers and polishers. It performed better than expected. It feels strong and sturdy and doesn''t vibrate as much as expected it certainly performed as well as some of the really expensive ones I''ve used over the years. The only slight Critisism is the lead isn''t as long as I''d like, buffing a car roof you need an extension lead but apart from that I would fully recommend.
---
Door: tonysmithard
2016-08-08T00:00:00
I brought this on the off chance to try it out . I use tools daily in my job and have never used this brand . I am very happy to say it has turned out to be a great tool and at a price that didn''t break the bank with also a great warranty . As my old tools start to fail I will be replacing them with this range of tools
---
Door: Alex
2016-07-10T00:00:00
When I opened it there was a holding screw for the handle missing. As it had been a few months since I''d bought it I didn''t go back to the supplier for one, so, that was a little disappointing. Its heavy, but beyond that fairly easy to control. I need to buy more pads and perhaps I''ll add to my review when they arrive.
---
Door: Derek H
2016-01-07T00:00:00
Superb tool safety is super starts with a slow revolution so doe not run away. Heavy duty solid quality an outstanding tool for garage or private use ,even comes with a spare set of motor brushes and that''s very rare. Comes with left or right handled Handel . Polishing disc Velcro pad for holding emery cloth sanding and a polishing mop. Superb buy will last for years a must for any bodywork or workshop.
---
Veelgestelde vragen
Does this model have variable speed?
Yes, this model does have variable speed.
What attachments does it come with?
This sander polisher comes with a G-handle, hook and loop backing pad, 80 grit sanding disc, and hook and loop polishing bonnet
Where can I buy extra attachments?
Silverline has a range of sanding and polishing attachments in our Power Tool Accessories category. Here is a link http://preview.silverlinetools.com/en-GB/Products#79
Is this a dual action polisher?
No, this sander polisher has rotary action with multi-speed settings