224511
4-delige quick-flip schroef en boor set
4-delige set
---
---
Boor een geleidingsgat, ruimte en verzinkgat in één beweging
Draai de houder om voor schroefwerkzaamheden
Magnetische houder
Past op alle 10 mm of grotere spankoppen
Inclusief 1 quick-flip houder en 3 schakels voor maat 6, 8 en 10-gauge schroeven
---
Koop online
Vind een handelaar
Beoordeel dit product
4 review(s)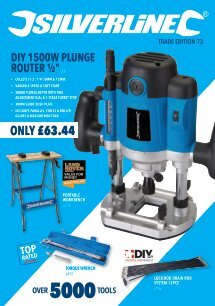 ---
Product specificaties
| | |
| --- | --- |
| Afwerking | CRV |
| Bit wissels | 6,35 mm, zeskant, mannelijk en vrouwelijk |
| Koppeling formaat | 6,35 mm, zeskant |
| Materiaal - punt | Chroom vanadium |
| Gewicht | 0,155 kg |
---
Product beschrijving
Boor een geleidingsgat, ruimte en verzinkgat in één beweging. Draai de magnetische houder om en schakel van boorfunctie naar schroeffunctie. De set bevat een magnetische houder en 3 schakels voor maat 6, 8 en 10-gauge schroeven. Past op 10 gauge schroeven.
---
Doos inhoud
1 x schakel voor 6 gauge schroeven, schroevendraaier bit PZ1
1 x schakel voor 8 gauge schroeven, schroevendraaier bit PZ2
1 x schakel voor 10 gauge schroeven, schroevendraaier bit PZ3
1 x quick-flip houder
---
Klanten reviews
Door: David S
2019-07-27T00:00:00
I have had another manufacturer''s quick flip for years but it finally died so I saw this one and thought I''d give it a go but after a few days of using it I find it impossible to take out and flip without the aid of a pair of pliers as it gets wedged solid in the holder, if you want one of these my advice is buy a dewalt, it may be more expensive but it works and it will serve you for years.
---
Door: Garry S
2019-05-13T00:00:00
Excellent product for the price saving time
---
Door: Frank J
2018-05-21T00:00:00
This is the best design of all the flip &amp drive variations out there. First of all it''s the thinnest so you can use it in tight spots. Secondly, the chuck/sleeve operation is very easy to use one handed. You pull the sleeve forward and it locks in the release position. With the same motion you pull out the drill/drive insert. Now you flip it over and insert it back into the sleeve. With the same motion you slide the sleeve back to the lock position. Easy as pie. Thirdly, the allen wrench is built into the bottom of the holder so it can''t get lost and it''s right there when you want to replace or just adjust the length of the drill bit. Lastly, the screwdriver tips are held in by a magnet. Thus it''s easy to change tips without having to loosen any set screws. I''ve used DeWalt, Makita, Ryobi, and Craftsman sets and they all have shortcomings. The Silverline is the most convenient and is priced less to boot.
---
Door: Graham J
2016-08-30T00:00:00