240271
Telescopische hangsteun voor roterend gereedschap
550 mm
---
---
Stalen tafelrandklem met instelbare schacht
Houdt de roterende machine binnen handbereik op de draaiende haak
Voorzien van gaten voor permanente bevestiging
Compatibel met de meeste roterende machines, waaronder Silverline, GMC en Dremel
Ideaal voor Silverline, Flexidrive Shaft & Roterend gereedschap
---
Koop online
Vind een handelaar
Beoordeel dit product
10 review(s)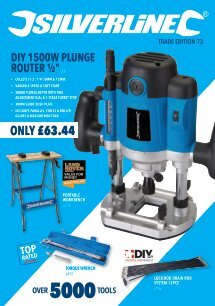 ---
Product specificaties
| | |
| --- | --- |
| Capaciteit - kaak | 65 mm |
| Afwerking | Natuurlijk |
| Materiaal - punt | Staal |
| Gewicht | 0,312 kg |
---
Product beschrijving
Stalen tafelrandklem met instelbare schacht. Houdt de roterende machine binnen handbereik op de draaiende haak op de gepaste hoogte voor elke gebruiker. Vast te klemmen op werkbanken of permanent te monteren met behulp van voorgeboorde gaten. Compatibel met de meeste roterende machines, waaronder Silverline, GMC en Dremel. Ideaal voor Silverline, Flexidrive Shaft & Roterend gereedschap.
---
Doos inhoud
1 x Telescopische hangsteun 250-550 mm
---
Klanten reviews
Door: Pam j
2020-04-22T00:00:00
First time ever buying silverline tool fast delivery very impressed with packaging and sturdiness of tool and the guarantee is a bonus already been looking at tools to add to my collection won''t be buying any other brand from now on 5 ☆
---
Door: Heather S
2020-02-05T00:00:00
Does exactly what you''d expect it to do, and for a great price. It''s portable, but sturdy, and versatile in terms of how you can affix it to a surface.
---
Door: Peter K
2019-12-05T00:00:00
Very good value for money. Works reliably. Very useful for a whole range of jobs.
---
Door: Sue T
2019-12-01T00:00:00
This item is great it so useful helps me keep the rotary tool in one place before I got it was difficult to work but now it's so easy
---
Door: Steve o
2019-11-27T00:00:00
A must for the more delicate jobs , great when using the flexi adaptor while engraving or sanding . Easy safe storage of the rotary tool
---
Door: Rob
2019-10-21T00:00:00
The stand is a good tool for my engraving and is easy to use and connect to my bench, at first it dropped a couple of times but this was user error not tightening up the extendable arms enough so do beware.
---
Door: Paula T
2019-10-09T00:00:00
Much better than having the drill laying on the bench rolling about every time you move the drill head and not expensive either. Useful & highly recommended.
---
Door: Angi
2019-01-11T00:00:00
Great price just what I needed
---
Door: Phil
2019-01-11T00:00:00
Just what I was looking for at a great price
---
Door: John
2016-12-09T00:00:00
I have been looking for a telescopic for some time and when I saw this I was not thinking it would be as good as it turned out I have used it a lot and is still working like new