245060
5-delige handboor en priemen set
5-delige set
---
---
De set bevat een 3, 4 en 5 mm handboor en twee 3 mm priemen
---
Koop online
Vind een handelaar
Beoordeel dit product
7 review(s)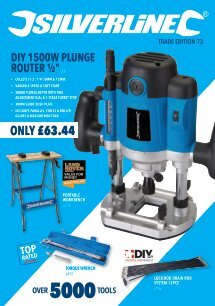 ---
Product specificaties
| | |
| --- | --- |
| Afwerking | Plastic handvat met stalen blad |
| Gewicht | 0,115 kg |
| Schacht lengte | T-handvaten: 90 mm, ronde handvaten: 40 mm |
---
Product beschrijving
De set bevat een 3, 4 en 5 mm handboor en twee 3 mm priemen. De handboren zijn voorzien van T-handvaten.
---
Doos inhoud
1 x 3 mm handboor
1 x 4 mm handboor
1 x 5 mm handboor
1 x 3 mm priem
1 x 3 mm timmerman priem
---
Klanten reviews
Door: Peter E
2020-02-21T00:00:00
This set of gimlet and bradawl tools is exactly as I require and work well. Used them several times already and no problems at all. Ideal set for my carpentry.
---
Door: Paul
2019-11-02T00:00:00
Can't fault them. Does exactly what you would expect them to do..
---
Door: Eifion
2019-10-26T00:00:00
---
Door: Pat R
2019-10-14T00:00:00
A very handy set of items that save time and hassle - well worth the money.
---
Door: pat r
2019-10-07T00:00:00
Very handy little tools for the craftsmen. Cheap to buyyet good quality too.
---
Door: Pat V
2019-06-04T00:00:00
Arrived on time. Great set of tools. I am his them for craft work. E.g. Putting holes in leather,holes in despatch work. The tools have been very successful for my needs, and much better than the end of a pair of scissors.
---
Door: Ms R
2017-07-20T00:00:00
Small gimlet snapped on day 3 of use, leaving the twisty bit stuck in the piece of double plywood I was trying to create a hole in. Managed to get the bit out so no harm done there. Will be calling Silverline to check up on their ''lifetime guarantee'' statement. No problems with any of the rest of the set - each piece very workable in its own right. Will update further in due course...