262705
1400 W gecombineerde verstekzaag, 210 mm
1400 W, UK
---
---
Precisie 210mm, TCT precisieblad 24 T
Volledig metalen beschermers, arm, geleider, en verstektafel
Stofpoort en draaghandvat
Inklapbaar voor een compacte opberging
Geleverd met klem, stofzak, achterste stabilisator en performant zaagblad
---
Koop online
Vind een handelaar
Beoordeel dit product
38 review(s)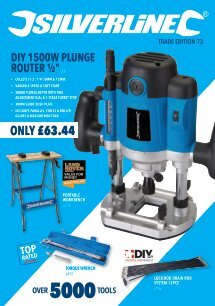 ---
Product specificaties
| | |
| --- | --- |
| Blad afmeting | Maimaal: Ø 210 mm |
| Maximale zaagdiepte | 50 mm |
| Vermogen | 1400 W |
| Blad diameter | 30 mm |
| Onbelaste snelheid | 5000 min-1 |
| Verstekbereik - ° | 0° tot 45° links en rechts |
| Gewicht | 6 kg |
---
Product beschrijving
Krachtige 1400 W motor en een 210 mm, TCT precisieblad met 24 tanden. Volledig metalen beschermers, arm, geleider, en verstektafel. Gecombineerd, 0-45° schuine en 0-45° L/R versteksnedes. Max. dwarszaag capaciteit 120 x 50 mm. Stofpoort en draaghandvat. Gemakkelijke 0° kalibratie voor afschuinings- en verstekhoeken. Op een werktafel monteerbare basis. Inklapbaar voor een eenvoudige opberging. Inclusief klem, stofzak, achterste stabilisator en hoogwaardig zaagblad.
---
Doos inhoud
1 x 1400 W gecombineerde verstekzaag, 210 mm
1 x 210 mm, TCT zaagblad 24 tanden
1 x stofzag
1 x klem
2 x zeskantsleutels
1 x Paar koolstofborstel
1 x handleiding
---
Klanten reviews
Door: Roger C
2019-01-26T00:00:00
Brilliant! Used it yesterday for the first time and it did all I wanted it to.
---
Door: John D
2019-01-23T00:00:00
Excellent product. A fair price and does the job. Unfortunately a fault developed with the on off switch, within its 3 year warranty. Product returned over the Xmas period and within days a new saw arrived. Outstanding service. Highly recommended.
---
Door: Anthony J
2019-01-10T00:00:00
Great value both on price and quality, also excellent response from Customer Services. Highly recommended.
---
Door: Terry k
2019-01-04T00:00:00
Good priced accurate cutting saw... no problems since owning it. The 3 year warranty is a great bonus.
---
Door: Mark j
2018-12-29T00:00:00
A great saw with excellent safety features light weight so easy to carry around. A great all round work horse.
---
Door: Ian
2018-12-26T00:00:00
Does not handle logs of certain size well,also the on off button has stuck permanently to the on position,you have to switch off at the power supply not good
---
Door: Mat O
2018-10-25T00:00:00
Very happy with this Silverline mitre saw, does everything you need it to and at a very reasonable price with a 3 year warranty-bonus!
---
Door: Fred H
2018-04-03T00:00:00
Très bon rapport qualité-prix Je recommande ce produit
---
Door: Bob H
2017-05-26T00:00:00
Had to return first order due to a problem with the on/off switch but am really pleased with the performance of the replacement except for the setting for a 90 degree cut being a couple of degrees out.
---
Door: Ian O
2017-05-04T00:00:00
Easy to use, very safe. Only thing I wish it had was a center line on the base showing where the blade was when cutting. Would be easy for srtaight cuts, not so easy for angled ones.
---
Door: Bob H
2017-04-20T00:00:00
After approximately 50 X 3inch cuts the on/off switch seized in the on position. The saw is on its way back to the seller !
---
Door: robert l
2017-04-13T00:00:00
a good saw to have around use it every day very
---
Door: Tony F
2017-04-11T00:00:00
For the low price, this is a good machine which will certainly suit the occasional DIY user. The print face in the user guide is far too small, the parts illustration cannot be seen a the same time as the parts number list, and the instructions are hard to follow.
---
Door: Craig
2017-03-26T00:00:00
This was a great little tool for my projects for the first couple of weeks, but after that it became faulty. Whenever I finished making a cut and released the trigger the motor would keep running with the blade spinning. I would have to lift the saw blade up in order to unplug it from my extension lead to switch it off with the blade spinning all the while. The problem persisted when I plugged the saw back in. The motor would start running immediately. It is a shame this tool became faulty as it was doing so well, but short-lived. I have had to return it to Amazon.
---
Door: John D
2017-03-25T00:00:00
A good user friendly, efficient Mitre Saw. Inexpensive tool which does the job. The instruction manual is an eyesight test and difficult to read. There were 2 Allen keys supplied, the smaller one does not seem to fit anything
---
Door: Richard H
2017-03-10T00:00:00
Good Price, does the job The TCT blade is especially useful
---
Door: Richard H
2017-03-03T00:00:00
Received in god time. I''m using it to chop up old purlins for firewood. It does the job well and does not mind the odd nail (unlike my chain saw).
---
Door: craig w
2017-01-27T00:00:00
To sum this up in 5 words I''''d say "good, solid piece of kit". Had this a couple of months now and it has already paid for itself due to it being great value for money. Been building a new workshop and this has made my life so much easier after my old mitre saw gave up the ghost. Great cutting capabilities, ample power and folds down neatly for compact storage. Can''''t fault it.
---
Door: Mark C
2017-01-13T00:00:00
I only bought this mitre saw for cutting wood for our woodburner, i was that impressed that i went out and bought the circular saw too (just arrived from Amazon). When you compare this to other well known brands and the cost difference, it''''s a no brainer to buy a silverline product!
---
Door: Dominic C
2016-09-26T00:00:00
Great saw until the on/off trigger jammed on and the plug casing came apart 4 weeks into purchase, but retailer excellent response shipping out a brand new one straight away. Many thanks.
---
Door: richard c
2016-09-12T00:00:00
An inexpensive saw. That turned out to be a truly savage beast. I use it regularly due to its smaller size, for easy handling (and storage) The power is truly phenomenal. Word of advice : It has a fair "kick" when starting. Clamping advised or a firm grip needed when starting. If I damaged this one, I wouldn''t hesitate to buy another one !
---
Door: W G
2021-06-08T00:00:00
Does exactly what it says, can''t find fault when no fault to be found
---
Door: mark f
2021-06-08T00:00:00
Great saw did what I wanted to do
---
Door: paul l
2020-05-22T00:00:00
Good value mitre saw, powerful motor Recommended
---
Door: Michael M
2020-05-21T00:00:00
Really nicely built and nice to use. Everything feels solid and works well.
---
Door: Ian m
2020-04-30T00:00:00
Superb piece of kit, just perfect, & prompt service
---
Door: Alan P
2020-03-25T00:00:00
Just cut through a piece of 1" thick Oak without any difficulty or hesitation. The cut stayed true to the right angle without deviating. Full correction of blade to cutting guide easily achieved via mounting allen screws. I do like Silverline products as I have bought several things and they have always prooved to be very satisfactory.
---
Door: Christopher D
2020-03-23T00:00:00
Brilliant piece of kit, very easy to use and works very well. Man enough to do the job, but light enough to carry when needed.
---
Door: arthur w
2019-12-27T00:00:00
---
Door: Tony w
2019-09-13T00:00:00
Solid saw for price used it for cutting wood for fire
---
Door: Peter
2019-09-07T00:00:00
This is a great wee chop saw and was well worth the money. I would recommend it to anyone thinking of getting one.
---
Door: David B
2019-08-26T00:00:00
I received my DIY 1400W Compound Mitre Saw 210mm and wonder why I had not purchased one earlier. It has made life so much easier in doing projects in my garden and around the house truly a great and accurate time saver.
---
Door: Helen D
2019-08-15T00:00:00
---
Door: Kishan B
2019-06-08T00:00:00
Great bit of kit for a DIY enthusiast Easy to use Highly recommended
---
Door: Rory C
2019-05-24T00:00:00
Great value for money, and ideal for my DIY projects.
---
Door: Martyn
2019-04-25T00:00:00
This seemed like a good power tool for the first few days but after making about 20 cuts it overheated and blew a fuse. After that it blew a fuse each time it was plugged in so I returned it for refund.
---
Door: linselles
2019-04-22T00:00:00
Globalement satisfait, la molette de blocage pour maintenir la coupe sur le point rouge ZERO manque de fermeté et la molette descends trop bas (tige trop courte) ce qui embêche un bon blocage => système à revoir. essayé sans l''aspiration. La notice manque de shémas, un bricoleur logique si retrouve. pourquoi 2 barres de stabilisations ? leur fixation par vis ne donne pas envie de démonter la barre de stabilisation (perte vis et temps )de ce fait prends beaucoup plus de place. même si surcout une boite de rangement plastique est à étudier. Manque un repère pour savoir ou tombe la lame. Globalement pas mal à voir dans le temps.
---
Door: Colin C
2019-02-06T00:00:00
Very pleased with prompt delivery, well packaged including clear instructions for the set up and operation of this saw. It is fairly robust, needing several adjustments prior to operation. It operates well so far. My only negative comment is that the dust bag does not collect all the wood dust, just some of it. It is easy to operate. I noted the advice to secure the machine to the bench wiwhich I have done with large bolts. This makes for safe operation of the tool, avoiding the possibility of kick back in the event of a jammed blade. I recommend doing this. Overall very pleased.