264125
150 W vlakschuurmachine, 1/3
150 W
---
---
Snel-wissel klittenband voet en hendel bevestiging
Vacuüm stofpoort
Grote trekker schakelaar en aan-stand vergrendelknop
Gevormd handvat en voorhandvat
Inclusief stofadapter en 2 x schuurvellen
---
Koop online
Vind een handelaar
Beoordeel dit product
19 review(s)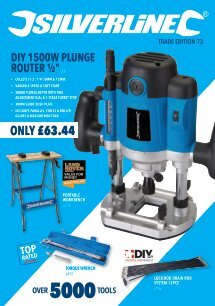 ---
Product specificaties
| | |
| --- | --- |
| Stofpoort | Ja |
| IP waardering | IPX9 |
| Vermogen | 150 W |
| Hoofdhandvat afwerking | ABS en TPR |
| Schuurschijf formaat | 90 x 187 mm |
| Onbelaste snelheid | 12.000 min-1 |
| Gewicht | 1,47 kg |
---
Product beschrijving
Er zijn talloze verschillende soorten schuurmachines op de markt, elk gespecialiseerd in een specifiek toepassingsgebied. Varianten zoals deze Silverstorm vlakschuurmachine, die schuurvellen van 90 x 187 mm gebruikt, zijn ideaal voor het voorschuren van deuren en ramen vóór het schilderen, en voor het fijnschuren van wanden en andere grote vlakke oppervlakken.
Aangedreven door een motor van 150 W, kan deze vlakschuurmachine ook worden uitgerust met klittenband schuurvellen van 90 x 190 mm, evenals conventionele schuurvellen van 93 x 230 mm, die na op maat kunnen worden gesneden en met de klemhendel worden bevestigd. Met een gewicht van slechts 1,4 kg is het apparaat manoeuvreerbaar en gemakkelijk te hanteren, maar toch zwaar genoeg om voldoende druk op het werkstuk over te dragen voor effectief werk.
De solide aluminium schuurplaat zorgt voor stabiliteit, terwijl de zachte lichaam van het gereedschap in combinatie met de rubberen handgrepen comfortabel werken in elke positie mogelijk maken. De vooruitstekende voorste handgreep zorgt voor preciezer werk en leidt automatisch tot betere schuurresultaten, omdat het gewicht rechtstreeks op het werkgebied wordt gericht.
Uitgerust met een aan / uit-trekkerschakelaar voor meer bedieningscontrole en een aan-stand vergrendeling voor continu gebruik, het machine levert consistente afwerking bij het elke gebruik- en dat is wat telt bij het schuren.
Stof en vuil worden via de ingebouwde stofpoort afgezuigt, waardoor de lucht zo schoon mogelijk blijft, anders zou de voortgang van het werk worden belemmerd en zouden gezondheidsrisico's kunnen ontstaan. De set bevat 1 x klittenband schuurvel en 1 x traditionele schuurvel die op maat kan worden gesneden, beide in korrel 100.
---
Doos inhoud
1 x 150 W vlakschuurmachine, 1/3
1 x Stofpoortadapter
2 x Schuurvellen (100 korrel)
1 x Handleiding
---
Klanten reviews
Door: Christopher R
2020-01-24T00:00:00
I found the sander very good and light to use
---
Door: Ian
2019-12-27T00:00:00
Previously I have purchased big name brands. However after reading reviews on the silverline sander I decided it was worth a punt. It is quite,efficient and a good work horse. For the price a great purchase!
---
Door: Keith W
2019-08-02T00:00:00
Really impressed with this tool ... Good quality sander for a budget price .... Powerful and efficient ... Lightweight and comfortable to use ... Plus a free extendable guarantee ... Would highly recommend this tool for the DIYer.
---
Door: Richard G
2019-08-01T00:00:00
A very effective, easy to handle, and relatively light weight sander which, with the correct hook and loop sheets, did a quick and thorough job of sanding weathered garden furniture
---
Door: Patsy A
2019-05-02T00:00:00
A fantastic Sander for everyday use !! I''ve tried many brands over the years but I have found that the Silverline 150W is by far the best. A good quality Sander at a budget price ...
---
Door: GORDON S
2018-05-16T00:00:00
It does just what it says on the box. Well made and feels it will last along time with very little care. It take free cut sheets or DIY cut your own with no problems. Just remember it''s only a 150w and don''t flog it to death. It does a good job even if it takes a little longer than the more powerful model.
---
Door: Don
2017-06-19T00:00:00
Ease of use, balance, no nonsense styling, quality of precision sanding.
---
Door: George C
2017-05-16T00:00:00
Recently cut and put up shelves and using fatmax loop and hook pads with a hoover attached the sanding went brilliantly and little or no dust to clean up.Fantastic , best buy so far.
---
Door: 'Seye O
2017-04-15T00:00:00
Affordable, very useful, easy to use and does the job well
---
Door: Harry
2017-03-29T00:00:00
This is a great little sander. It''s light so your arms don''t get tired when sanding at head hight for a long time, the sanding pads stay in place well and it''s not too noisy when sanding, there''s only one speed but that''s a fast one wich does the job. Very good value for money. H
---
Door: Caroline T
2017-03-18T00:00:00
It''s better than the cheapest version.
---
Door: Fred w
2017-02-21T00:00:00
Very good tool for finishing off after belt sanding and jobs around the house.
---
Door: Len W
2017-02-17T00:00:00
Great little sander. Good shape making it nice to use and good value for the money. Only one problem it''s not got a case just the cardboard box it came in. I like my tools in a case so I can stack them when not in use.
---
Door: Philip
2017-01-17T00:00:00
A great product does What it says on the box easy to use and a great price
---
Door: Martin G
2017-01-06T00:00:00
Worth paying a little extra for the ''''Silverstorm'''' series.,more powerful than standard item, seems to be working well ,fitting four new doors ,good for trimming edges. vibration well controlled.
---
Door: Bryan O
2016-09-12T00:00:00
Well made and easy to use
---
Door: ryan
2016-09-12T00:00:00
Best silverlinc power tool I have ever bought absolutely satisfied about this product will be buying more tools from here more often brill very pleased very smooth going and not very noisy sp very pleased with buy
---
Door: Keith T
2016-09-12T00:00:00
Excellent buy, works well, would recommend.
---
Door: PJ S
2016-08-15T00:00:00
Fits your hand nicely and sands the object with little vibration to your hands. Great tool for the ardent DIYer.