288659
3-in-1 detector
1 x 9 V (PP3)
---
---
Stelt positie van hout, metaal en elektriciteitskabels vast
Verstelbaar voor een nauwkeurige positionering
LED en audio signalen
Benodigdheden: 1 x 9 V (PP3) batterij (niet inbegrepen)
Inclusief kalibratiesleutel
---
Koop online
Vind een handelaar
Beoordeel dit product
9 review(s)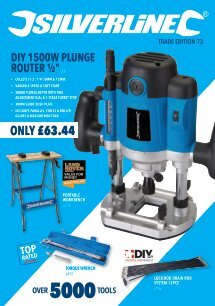 ---
Product specificaties
| | |
| --- | --- |
| Accu kwantiteit | 1 |
| Accu type | 9 V |
| Gewicht | 0,215 kg |
---
Product beschrijving
3-in-1 handdetector. Stelt de aanwezigheid en positie van hout, metaal en elektriciteitskabels vast met zowel LED als audio signalen. Verstelbaar voor een nauwkeurige positionering. Vereist 1 x 9 V (PP3) batterij. Inclusief kalibratiesleutel.
---
Doos inhoud
1 x 3-in-1 detector
1 x kalibratiesleutel
---
Klanten reviews
Door: Roland B
2020-03-02T00:00:00
Easy to use. I found that for Stud Detection it is necessary to set the final adjustment when the tool is in contact with the surface else it alarms continuously.
---
Door: Pip Y
2019-12-27T00:00:00
Having bought Silverline tools in the past I knew I would be buying with confidence, not only are all the tools quality made but you also get the peace of mind of a guarantee with every purchase. Enough said 🙂
---
Door: Tony H
2019-12-19T00:00:00
Have used similar in the past with very limited success but this detector seems much more accurate and easier ti use. Very pleased with it.
---
Door: Mark B
2017-05-01T00:00:00
I am still fairly new to DIY but this tool was easy to get up and running. I was able to locate my joists so that I can fit curtain rails to the ceiling.
---
Door: Pete J
2017-04-23T00:00:00
Good purchase and great service Does exactly what it needs to. Ordered one day and arrived shortly after
---
Door: Brian G
2017-03-22T00:00:00
The detector is good for the price. It takes a while to get used to it. I got a better instruction manual from the internet it was better than the one provided. It picks up the electrics well ,seems to pick out studs in wall but I use it as a guide rather than trust it totally. With more use I am sure I will have more trust in it . It is quite light and easy to use,and you get a 3 year gaurentee. I have only rated it three stars as II have only used it briefly a couple of times.
---
Door: Derrick J
2016-11-29T00:00:00
This little tool replaced my old metal/cable/stud detector which I''''d had for 20+ years and finally gave up the ghost last year. This one is very easy to use once you get used to the initialization procedure (with power off, press required face against wall, rotate sensitivity dial down fully - then power on, rotate dial up until a beep sounds, then rotate down until it just silences. Then detect away) - as per the instructions - but what exactly is the little plastic trim screwdriver''''s usage? I know where it fits, but don''''t want to make any adjustments until I know what happens and when. More info would be appreciated.
---
Door: Roger G
2016-10-14T00:00:00
This is one of those things that does, indeed, do exactly what it says on the tin. Neat, simple to use, and accurate. Another good product from Silverline
---
Door: peter h
2016-09-05T00:00:00
a very good price and very easy to use.an asset to any toolbox.