329863
DIY 1020 W bovenfrees, 1/4"
1020 W
---
---
Twee spantangen (1/4" en 8 mm)
Geïntegreerde variabele snelheidsregeling 11.500 tot 34.000 min-1
40 mm invaldiepte met hoogteverstelling en dieptestop
Revolverstop met 3 verstelbare hoogtes
Inclusief parallelle en cirkelgeleiding, kopieerring en spantangsleutel
---
Koop online
Vind een handelaar
Beoordeel dit product
7 review(s)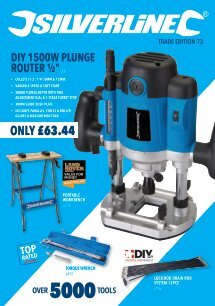 ---
Product specificaties
| | |
| --- | --- |
| Afwerking | Plastic |
| IP waardering | IPX37 |
| Variabele snelheid | Ja |
| Vermogen | 1020 W |
| Gewicht | 2,9 kg |
---
Product beschrijving
Freesmachine in klassiek design met schuine handgrepen voor een optimale eenvoudige bediening en verticale druk uitoefenen. Gecombineerd parallelle en cirkelgeleider plaat. Geïntegreerde variabele snelheidsregeling 11.500 tot 34.000 min-1. 40 mm invaldiepte met hoogteverstelling en dieptestop. Revolverstop met 3 verstelbare hoogtes. Stofontginning aansluiting voor gemakkelijke aansluiting op afzuiginstallatie of een stofzuiger. Inclusief 8 mm en 1/4" spantangen, parallell en cirkelgeleider, kopieerring en spantangsleutel.
---
Doos inhoud
1 x Freesmachine 1020 W
2 x Handvaten
2 x Spantangen (8 en 1/4")
1 x Spantangsleutel
1 x Parallelgeleider
2 x Geleiderstaven
1 x Cirkel geleider
2 Koolstofborstel
1 x Handleiding
---
Klanten reviews
Door: Trevor B
2020-05-27T00:00:00
Good delivery time. Good price. Good Company. Excellent product.
---
Door: Fraser A
2020-01-14T00:00:00
Works well Great product at a great price
---
Door: Andrew P
2019-10-11T00:00:00
Very good product and easy to assemble It's good to have a circle cutting jig included only one negative is you have to hold the on/off button on
---
Door: Adrian E
2019-07-07T00:00:00
I have many routers from small low cost to expensive large ones I use fixed. One of the 1/4" ones a Perle''s variable speed started to play up, the speed control module a selection of small electronic components bonded in resin required replacing. The module is shared by many makes but replacement cost is £70.00 + delivery. Yes I agree a complete and utter rip off. Therefore I looked for a cheaper option. All I needed was variable speed, 1/4" collet 800watt power for fixed depth rabbeting. Silverlines router fitted the bill at £32.00 Inc free delivery. 3 year gaurentee. This will only see light use so it was a no brained. So far the router had functioned perfectly motor power and torque smooth, speed control fine, plunge lock fine, shaft lock fine, weight great and plunge smooth enough. Ok it''s not Swiss engineering the Perle''s was and it failed. At £70.00 for a new speed control board I can buy two silverline routers with potentially 6 years of gaurentee. The spares market for high end routers will eventually kill off the appeal when the ever increasing reliability and quality of imported power tools makes a sensible financial choice easier. Well done to Silverline, continue developing quality and reliability not gimmicks, basic solid power tools to get the job done.
---
Door: Nigel
2019-01-16T00:00:00
Router performed well apart from very stiff to push down. Router failed at 6 months but was quickly replaced by Silverline. Considering the cost a good buy for the occasional user.
---
Door: Malc M
2018-12-12T00:00:00
For the cost this is a solid bit of kit,after a few trial runs on waste wood I felt ready to tackle my latest project. Lovely finish which is more than I hoped for. The guide was missing from the box but returned original and instant replacement from supplier.
---
Door: Roger G
2017-09-25T00:00:00
I have a work shop full of Makita power tools but saw this new Router advertised and decided to give it a try. The tool is well made and supplied with a comprehensive set of accessories which make the asking price even more astonishing. This is my working bargain of the year.