563709
950 W haakse slijpmachine, 115 mm
950 W
---
---
3-positie hulphandvat
As-vergrendeling en aan-stand vergrendelknop
Voor het slijpen en snijden van metaal steen en beton
Gebruik met komborstels en draadwielen voor een snelle materiaal- en roestverwijdering
Inclusief hulphandvat, pensleutel, en slijp- en snijbeschermkap
---
Koop online
Vind een handelaar
Beoordeel dit product
48 review(s)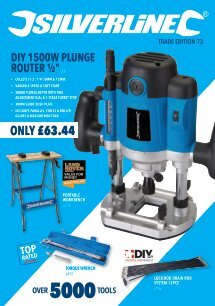 ---
Product specificaties
| | |
| --- | --- |
| Schuurschijf diameter | 115 mm |
| IP waardering | IP20 |
| Slijp formaat | 115 mm |
| Vermogen | 950 W |
| Onbelaste snelheid | 11.000 min-1 |
| Aantal beschermkappen | 2 |
| Gewicht | 1,9 kg |
---
Product beschrijving
Maak dagelijkse slijpwerkzaamheden gemakkelijker met deze 900 W haakse slijpmachine. De machine produceert een onbelaste snelheid van 11.000 min-1 en is compatibel met verschillende 115 mm snij- en slijpschijven, voor het snijden in metaal, tegels, cement en zelfs beton.
Dankzij de verlengde rug en de het 3-positie zijhandvat heeft een gebruiker een optimale controle over de machine en is het uitvoeren van een grotere druk op harde materialen stukken gemakkelijker.
Dit model is voorzien van aparte beschermkappen - één voor bij het gebruik van slijpschijven en één voor het gebruik van snijschijven. De beschermkappen zijn ontworpen voor het minimaliseren van de kans op persoonlijk letsel.
Naast de beschermkappen is de machine ook voorzien van een indrukwekkende 2-stap aan-/uitschakelaar. Deze voorkomt accidentele inschakeling van de machine en zo persoonlijk letsel. De as-vergrendeling voorkomt het roteren van de as, ideaal bij het vervangen van schijven.
De machine heeft een gewicht van slechts 1,9 kg en is daarom erg wendbaar. Bestel de Silverline snij- en slijpschijven set (code 633831), voorzien van verschillende snij- en slijpschijven, staalborstel, komborstel en lamellenschijf en breid de mogelijkheden van de machine verder uit.
---
Doos inhoud
1 x 950 W Haakse slijpmachine, 115 mm
1 x Draadflens
1 x Binnen flens
1 x Hulphandvat
1 x Pensleutel
1 x Slijpbeschermkap
1 x Snijbeschermkap
1 x Handleiding
---
Klanten reviews
Door: Malcolm M
2020-06-12T00:00:00
First class item, great deal
---
Door: Malcolm M
2020-06-05T00:00:00
First rate product, great bargain price, just what I needed
---
Door: Glen C
2020-04-10T00:00:00
Very good value for money works well used the grinder lots since purchased and still performs well.
---
Door: Brian G
2019-10-11T00:00:00
I bought this to replace an inferior B&Q product. I like the switch mechanism and easy to use.
---
Door: Andrew B
2019-10-06T00:00:00
Great tool , great price!
---
Door: andrew b
2019-09-29T00:00:00
---
Door: David C
2019-09-12T00:00:00
Used it many times now,seems very powerfull for its size and is comfortable to use,would recommend to anyone.
---
Door: Geoff F
2019-07-29T00:00:00
This is my second silverline grinder, first one still going strong after 4 years hard work. It has now been passed to another family member
---
Door: john h
2019-07-21T00:00:00
Light, easy to use, poweful enough for most jobs
---
Door: Brian m
2019-07-19T00:00:00
Good value grinder for grinding cutting or polishing suits me perfectly.diy /hobbiest.enough power for my needs.
---
Door: Will
2019-06-04T00:00:00
Great product, great price!
---
Door: David H
2019-01-30T00:00:00
Bought this when I had some floor tiles to lay. Was absolutely perfect for cutting and trimming them. This will be getting a lot more use in the future. Great value and well made.
---
Door: MICHAEL M
2018-12-14T00:00:00
I have found the angle grinder very easy to use as a trigger switch is much easier than a press or slide button.
---
Door: Leandros K
2018-12-06T00:00:00
Have bought power tools before from Black & Decker, Von Haus and Bosch. They have scored high in one area, and disapoint in another. Silverline has set a new standard, and they back it up with a 3 year Guarantee. Great solid build quality, and confidence that I shalln''t need to fish for the receipt within a hand-ful of uses as I have had to do with other. No swipe left here! ( Thanks reddit for the info on tinder/grinder! )
---
Door: Keith
2018-11-02T00:00:00
My first impression of the Grinder is the styling of it being more like the bigger 230mm machines. It feels much better balanced than most other 115mm Grinders. 950w is sufficient power for most uses and will certainly be enough for me. The 3 year guarantee is also good to have.
---
Door: Sadayeen K
2017-11-20T00:00:00
Had this about 6 months now and used quite a lot, changed the blade twice to give you an idea of how much I have used it. The unit it good, well balanced with acceptable vibrations and tacked all my jobs very well with the correct blades. I was disappointed with the 2pin plug converter to UK 3pin, actually think it is too dangerous, so I cut it off and replaced it with a solid UK 3pin plug.
---
Door: derek b
2017-10-09T00:00:00
very good value for money, handy tool to have.
---
Door: alex m
2017-07-03T00:00:00
I have hardly used the grinder I bought but it works ok I received spare brushes with it does that mean the brushes already fitted to the grinder are expected to wear out quick and it came with 2 safety guards I find that unusual also I had one of these grinders before and the brushes wore down thanks alex
---
Door: Noel B
2017-06-29T00:00:00
Great tool for the price.
---
Door: Gary S
2017-05-10T00:00:00
Great grinder easy to use
---
Door: brian h
2017-04-12T00:00:00
The 900w Silverline angle grinder I got as a birthday gift was a very welcome present until I tried to use it . On the second minor DIY job it not only blew but blew my home fuse box.I contacted Silverline ''customer services'' and they arranged for me to send it back to check. Shortly after a replacement tool was received which so far works very well. In short the service from Silverline and especially the customer service team (Roxy) was GREAT and I would highly recommend this company again for it''s customer care attitude. Well done !
---
Door: Paul H
2017-04-06T00:00:00
Very good product and good value for money. Works if grinding or using for cutting paving stones
---
Door: Steven c
2017-03-15T00:00:00
Very good product i use it every week and it asn''t let me down yet I would recommend this to anyone that''s looking for a angle grinder
---
Door: John m
2017-03-01T00:00:00
Worked great for 18 months then gave up the ghost
---
Door: Peter S
2017-02-19T00:00:00
It''s a nice item but I was using it and it seemed to judder and a lot of smoke gushed out of it, So I stop using it for a wheel and now it seems to be ok??? But the ballerinas seem now to be plying up, I''ve been in touch with you about it but have not heard back from you, it''s a nice machine But!!
---
Door: Andy b
2016-10-21T00:00:00
Happy with it so far. A lot better then the one I had before.
---
Door: Elwyn
2016-09-26T00:00:00
This is a fantastic grinder, Powefull so the task get''s done faster but still fairly light with nice soft grip handles just in the right place for confort, Not too noisy a motor, Easy to change the discs with just one key. I would recomend this grinder to anyone. Now &amp Ned Prep.
---
Door: drew c
2016-09-26T00:00:00
the grinder has worked fine, with extended continual use cleaning off old paintwork from metal . easy to use.
---
Door: Thomas D
2016-09-23T00:00:00
You do not need to spend a fortune on a grinder this one does the job no problem
---
Door: Graham H
2016-09-15T00:00:00
Very poor quality, used once, tried to change blade,flimsy brake button popped off and lost,making product useless, but not worth returning for repair either.
---
Door: Peter L
2016-09-12T00:00:00
Excellent product for the price, ideal for what I needed, certainly recommend
---
Door: antoine
2016-09-12T00:00:00
cheap and good, i use one to cut and this one to sand down so no need to switch wheel
---
Door: John C
2016-09-12T00:00:00
It''s still working 18 months later after some heavy work which is a bonus compared to some cheaper brands. No requirement yet for any maintenance. I would have no problem replacing like-for-like when the time comes for a replacement.
---
Door: john s
2016-09-12T00:00:00
excellent product works well good price recommended to all
---
Door: D G
2016-09-12T00:00:00
Purchased after seeing reviews of other similar products, (and of other Silverline products) to replace my old budget! angle grinder, which has given many years of trouble free service. I''ve only used this tool on a few occasions so far but it appears to be robustly made with plenty of power for the jobs done. Fairly heavy but handles well when in use. Pleased with purchase so far and would be happy to look at other Silverline tools in the future.
---
Door: GRAHAM H
2016-09-12T00:00:00
Excellent performance considering the purchase price and very easy to use due to its overall shape which is identical to the larger angle grinders
---
Door: David G
2016-09-12T00:00:00
The 2nd time I used the angle grinder it stopped working after 2 minutes, I didn''''t bother to send it back. This is the only Silverline tool I have had a problem with, every thing else has been great apart from the angle grinder.
---
Door: Des Q
2016-09-12T00:00:00
I use this grinder every day. It has proved to be a reliable and essential part of my tool kit.
---
Door: Mr J
2016-09-12T00:00:00
A smashing little grinder which is great value for money. Powerful and versatile does what the competition do at a much better price. Highly recommended.
---
Door: Colin
2016-09-12T00:00:00
Had this tool for quite a while now &amp its done a lot of heavy work &amp is still going strong. Normally we would have seen off one or two of its competitors by this time but not with this one. Bought only as a gap-fill but well impressed.
---
Door: Mr A
2016-09-12T00:00:00
Very good power, comfortable to hold and use. Ideal for any small job.
---
Door: Nathan H
2016-09-12T00:00:00
The old adage "You get what you pay for" - but actually, I was pleasantly surprised with this product. It''s fairly well made. Balanced well when using. I''m pretty pleased with it.
---
Door: Barry L
2016-09-12T00:00:00
Excellent piece of equipment. More than capable of carrying out its job.
---
Door: Raymond M
2016-08-15T00:00:00
Great purchase used it to cut up old disability ramp at my back door,went through it like a hot knife through butter,tubular steel,flat steel bar, angle iron,the lot,saved as load of money doing it myself and I''''''''m sure I''''''''ll find more odd jobs for it.Good powerful motor and great value tool.
---
Door: William B
2016-08-15T00:00:00
I have had quite a few tools from silverline a good product.
---
Door: Mr J
2016-08-15T00:00:00
well made with good quality materials it has done a lot of work in the last 3 weeks and performs as good as my last black and decker pro grinder did I''m very impressed
---
Door: Graham
2016-08-08T00:00:00
Main issue with the grinder is the button to lock the output doesn''t work very well, so changing discs is a greater effort than it should be.
---
Door: Graham
2016-08-08T00:00:00
Not used it much, but did the job well - worked as expected. Comes with spare brushes which is thoughtful and a 3 year guarantee for peace of mind.