589681
Digitale multimeter
AC en DC
---
---
Controleert lijnen, diodes en NPN/PNP
Spanning: AC 200-500 V, DC 200 mV-500 V
DC spanning: 0-5 A, weerstand 200-2000K ohm, hFE meting 0-1000
Geleverd met test kabels
Vereist 1 x 9 V (PP3) batterij
---
Koop online
Vind een handelaar
Beoordeel dit product
6 review(s)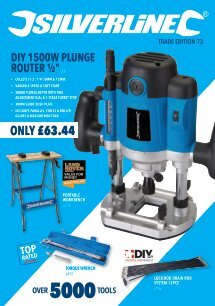 ---
Product specificaties
| | |
| --- | --- |
| AC spanning | 200 - 500 V |
| Accu kwantiteit | 1 |
| Accu type | 9 V |
| Display type | LCD |
| Functie 01 | 200 mV- 500 V DC in stappen van 2000 mV / 200 mV / 20/200/500 V / 0 - 500 V AC in stappen van 200/500 / 0 - 5 A DC in stappen van 2000 MicroA/200 mA/20 mA/5 A / 0 - 2.000.000 Ohm in stappen van 200/ 2.000/20.000/200.000/2.000.000/hFE / sinus / continuïteit / diode |
| Capaciteit - maximale last | 500 V |
| DC stroom | 200 uA / 200 uA / 20 mA / 200 mA / 5 A |
| DC spanning | 200 mV- 500 V |
| Weerstand | 2000 k / 200 k / 20 / 2000 / 200 Ohm |
| Gewicht | 0,111 kg |
| Bereik | 200 mV, 500 V |
---
Product beschrijving
Hand multimeter meet DC en AC spanningen, DC stroomsterkte en weerstand. Controleert tevens de continuïteit van NPN en PNP. Groot digitaal display voor gemakkelijke aflezingen. Geleverd met test kabels. Vereist 1 x 9 V (PP3) batterij.
---
Doos inhoud
1 x digitale multimeter
1 x veiligheidsinformatie
1 x testkabels
---
Klanten reviews
Door: Hendrik
2020-04-13T00:00:00
Super multi meter, using is simple and a lot of opportunities, good price! So 5 star rating!
---
Door: Hendrik W
2020-04-06T00:00:00
I bought the digital Multimeter and what a good one, lot of choices to use it! 5 star rated, best one!
---
Door: A M
2020-03-22T00:00:00
Excellent piece of kit, very competitively priced and easy to use for amateurs and experienced users alike. Very pleased with this purchase.
---
Door: Mr P
2017-07-28T00:00:00
I HAVE USED ONE FOR A LONG TIME BUT IT HAS STOP WORKING.
---
Door: Xander W
2017-04-19T00:00:00
Perfect tool, particularly for the price. I''ve been using this for automotive electronics and got every job done without a hitch.
---
Door: John A
2016-12-09T00:00:00
Purchased this as I needed a multimeter for a few small jobs that have been building up for a little while and decided now was the time to purchase it. Not only is it a very good multimeter it comes from a tried and tested brand and comes with a 3year guarantee included. I found a couple of small electric faults I had when installing a cd multichanger in the car but I also use it in PC repair as well and its as good as any out there that cost a lot more. This is not my first purchase of the silverline brand I also have others from cutting disks to hand tools and it is always a brand I look out for when purchasing tools. As i am trying to build my tool collection currently I am sure there will be a few more Silverline products to join the collection.