598427
Spookschaaf, 250 mm
---
---
Carbon stalen schaafbladen
Comfortabele, gevormde handvaten
Roestbestendige hars coating
Stalen stelschroeven
Ideaal voor vlakke oppervlakken
---
Koop online
Vind een handelaar
Beoordeel dit product
11 review(s)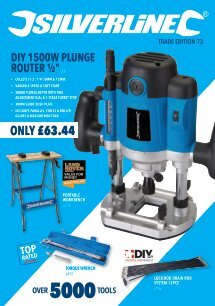 ---
Product specificaties
| | |
| --- | --- |
| Zaagblad breedte | 52 mm |
| Schaafbreedte | 54 mm |
| Gewicht | 0,427 kg |
| Verstelmethode | Staal schroeven |
| Gehard | Ja |
| Schaafdiepte | 15 mm |
---
Product beschrijving
De schaaf bestaat uit een gietijzeren frame met epoxy coating en koolstofstaal schaafblad voor duurzaamheid. Verticale en horizontale bladverstelling en stalen afstelschroef. Platte en bolle schaafzijde. Blad breedte 52 mm.
---
Doos inhoud
1 x spookschaaf, 250 mm plat
---
Klanten reviews
Door: MR M
2020-06-06T00:00:00
This tool was well made with a unbeatable price and performed well with hard and soft wood. great for all shapes of wood . gets where a plane canot go.
---
Door: Geddik
2020-03-28T00:00:00
mooi stevig spookschaafje. mooie prijs kwaliteit verhouding.
---
Door: Jan K
2019-04-12T00:00:00
Long sharp Time, very handy, well processed
---
Door: Eibert
2018-09-05T00:00:00
it''s a great tool for finetuning wood. Easy to use, cheap and very well build. I love it.
---
Door: Chauvet
2017-06-19T00:00:00
C''est un très bon produit de bonne qualité et qui fait un très bon travail. J''en suis très satisfait et je le recommande .
---
Door: W.M.Essenberg
2017-03-31T00:00:00
Op het oog een degelijke kwaliteit, het gereedschap ligt goed in de hand en is keurig uitgevoerd.
---
Door: Wills
2017-03-21T00:00:00
Fantastic value for money with this spokeshave, two adjusting screws really helped in use. Only to me will tell the quality of the blade!
---
Door: Julian
2017-02-18T00:00:00
---
Door: Joan
2016-10-11T00:00:00
Being bored with the mundane chores of housework, and finding knitting just about as exciting, I decided I would cut my own branches and make some rustic walking sticks. Shaving the top bark has lightened up my day, giving me some purpose in life. The SILVERLINE SPOKE SHAVE, skims through the bark in a whisker.
---
Door: SEGUIN A
2016-10-10T00:00:00
Good grip and perfect cutting,adjustment easy, good tool, to have imperatively in his wood shop Thanks to Silverline for those tools, good price and quality
---
Door: Edwin D
2016-10-04T00:00:00
The Spoke Shave 250mm Flat, is made solidly. When it comes to time to change blades, it is very easy. I have been very happy with this product as I am with all Silverline products I have bought.