633840
100-delige schroevendraaier bit set
100-delige set
---
---
95 chroom vanadium schroef bits, inclusief:
Sleuf, kruiskop, PZD, zeskant (standaard en versterkt, metrisch en imperiaal)
Trx (standaard en versterkt), triple square en vierkante inval
Verschillende bits voor elektrische huishoud applicaties
Haaksleutel, 3 adapters en een 60 mm bithouder
---
Koop online
Vind een handelaar
Beoordeel dit product
25 review(s)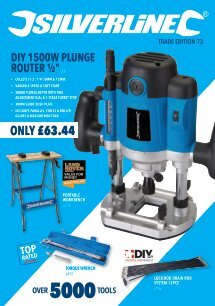 ---
Product specificaties
| | |
| --- | --- |
| Afwerking | CRV |
| Bit wissels | 6,35 mm, zeskant, mannelijk en vrouwelijk |
| Koppeling formaat | 6,35 mm, zeskant |
| Materiaal - punt | Chroom vanadium |
| Gewicht | 0,7 kg |
---
Product beschrijving
95 chroom vanadium schroef bits: sleuf, kruiskop, Pozidriv, zeskant (standaard en versterkt, metrisch en imperiaal), Trx (standaard en versterkt), triple square en vierkante inval en verschillende bits voor elektrische huishoud applicaties. Inclusief haaksleutel, 3 adapters en een 60 mm bithouder. Compacte opbergkoffer.
---
Doos inhoud
1 x koppeling
1 x haaksleutel
2 x adapter
6 x imperiaal veiligheids bits (5/32", 9/64", 1/8", 7/64", 3/32" en 5/64")
8 x kruiskop bits (PH0, PH1, PH2 en PH3)
8 x PZ bits (PZ0, PZ1, PZ2 en PZ3)
4 x vierkant bits (0, 1, 2 en 3 mm)
7 x platte bits (4,5, 5, 5,5, 6, 6,5, 7 en 8 mm)
4 x vork bits (4, 6, 8 en 10 mm)
9 x Trx bits (T8, T10, T15, T20, T25, T27, T30, T40 en T45)
3 x torq set (6, 8, & 10mm)
9 x veiligheid Trx bits (T8, T10, T15, T20, T25, T27 T30, T35 en T40)
4 x tri-wing bits (1, 2, 3 en 4 mm)
9 x zeskant bits (1,5 2, 2,5, 3, 4, 5, 5,5, 6 en 8 mm)
3 x
10 x imperiaal zeskant bits (1/16", 5/64", 3/32", 7/64", 1/8", 9/64", 5/32", 3/16", 7/32" & 1/4")
3 x spline aandrijf bits (M5, M6 en M8)
6 x veiligheid zeskant bits (2, 2,5, 3, 4, 5 en 6 mm)
1 x opbergkoffer
1 x magnetische bithouder
---
Klanten reviews
Door: David J
2020-04-18T00:00:00
This kit is an absolute must for any diyer from hobby to serious. The box keeps it tidy and free from damp. Great purchase.
---
Door: Jayden g
2020-04-14T00:00:00
Had everything I needed and it was all there and well placed out with everything in order of size. Also came in a hand tray so you can lay the try item layers down and see what you have in there and just simply pick out what you wanted.
---
Door: Mr P
2020-02-06T00:00:00
A nice piece of kit, reasonably priced, these days there are so many different heads on bolts and screws etc and this covers them all
---
Door: Tom
2019-12-19T00:00:00
Great little set with everything you need, come in handy on plenty off occasions at work!
---
Door: Morgan C
2019-06-08T00:00:00
---
Door: James B
2019-01-22T00:00:00
Only used once did the job required happy with purchase.
---
Door: Allan W
2018-10-07T00:00:00
Good screw kit. Needed to open my xbox controller. Had all the connections
---
Door: Lee B
2018-10-06T00:00:00
Perfect set, I need some hex bits and some Allen bits and when I was looking at the cost it was coming close to this set, and as I''ve had silverline stuff before I know it''s worth buying as the quality is spot on for the price. Every bit you would ever need and some.. well worth the money.
---
Door: Barry H
2018-04-03T00:00:00
Bought this set as others were just nnot up to the job this set not only hard wearing but such a wide range of bits. I don''t think I will need any others for quite a while. All round brilliant set of bits.
---
Door: Alan P
2018-02-21T00:00:00
A comprehensive selection of different shape parts in a well presented case.
---
Door: Gordon H
2017-12-12T00:00:00
Great set of bits for all occasions
---
Door: MICHAEL E
2017-12-04T00:00:00
Have used it for the purpose I bought it and did the job with no problem--seems to cover every combination of screw
---
Door: GARY P
2017-11-29T00:00:00
Hi i have bought many silverline tools over my time and i have never had to send anything back always been a good product and worth the money ive paid. Thanks silverline keep doing what you know best, thanks Gary pyatt
---
Door: Paul B
2017-10-09T00:00:00
I think the only difference between this set and one triple the price is the dearer one may have colour coded piece''s, this set is well worth the money. And the garentee is for life.
---
Door: David
2017-04-02T00:00:00
The only bit set you''ll ever need at a very reasonable price. If there is a down side the clip on the plastic case isn''t brilliant but kept on its cardboard sleeve shouldn''t be a problem
---
Door: Michael e
2017-03-23T00:00:00
Brilliant product serves me very well compared to my snap-on set. Silver line includes this at a amazing price compared to everyone else but still providing the same quality as other big tool brands. 10/10 would recommend to everyone else
---
Door: Dominique M
2016-12-13T00:00:00
I used the hex bit 1/16" to tighten a series of 6 screws to the torque of 1 Nm. I proceed gradually but on the third screw, the bit nozzle was rounded and became cylindrical.
---
Door: Rafal
2016-12-07T00:00:00
I just bought this set to do some basic repairs in my car. I fixed my car and my tools are waiting for new JOB!
---
Door: scot c
2016-11-24T00:00:00
Lots of different specialist bits all though one broke the first time i used it . But it was a particularly weak design so go easy !
---
Door: David M
2016-10-26T00:00:00
Great addition to my toolbox.
---
Door: Stu
2016-10-01T00:00:00
Contains all commonly used bit and a few less common ones in a handy case. Great value and good quality too. If a driver handle was included would be perfect hence I didn''t give the 5 stars.
---
Door: scot c
2016-09-26T00:00:00
Usefull but weak 1 broke instantly it was replaced !
---
Door: Richard P
2016-09-10T00:00:00
Amazing product not one has bent, broken I''ve had this a while excellent quality
---
Door: Tim
2016-08-30T00:00:00
Great value set that has been in daily use since purchase. I have bought various more expensive (with smaller bits selection) sets over the years and they have all had bits break in no time, but this set is still going strong. It cant be beaten on price, bit selection or guarantee
---
Door: Tim
2016-08-30T00:00:00
This set is great, and has been in daily use since I bought it. I have bought various other sets over the years that were more expensive and smaller, and they have always started breaking after no time at all. These Silverline ones are going strong, and the price/guarantee cannot be beaten. I''m very happy with my purchase, and will be going with Silverline tools in futute