675070
'Heavy-Duty' tuinsproeier met 3 armen
100 mm
---
---
Gietaluminium frame met twee wielen
3 roterende sproeiarmen verspreiden het weider gelijk over een grote oppervlakte
Vaste messing 1/2" snel-verlos koppeling
Verbind meerder sproeiers samen voor het bewateren van grotere oppervlaktes
Prestatie hangt af van de waterdruk en het aan verbonden sproeiers
---
Koop online
Vind een handelaar
Beoordeel dit product
2 review(s)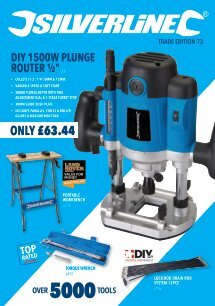 ---
Product specificaties
| | |
| --- | --- |
| Afwerking | Messing, geverfd aluminium |
| Gewicht | 0,355 kg |
---
Product beschrijving
Gietaluminium frame met twee wielen. 3 roterende sproeiarmen verspreiden het weider gelijk over een grote oppervlakte. Vaste messing 1/2" snel-verlos koppeling. Verbind meerder sproeiers samen voor het bewateren van grotere oppervlaktes. Prestatie hangt af van de waterdruk en het aan verbonden sproeiers. Verhoog de waterdruk voor het verbeteren van de vereiste prestatie.
---
Doos inhoud
1 x 1/2" snel-verlos koppeling
1 x tuinsproeier met 3 armen
---
Klanten reviews
Door: Peter L
2017-04-11T00:00:00
Well I bought one, worked well for a week so I ordered 2 more. Big mistake! ... within the month they started to sieze up! One after the other. Yes I registered them, but got no Gurantee Certificate. They replaced 2 and now they have failed agwin. Now Silverline want proof of purchase and some Gurantee card?? Er the fact they replaced them before isnt proof I registered it. The whole process of getting it replaced, is made as difficult as possible... it begs the question is this deliberate? Well again a tell tale sign is a company with no phone number! ... pretty much spells out they don''t want to hear about your problems. Sadly the product could be good IF the designer had a brain. Firstly the rotating shaft needs to be in a bearing grade nylon sleeve and the end needs to have a nylon washer. Instead it has a rubber washer. So when the water pressure lifts the rotating arm section it compresses the flanged end of the shaft against this ruber washer. This is more of a clamping device than a bearing. No wonder as soon as the brass flange corrodes a bit ... being rough it grabs the rubber washer ... and surprise surpise the arm stops rotating. Amazingly it dould have been modified t last for a long time. E.g. If the flange was polished stainless steel and was secured by a reverse thread, i.e. The rotation locks it. Then one could u do it and replace a nylon sleeve and a nylon washer. Not only would it rotate easily but in 5 years the user could change the nylon sleeve and the nylon washer and it would last another 5 years. Had this been done they could have charged a premium for the best, long lasting sprinkler. As it is they WILL start to degrade within 2 months and wont last 3 months. Save yourself the bother , dont waste your time .. the Lifetime warranty is a total CON job.
---
Door: Karen T
2016-09-26T00:00:00
Purchased this to use watering indoor riding arena - ideal for this task, reliable robust and works well so much so in fact i purchased a second one