675119
TCT betonzaag
700 mm
---
---
Roestbestendige coating
17 hardmetalen punten en 35 tanden
Voor het zagen van beton blokken, leisteen en cement
---
Koop online
Vind een handelaar
Beoordeel dit product
5 review(s)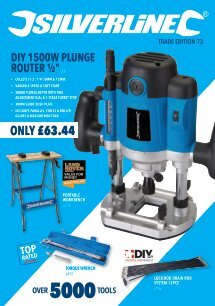 ---
Product specificaties
| | |
| --- | --- |
| Blad afmeting | 1,3 mm |
| Gehard | Ja |
| Materiaal - secundaire constructie | Plastic |
| Hoofdhandvat afwerking | Rubber |
| Afwerking | Roestbestendige coating |
| Gewicht | 0,901 kg |
---
Product beschrijving
700 mm lange, 'Heavy-Duty' TCT betonzaag met 17 hardmetalen punten en 35 tanden, voorzien van een roestvrijstalen coating. Geschikt voor het zagen van beton blokken, leisteen en cement.
---
Doos inhoud
---
Klanten reviews
Door: Jack
2021-03-23T00:00:00
Bought this saw about 5 years ago, been brilliant! Cuts celcons blocks with ease, used to remove old brick and concrete walls. Awesome! BUT wish I''d registered it for lifetime guarantee as the handle has cracked:( Rest is brilliant and can''t fault it. Recommend for anyone but make sure you register for guarantee. I''ll now see if I can purchase a spare handle for it.
---
Door: Derek f
2019-09-01T00:00:00
Excellent block saw ,slices through thermalite blocks like butter, this saw is better than any other block saws I have purchased before ,other lads on site are impressed and are on about buying one
---
Door: RBS
2018-11-27T00:00:00
I have never used a masonry saw before. I tried this one on an aerated concrete block, and it certainly cuts very well.
---
Door: Peter S
2017-11-22T00:00:00
Very pleased with the saw. I had to cut the brickwork out of the chimney breast to make way for a log burner. Could not use a diamond disc cutter because of the dust. Found the saw on Ebay and desided to buy one and give it a chance. It cut the hard brick and mortar cleanly but it was slow a d hard work. It worked much better than I expected. Only 2 tct teeth wore out but I could only the first 12" of the blade. Enough teeth left for my next job. It was every good buy.
---
Door: Doug L
2017-02-07T00:00:00
This is a fairly rare tool in the USA, haven''t seen any other! Using it to cut through 115 year old chimney brick to fit a new cleanout door. Slower than a Sawzall, but probably gentler on the old structure. Cuts bricks like cutting a 2 X 4, slow and steady.