675174
5-delige beschadigde schroef verwijder set
50 mm
---
---
Verwijderen beschadigde schroeven zonder het beschadigen van omliggende materialen
Verwijderen schroeven
6,35 mm zeskant schacht
Totale lengte 50 mm
---
Koop online
Vind een handelaar
Beoordeel dit product
10 review(s)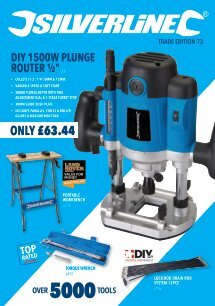 ---
Product specificaties
| | |
| --- | --- |
| Afwerking | Onbehandeld |
| Bit wissels | 6,35 mm, zeskant mannelijk |
| Koppeling formaat | 6,35 mm, zeskant |
| Materiaal - punt | CRV 6150 |
| Gewicht | 0,1 kg |
---
Product beschrijving
Chroom molybdeen staal. Verwijderen beschadigde schroeven zonder het beschadigen van omliggende materialen. Pas de verwijderaar in de boormachine, schakel deze in de schroefkop en draai de beschadigde schroef gemakkelijk uit het materiaal. Lengte 50 mm.
---
Doos inhoud
1 x 6,5 mm schroef verwijderaar
1 x 7 mm schroef verwijderaar
1 x 8 mm schroef verwijderaar
1 x 9 mm schroef verwijderaar
1 x plastic gevormd opbergkoffer
1 x 5 mm schroef verwijderaar
---
Klanten reviews
Door: Steve H
2021-06-08T00:00:00
Was eagerly awaiting the arrival of this kit,as I was trying to remove to screws on my cars wheel hub. Would these reverse actions damaged screw remover work? Nope! Did everything correctly used drill on lowest speed,and wouldn''t remove either of the 2 screws. Will have to ask for refund,as these are not ''fit for purpose'' Sadly,my other Silverline purchases have been great.
---
Door: Peter N
2020-03-26T00:00:00
I had to remove a terrace door that had been caught and distorted in the recent storms (Clara and Dennis), as a result of which some of the screws had become jammed. I was able to get out half of them using this kit but the others the screw heads came off when trying to drill into them to get a purchase. Could really have done with one size smaller and I think then the kit would have got them all
---
Door: Stephen C
2019-04-22T00:00:00
A important tool for the job we required it for! Handy to have in the toolbox. Recommend it.
---
Door: ric g
2018-07-14T00:00:00
Assisted me to replace a broken handle on double glazed window.
---
Door: ric g
2018-07-14T00:00:00
Just what I was looking for to remove some awkward screws
---
Door: neil W
2017-07-05T00:00:00
I just bought the kit from Toolstation Southend,sadly the set does not remove the screws''Waste of money
---
Door: david n
2017-06-15T00:00:00
---
Door: Engelbert L
2017-01-13T00:00:00
---
Door: Philippe B
2016-10-10T00:00:00
Great tools to remove efficiently damaged screws or nuts on old motorcycles or not...
---
Door: David S
2016-06-10T00:00:00
Used extractor as instructions, screw just stripped threads off extractor as if made of butter