719770
Pneumatische moersleutel
1/2" (13 mm)
---
---
Hoge vermogen-gewicht verhouding
'Rocking Dog' koppeling mechanisme
Dubbele rotatierichting
Verstelbare koppel met 4 standen
Inclusief: 1/4" UK en EU bajonet snelkoppelingen
---
Koop online
Vind een handelaar
Beoordeel dit product
8 review(s)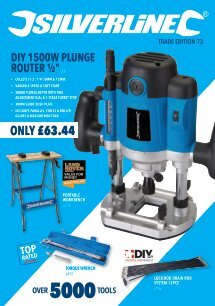 ---
Product specificaties
| | |
| --- | --- |
| Koppeling formaat | 1/4" bajonet, mannelijk |
| Afwerking | Gepolijst |
| Hoofdhandvat afwerking | Gepolijst |
| Onbelaste snelheid | 7000 min-1 |
| Gewicht | 2,006 kg |
| Werkdruk | Minimum - 90 psi/6,3 bar |
---
Product beschrijving
De moersleutel roteert in beide richtingen en heeft een controle schakelaar met 4 standen en een 'Rocking Dog' koppeling mechanisme. Luchtverbruik 113 l/min, max. koppel 312 Nm, diepte 170 mm. Inclusief: 1/4" UK en EU bajonet snelkoppelingen. Vierkant aandrijving. Onbelaste snelheid 7000 min-1.
---
Doos inhoud
1 x pneumatische moersleutel
1 x GB snelkoppeling
1 x EU snelkoppeling
1 x zeskantsleutel
1 x handleiding
---
Klanten reviews
Door: Frank S
2020-02-10T00:00:00
Perfect tool for speeding up jobs.
---
Door: Frank S
2020-02-02T00:00:00
Perfect tool. Makes quick work of removing all the bolts securing the sump guard off my Audi TT. How many bolts does that thing really need !!
---
Door: Le F
2018-01-05T00:00:00
Je ne l''ai pas encore utilisé mais, le produit semble à première vue d''excellente facture. Colisage impeccable. Livraison Amazon très rapide. Garantie 3 ans. Rien à redire. Il n''y a plus qu''à la brancher au compresseur.
---
Door: Sam T
2017-10-26T00:00:00
This impact gun is now working very well first few uses i wasmt beru impressed. After some normal use it seems to of loosened up and works well
---
Door: benjamin l
2017-06-08T00:00:00
I received my Wrench quickly and it''s a good tool. I recommand this Air Impact Wrench!!
---
Door: Andrew b
2017-02-19T00:00:00
I bought this impact wrench to speed up the process of changing a wheel on my truck . Changing a wheel on a truck on the side of the road alone is a challenging task to say the least especially overseas but with the silverline impact wrench it took no time and effort at all This product is lightweight and compact enough to place in my tool box and the ease of the set up to connect it to air feed and the speed is first class . I''d recommend to anyone to purchase one
---
Door: Des
2016-10-10T00:00:00
It''s now been quite a while since I bought this as a cheap temporary replacement for a broken, way more expensive gun. It''s done well, I use it professionally every day, it''''s quite powerful too. I oil it regularly which I guess helps, and I''ll buy another if it does give up working. As titled, cheap but great!! Recommended
---
Door: Richard H
2016-09-26T00:00:00
Good tool. nice wight to power. I have fitted a mini Inline oiler (allso from silverline) to keep the tool oiled and in good shape