SW06W
Verstekzaag blad
---
---
Hoogwaardig koolstof stalen zaagblad
Geharde stalen tanden
14 tpi precisie-tandconfiguratie
Voor gebruik met de 550 mm verstekzaag van Silverline
Lengte 550 mm
---
Koop online
Vind een handelaar
Beoordeel dit product
10 review(s)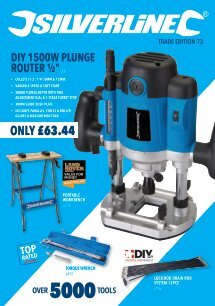 ---
Product specificaties
| | |
| --- | --- |
| Zaagblad breedte | 45 mm |
| Gewicht | 0,126 kg |
| Blad lengte | 550 mm |
| Gehard | Ja |
---
Product beschrijving
Hoogwaardig koolstof stalen zaagblad met geharde stalen tanden. Precisie-tandconfiguratie voor verbeterde nauwkeurigheid. Voor gebruik met de 550 mm verstekzaag van Silverline. 14 tpi. Lengte: 550 mm.
---
Doos inhoud
1 x verstekzaag blad, 550 mm
---
Klanten reviews
Door: Steve
2020-03-18T00:00:00
A cut above the rest. Mitre known with a Silverline product. I''ll just get my teeth into this now !!!
---
Door: Jim
2020-03-18T00:00:00
Great product at a great price!
---
Door: Steve P
2020-03-11T00:00:00
I mitre known that this this was going to be a good blade. Bought this for a replacement and it certainly does the job. To be honest,I saw it coming !!!
---
Door: Jim G
2020-03-11T00:00:00
Great quality at such a good price
---
Door: Kirsty T
2020-03-10T00:00:00
Really good quality and actually made the size blade I needed which was actually difficult to find.
---
Door: Jeff C
2019-10-20T00:00:00
Should have bought this months ago. After struggling with what I though was a sharp blade decided I''d had enough and bought this. Glad I did. Sails through the wood with eay leaving very clean cut.
---
Door: Pete P
2019-05-05T00:00:00
Great price and quality on this ''Lifetime Guarantee'' product. A robust replacement blade for my Hand Mitre Saw was an essential purchase that arrived in next to no time. I''m very pleased with my purchase.
---
Door: Meier
2017-01-12T00:00:00
---
Door: Gordon S
2016-10-10T00:00:00
Quality product that cuts well. What more can I say ?
---
Door: Ronald L
2016-08-30T00:00:00
I don''t know exactly what I expected from buying lower-cost blades than I normally would buy, but these blades exceeded what I thought I would get. They are as sharp and true as the far more expensive blades I was previously buying, and the bulk quantity I purchased really saved me a lot of money. I am a Happy Camper!