263215
Diamant-Schleifscheibenabrichter
40 x 10 mm (Kopf)
---
---
Diamantbeschichteter Kopf für intensive Nutzung
Zum Abrichten der Schleifscheibe über ihre gesamte Breite für eine glattere Oberfläche
Bringt die Schleifscheibe zurück in ihren ursprünglichen Zustand und verlängert so ihre Standzeit
Erhöhte Arbeitssicherheit dank verbesserter Auswuchtung der Schleifscheibe
Rändelgriff sorgt für hervorragenden Halt
---
Online kaufen
Fachhändlersuche
Dieses Produkt bewerten
11 Bewertungen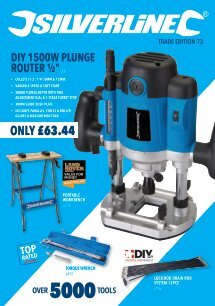 ---
Technische Daten
| | |
| --- | --- |
| Griffausführung | Gerändelt |
| Gewicht | 0,097 kg |
| Schleifmittelhaftung | Gelötet |
| Bauweise | Geschliffen und gelötet |
---
Ausstattungsmerkmale
Strapazierbarer, diamantbeschichteter Abrichter. Zum Abziehen der Schleifscheibe, um eine glattere Oberfläche zu erzielen. Bringt die Scheibe wieder in den ursprünglichen Zustand und verlängert die Standzeit. Erhöhte Sicherheit dank verbesserter Auswuchtung der Schleifscheibe. Rändelgriff sorgt für hervorragenden Halt.
---
Lieferumfang
Diamant-Schleifscheibenabrichter
---
Kundenbewertungen
von: Tony
2019-10-20T00:00:00
This diamond grinding wheel dresser is very simple and quick to use. Go gently with it, it cleans the wheel very quickly on a white wheel for wood turning tools. It far outstrips the old ''devil stone'' I have been using.
---
von: fauley
2019-04-10T00:00:00
produits très bien fabriqués et hyper solide. prix intéressant
---
von: Robin M
2018-05-02T00:00:00
Good tool does what it says on the tin
---
von: Rainer
2017-03-02T00:00:00
Dieses Tool zum Schleifscheiben abrichten ist echt klasse. Gekauft, getestet und 5 Sterne! Das hält mir sicher viele Jahre. Super Abrieb auf der Scheibe, der Abrichter ohne Gebrauchsspuren. Für den Heimwerker perfekt!
---
von: Simeon L
2017-03-02T00:00:00
Worked great. I have an plane disk again. Looks like an longlasting Tool.
---
von: Andrew
2017-01-05T00:00:00
It does what it said it will do. Keeps the wheel clean and in great shape. Its important when wood turning. Quick and prompt service which is hard to find these days. Thank you SilverLine tools.
---
von: Bizzi A
2016-11-10T00:00:00
Très bon produit, fiable et performant.
---
von: Patrick M
2016-10-10T00:00:00
J''''utilise avec plaisir ce dresseur de meule depuis que je l''''ai reçu. Il rectifie ma meule facilement et c''''est reparti pour du bon travail ! A recommander
---
von: clive l
2016-10-10T00:00:00
works very well, good price and service
---
von: CLAUDIO P
2016-10-10T00:00:00
great product. surely it will last me a lifetime. price and quality really good. I advise.
---
von: Raymond S
2016-09-26T00:00:00
An often overlooked maintenance job which can dramatically improve the finish on a sharpened tool when using a grindstone is to ensure that the wheel surface presented to the tool is both square and flat. This diamond grinding wheel dresser transforms the presented grinding face of the wheel to a perfectly square and flat surface in an instant, without the need for elaborate setting up procedures. The milled handle provides a sure grip when offering the dresser to the grindstone surface and a few passes will quickly restore the surface to a perfectly flat and uniform grinding surface to ensure your tools are given a sharp and impressive grinding edge, perfect for final sharpening and polishing on an oilstone or diamond coated stone. Sharp tools are safe tools and this dresser tool should quickly become a routine maintenance task whenever you use your grindstone, ensuring the wheel surface presented to any tool is accurately conditioned.
---
Lebenslang Garantie
Dieser Silverline-Artikel Diamant-Schleifscheibenabrichter verfügt über eine 30-tägige Garantie ab Kaufdatum, die ihn gegen Mängel infolge von Material- oder Verarbeitungsfehlern absichert. Um Ihre Lebenslang Garantie wirksam werden zu lassen, registrieren Sie Ihren Artikel bitte auf der Silverline-Webseite. Mangelhafte Artikel werden kostenlos ersetzt oder repariert.