273203
Titan-Forstnerbohrer, 7-tlg. Satz
12–35 mm
---
---
Titanbeschichteter Kohlenstoffstahl
Runde Schneidkanten
Effizienter Staubabzug
Zum Bohren präziser, sauberer Taschen-, Rand- u.a. Löcher mit planem Boden
Größen: 12, 16, 20, 22, 26, 30 und 35 mm
---
Online kaufen
Fachhändlersuche
Dieses Produkt bewerten
12 Bewertungen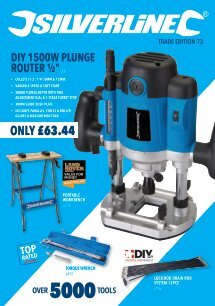 ---
Technische Daten
| | |
| --- | --- |
| Ausführung | Titanium beschichtet, polierte , trockenrostbeständige Beschichtung |
| Gewicht | 0,046 kg, 0,047 kg, 0,050 kg, 0,066 kg, 0,069 kg, 0,075 kg, 0,089 kg |
| Spitzenwinkel | Vier : 2 Radial - 2 Flach |
| Spitzenausführung | Vier : 2 Radial - 2 Flach |
---
Ausstattungsmerkmale
Durch die breite Kreisform bohren diese Bohrer Kreisausschnitte und perfekte Kreise. Runde und für längere Nutzungsdauer titanbeschichtete Schneidkanten. Erzeugt plane Bohrungsböden. Effizienter Staubabzug. Größen: 12, 16, 20, 22, 26, 30 und 35 mm.
---
Lieferumfang
12-mm-Titan-Forstnerbohrer
16-mm-Titan-Forstnerbohrer
20-mm-Titan-Forstnerbohrer
22-mm-Titan-Forstnerbohrer
26-mm-Titan-Forstnerbohrer
30-mm-Titan-Forstnerbohrer
35-mm-Titan-Forstnerbohrer
---
Kundenbewertungen
von: Jaap B
2020-01-25T00:00:00
Erg blij met deze aankoop! Het enigste minpunt wat mij betreft is het ontbreken van een opbergdoosje/kistje.
---
von: Jan-Willem
2019-07-13T00:00:00
This set was cheaper than a single 35mm forstner bit. It ate through the wood just fine though. Don''t know how it will keep up in the long run, but so far so good.
---
von: Jason v
2019-01-25T00:00:00
Have used my new set twice and they are fantastic! They slice through the wood easily leaving a perfectly clean circle behind! Should have bought this earlier... :)
---
von: Peter R
2018-11-17T00:00:00
My wife bought the bits back to NZ for me. The bits look ok - I haven''t used them as yet, but I will let you know if they don''t perform.
---
von: Keith V
2017-06-19T00:00:00
I purchased these after having brought another brand and after spending 15 minutes trying to put a hole in a bit of 50mm wood to stand a solar light in I gave up with them. I then went straight to a Silverline set of bits and purchased them.... (what a plonker Ii am for trying to save a bit of money ) I received them on Saturday and with 15 minutes I had drilled out 8 holes, and the solar lights really look good stand up in these holes on my raised Pond. Less time than 1/2 of one of the other set. I registered them straight away for their great lifetime guarantee as with all my other Silverline tools I have. If you want a tool, check out Silverline 1st and remember not many companies offer the guarantee in their own products like Silverline do !!!
---
von: Mathew
2017-02-24T00:00:00
---
von: cyril m
2016-12-11T00:00:00
set parfait pour s"équiper sans se ruiner
---
von: cyril
2016-12-04T00:00:00
produit pas cher et lot de bonne taille idéal , l'affûtage mériterait d'être un peut plus pousser .
---
von: WouterWS
2016-10-17T00:00:00
Forstnerboren zijn geschikt voor het boren van exacte gaten met grotere diameters en met name voor blinde gaten met een vlakke bodem. De titanium-coated forstnerborenset van Silverline is een zeer betaalbare set boren met veelgebruikte diameters die, zeker voor de veeleisende hobbyist, een prima bruikbaar resultaat leveren.
---
von: Ken T
2016-10-10T00:00:00
Since I bought these drills I''''ve been using them almost daily. It is a joy to work with. They are very well made and very durable. They also don''''t have blowout at the back of the work piece. An A-class product.
---
von: George H
2016-10-10T00:00:00
Purchased the set of seven to use with my wood lathe gives accurate and I would give it a 5 out of 5 for what I can use it for.
---
von: Pat O
2016-09-26T00:00:00
These drill bits are sharp on arrival and feel sturdy and safe in use. I''ve not discovered any problems whilst using them.
---
Lebenslang Garantie
Dieser Silverline-Artikel Titan-Forstnerbohrer, 7-tlg. Satz verfügt über eine 30-tägige Garantie ab Kaufdatum, die ihn gegen Mängel infolge von Material- oder Verarbeitungsfehlern absichert. Um Ihre Lebenslang Garantie wirksam werden zu lassen, registrieren Sie Ihren Artikel bitte auf der Silverline-Webseite. Mangelhafte Artikel werden kostenlos ersetzt oder repariert.