273221
Weiche Schraubstock-Schutzbacken
100 mm
---
---
Zur Verwendung mit dem 100-mm-Profi-Schraubstock
Weiche Grummibacken schützen weiche Werkstücke
Magnetische Aufnahme zur einfachen Montage am Schraubstock
---
Online kaufen
Fachhändlersuche
Dieses Produkt bewerten
14 Bewertungen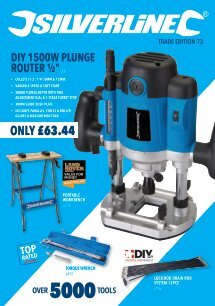 ---
Technische Daten
| | |
| --- | --- |
| Ausführung | Konstruktion: Aluminium mit schwarzen Gummibacken mit Rautenmuster |
| Gewicht | 0,070 kg |
---
Ausstattungsmerkmale
Weiche Grummibacken schützen weiche Werkstücke. Magnetische Aufnahme zur einfachen Montage am Schraubstock. Zur Verwendung mit dem 100-mm-Profi-Schraubstock.
---
Lieferumfang
2 weiche Schraubstock-Schutzbacken
---
Kundenbewertungen
von: Andrew C
2019-09-23T00:00:00
These soft jaws saved me from marring my work couldn't have done the job without them.
---
von: Colin S
2019-07-01T00:00:00
Useful item for preventing damage to soft items but magnets could be a bit stronger but otherwise works well
---
von: Martin H
2019-01-05T00:00:00
Jaws are soft and magnets stick...
---
von: Steve G
2018-05-11T00:00:00
Only had these jaws a short time but they are performing just as I hoped. Stay on my vice nicely with the magnets and grip gently and firmly. I have not used any excessive force.
---
von: James G
2018-02-22T00:00:00
I really liked this product because you could clamp your piece in the vice and you don''t need to worry about leaving vice jaw marks on your piece.
---
von: Geoff G
2017-10-31T00:00:00
I have bought a few Silverline products over the years and as a serious DIYer etc have found them good. There is also the fact that you get a very good extended warranty with most of their products. I needed some soft jaws for my bench vice. From past experience these are not normally cheap but saw these advertised at a what appeared to be a good priced. I was really surprised at the quality when they turned up, I ordered on-line, and I used them. These soft jaws are basically an extruded aluminium right angle backplate that fits over the vice jaws and with a thick synthetic rubber embossed face for gripping the item that works well. An added feature is that it has two small magnets embedded in each jaw that holds it in place on the vice jaws. I would have no hesitation in purchasing again in the future.
---
von: Nigel C
2017-04-20T00:00:00
These are well made and fit perfectly.
---
von: Mr L
2017-02-18T00:00:00
Very good item easy to use and excellent value for the money.
---
von: Johann P
2016-12-04T00:00:00
These work perfectly to clamp any soft parts and protect them from damage. Rubber clamp faces better than all-aluminium jaws when you work with other aluminium parts, such as e.g. bike parts.
---
von: david a
2016-11-12T00:00:00
Good price, good product and excellent delivery.
---
von: dave
2016-11-05T00:00:00
The price including delivery was very good. The delivery time was excellent. The item is exactly as prescribed and works perfectly.
---
von: Derek U
2016-10-10T00:00:00
Very useful item. I use it every day to save damage when clamping.
---
von: Chris E
2016-08-22T00:00:00
Silverlibe tool have a vast range and the quality is up there with the best, if you haven''t tried them yet what are you waiting for? You will not be disappointed!
---
von: Derek U
2016-08-22T00:00:00
Great item used every day to save damaging delicate items. so simple the magnets hold them perfectly in place in the vice. Highly recommended.
---
Lebenslang Garantie
Dieser Silverline-Artikel Weiche Schraubstock-Schutzbacken verfügt über eine 30-tägige Garantie ab Kaufdatum, die ihn gegen Mängel infolge von Material- oder Verarbeitungsfehlern absichert. Um Ihre Lebenslang Garantie wirksam werden zu lassen, registrieren Sie Ihren Artikel bitte auf der Silverline-Webseite. Mangelhafte Artikel werden kostenlos ersetzt oder repariert.