282378
Bügelmessschraube
25 mm
---
---
Stabiler Stahlrahmen mit korrosionsbeständiger Lackierung
Messbereich: 0-25 mm mit 0,01-mm-Einteilungen
Inkl. Aufbewahrungskiste
---
Online kaufen
Fachhändlersuche
Dieses Produkt bewerten
15 Bewertungen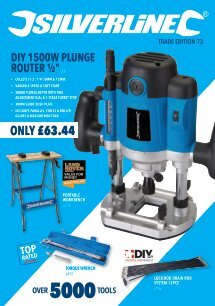 ---
Technische Daten
| | |
| --- | --- |
| Ausführung | Emaillierter Rahmen, gerändelter Griff |
| Gewicht | 0,206 kg |
| Bereich | 0–25 mm |
| Auflösung | 0,01 mm |
---
Ausstattungsmerkmale
Emaillierter Rahmen und Anschläge aus satiniertem Chrom. Geliefert in robuster Kunststoff-Aufbewahrungskiste. Messbereich: 0-25 mm. 0,01-mm-Einteilungen.
---
Lieferumfang
Bügelmessschraube
Kunststoff-Aufbewahrungskiste
Kalibrierschlüssel
---
Kundenbewertungen
von: Carlos
2020-04-06T00:00:00
Se trata de un micrómetro de gama económica, alrededor de los 10 euros, para un uso particular es más que válido, con una escala de 0.01mm lo he utilizado un par de veces y todo correcto.
---
von: Jandard
2020-03-27T00:00:00
J''ai reçu ce micromètre et j''en suis pleinement satisfait ! La qualité est au rendez-vous, et pour pas trop cher !
---
von: Raphael P
2019-10-31T00:00:00
Really good product good value for money
---
von: Rudi
2019-10-09T00:00:00
I bought this micrometer, although knowing there are other names on the market. Mitutoyo..., but what I get from silverline has a good price / quality ratio. It was good protected and works well for home measurement.
---
von: Geoff P
2019-08-16T00:00:00
Happy so far with this micrometer, for its price it is certainly worth buying
---
von: Alan G
2019-04-26T00:00:00
As with all Silverline tools, the Micrometer is well made and provides quality with a good guarantee should anything go wrong.
---
von: J B
2019-01-01T00:00:00
Very happy with this product just the job
---
von: ricardo
2018-11-05T00:00:00
It is a very good instrument.
---
von: James
2017-03-02T00:00:00
This tool is great value it does what it is designed to do with no fuss and is reliable. Simple and effective just what I wanted
---
von: Jeff T
2016-10-11T00:00:00
Simple to use, it helped me to determine the diameter of electrical cabling to ensure it was the correct size for the rating of an electric shower.
---
von: nigel g
2016-10-10T00:00:00
excellent little tool. Does what it says on the tin.
---
von: Jean-Yves T
2016-10-10T00:00:00
Very good product, I''''ve had it for a while now and it has been reliable so far.
---
von: Terry O
2016-08-22T00:00:00
Extremely well made of sound material .Easy to use and read off. Instead of trying to gauge with a ruler now get the exact measurements.Just don''t know why I didn''t buy one earlier in my D.I.Y career.
---
von: Jean-Yves T
2016-08-22T00:00:00
Have been using this for a while now, it does what it is supposed to do. No problem at all.
---
von: Mathis D
2016-08-22T00:00:00
I needed this tool in order to measure the thickness of the brake disks on my car. It did perfectly the job !
---
Lebenslang Garantie
Dieser Silverline-Artikel Bügelmessschraube verfügt über eine 30-tägige Garantie ab Kaufdatum, die ihn gegen Mängel infolge von Material- oder Verarbeitungsfehlern absichert. Um Ihre Lebenslang Garantie wirksam werden zu lassen, registrieren Sie Ihren Artikel bitte auf der Silverline-Webseite. Mangelhafte Artikel werden kostenlos ersetzt oder repariert.