427633
Schlagschrauber mit Bits, 5-tlg. Satz
5-tlg. Satz
---
---
Komplett umkehrbar (d.h. Rechts-/Linkslauf)
1/2-Zoll-Vierkantaufsatz zur Verwendung mit 1/2-Zoll-Stecknüssen
Abnehmbarer 8-mm-Bithalter Inkl. zwei Schlitz- (6 und 8 mm) und zwei Kreuzschlitzeinsätzen (PH 2 und PH 3)
Inkl. zwei Schlitz- (6 und 8 mm) und zwei Phillips-Kreuzschlitzeinsätzen (PH 2 und PH 4)
Metallkassette für Aufbewahrung
---
Online kaufen
Fachhändlersuche
Dieses Produkt bewerten
10 Bewertungen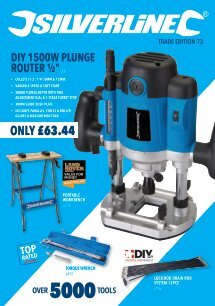 ---
Technische Daten
| | |
| --- | --- |
| Ausführung | Metallkassette mit Pulverbeschichtung, verchromter Körper, schwarz phosphatierter Antrieb und Bithalter |
| Gewicht | 0,682 kg |
---
Ausstattungsmerkmale
Komplett umkehrbar (d.h. Rechts-/Linkslauf). 1/2-Zoll-Vierkantaufsatz zur Verwendung mit 1/2-Zoll-Stecknüssen. Abnehmbarer 8-mm-Bithalter. Inkl. vier Bits: Schlitz: 6 mm und 8 mm; Kreuzschlitz: PH 2 und PH 4. Metallkassette im Lieferumfang enthalten.
---
Lieferumfang
1 Schlagschraubereinsatz
1 Sechskant-Schlagschraubereinsatz, Schlitz, 6 mm
1 Sechskant-Schlagschraubereinsatz, Schlitz, 8 mm
1 Sechskant-Schlagschraubereinsatz, PH 2
1 Sechskant-Schlagschraubereinsatz, PH 4
1 Metallkassette
Bedienungsanleitung
---
Kundenbewertungen
von: Nicolas R
2019-04-10T00:00:00
I bought this tool to disassemble the brakes of my car. I wanted to do it myself to save money. So I needed an impact driver. The tool fulfills its role perfectly, for a modest cost. I highly recommend this tool. Nicolas, french user :-)
---
von: David S
2018-10-20T00:00:00
We recently used this product in a "how to" video to show different methods for removing stripped screws, worked a treat. Would recommend! If you need help on removing stripped screws then check out the video on BuyAnyPart
---
von: Ian M
2018-05-17T00:00:00
Brake discs. Isn''t it always the brake discs these impact drivers are needed for ☺️. Well I am happy to say that even though it had mangled 3 out of the 4 cross heads retaining the discs to the hubs, even after clattering an old screw driver (and breaking the handle in the process!!) I purchased this fine impact driver set and got each of the blasted things loose within two hits. How have I managed an amateur spannering career spanning over 25 years without one you may ask? Generally with quite a few battered knuckles, broken screw drives and colourful language. Safe to say I''ve seen the light and will be using my new best friend from now on. Great tool and fantastic value, and it even come in its own metal tin to store the driver and bits.
---
von: S G
2017-07-04T00:00:00
Had to remove 2 rusty set-screws, the domed headed type with shallow driver grooves. Decided to try the silverline Impact driver (lost my old one somewhere) in place of spending 5-10x as much. A few heavy blows and the screws were out; driver and bit unaffected!
---
von: Milo P
2017-06-17T00:00:00
Excellent ,does exactly what it''s meant to do!.
---
von: neel
2017-05-22T00:00:00
Very good tool ,I recommend it, it was very useful .
---
von: Alan m
2017-04-05T00:00:00
Bought this tool to fix my sons motorbike needs to remove two screws On the first try the bit end of the tool shattered so couldn''t finish job had to go get a replacement the next day
---
von: Paul h
2017-04-03T00:00:00
Very good value and easy to use
---
von: Kevin G
2016-10-10T00:00:00
Very easy to use. Good grip and can also be used to hammer stripped screws out aswell. Not to heavy either, so can be used for most jobs.
---
von: Alan Y
2016-09-09T00:00:00
Excellent tool, undid a screw that was rusted in that prior to using could not be budged. Also handy that you can fit Spanner bits to it as well.
---
Lebenslang Garantie
Dieser Silverline-Artikel Schlagschrauber mit Bits, 5-tlg. Satz verfügt über eine 30-tägige Garantie ab Kaufdatum, die ihn gegen Mängel infolge von Material- oder Verarbeitungsfehlern absichert. Um Ihre Lebenslang Garantie wirksam werden zu lassen, registrieren Sie Ihren Artikel bitte auf der Silverline-Webseite. Mangelhafte Artikel werden kostenlos ersetzt oder repariert.