537366
Arbeitsplattform
150 kg
---
---
Stabile Aluminiumkonstruktion mit rutschfester Trittfläche
Rutschfeste Füße und wegklappbare Beine für platzsparende Lagerung
Beine lassen sich mit zwei Sicherungsbügeln fixieren
Abmessungen (L x H x B): 1440 x 800 x 445 mm
Nach EN 14183:2003 zertifiziert
---
Online kaufen
Fachhändlersuche
Dieses Produkt bewerten
11 Bewertungen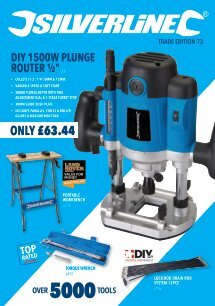 ---
Technische Daten
| | |
| --- | --- |
| Gewicht | 150 kg |
| Aufbaudauer | 5 Sek. |
| Ausführung | Eloxiertes Aluminium |
| Gewicht | 5.504 kg |
---
Ausstattungsmerkmale
Aus stabilem, eloxiertem Aluminium mit rutschfester Trittfläche und rutschfesten Füßen. Die wegklappbaren Beine lassen sich mit zwei Sicherungsbügeln fixieren. Auflagefläche (L x H x B): 1440 x 800 x 445 mm. Belastbarkeit: 150 kg. Gewicht: 5,5 kg. Zusammengeklappte Maße (L x H x B): 900 x 165 x 470 mm. Nach EN 14183:2003 zertifiziert.
---
Lieferumfang
1 Arbeitsplattform
Sicherheitsdatenblatt
---
Kundenbewertungen
von: Stephen B
2020-05-04T00:00:00
Well constructed and easy to move and use. It''s good to have confidence in the product.
---
von: Trevor D
2020-04-24T00:00:00
This is a really great product, study yet light-weight and robust when standing on it. It is really useful in side my home or in the garden.
---
von: Nick
2020-03-29T00:00:00
Excellent value for money. Easy to open and latch, stable once locked into place.
---
von: michael j
2019-10-03T00:00:00
got me out of a tricky spot with this taller work platform brilliant.
---
von: Dan
2019-09-06T00:00:00
Decent sized height booster, taller and wider than the most common small platforms. Folds and unfolds easily. Well built, light and sturdy. However, due to the extra height it does flex and can feel unbalanced, despite that it is safe when used correctly. Use sandbags over the bottom bars for extra stability. The height means it even doubles up as an improvised desk or work bench when doing jobs! Worth ever penny.
---
von: Anthony B
2019-08-28T00:00:00
I bought this because I wanted a secure safe platform for hedge cutting and cleaning the gutters on my bungalow., The 800mm height is just right and this product has far surpassed my expectations. So much safer than a ladder, I'm really pleased I bought it. Highly recommended!
---
von: John L
2019-05-24T00:00:00
The Platform looks well made and the locking system works fine. Much easier to use than working off a ladder. Still to be tested more rigorously.
---
von: robert s
2019-01-08T00:00:00
perfect steps for my spot board for plastering but much much more than that. They are perfect for around the house for all your other DIY jobs 5 star from me
---
von: Ian A
2018-05-17T00:00:00
I wish to purchase this item but when I select a supplier the size changes, your measurement is 1440x445x800 but when I look at the suppliers they are 820x300x800 please get back to me with a supplier for the larger platform. Regards Ian
---
von: GASP
2017-08-02T00:00:00
Very good for cutting and trimming of building facade vegetation and hedges. Best regards from the German Baltic Coast!
---
von: Neil H
2017-03-26T00:00:00
It was bought as a quick fix for one job, as I have only bought Silverline products once before and was not sure of the quality. But I have found it so handy that it is now on my van permanently. It is ideal for working outdoors on hard surfaces or on some boards on soft ones, but could be a bit high if you are working inside a house and are tall. It also doubles up a a good height workbench. It is well made and sturdy, with good lock on the legs to hold them in position when put up, no lock to keep them closed, so a bit of care needed when taking them somewhere as they can open up if carried wrong. Currently thinking of get another set and use both to replace my 4 way ladder that I use at the moment, If they were damaged, I would purchase another one of the same model.
---
Lebenslang Garantie
Dieser Silverline-Artikel Arbeitsplattform verfügt über eine 30-tägige Garantie ab Kaufdatum, die ihn gegen Mängel infolge von Material- oder Verarbeitungsfehlern absichert. Um Ihre Lebenslang Garantie wirksam werden zu lassen, registrieren Sie Ihren Artikel bitte auf der Silverline-Webseite. Mangelhafte Artikel werden kostenlos ersetzt oder repariert.