633578
Gummi-Druckuftschlauch
---
---
Hochwertiges, verstärktes Gummi
8 mm Innendurchmesser
20 bar Betriebsdruck
1/4-Zoll-BSP-Innengewinde mit Mutternende
Entspricht ISO 2398/2006
---
Online kaufen
Fachhändlersuche
Dieses Produkt bewerten
9 Bewertungen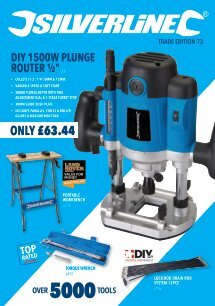 ---
Technische Daten
| | |
| --- | --- |
| Aufnahme | 1/4 Zoll BSP |
| Weitere Materialien | Stahl |
| Gewicht | 2,188 kg |
| Gewinde | 1/4 Zoll BSP |
---
Ausstattungsmerkmale
Hochwertiger, verstärkter Druckluftschlauch mit 8 mm Innendurchmesser. Betriebsdruck: 20 bar. 1/4-Zoll-BSP-Innengewinde mit Schraubfitting. Entspricht ISO 2398/2006.
---
Lieferumfang
1 Gummi-Druckuftschlauch, 10 m
---
Kundenbewertungen
von: ty
2020-03-10T00:00:00
really pleased with this product. I buy a lot of silverline tools as they feel good in the hand. made to last and are not expencive infact ideal
---
von: paul s
2019-12-09T00:00:00
Product is exactly as expected/advertised - does what it is supposed to and is good value for money. Used for impact wrench and tyre pressure equipment.
---
von: SF
2019-06-05T00:00:00
Thanks to Silverline with this Air Line Rubber Hose very strong, the diameter is enough to accept more than your compresser can deliver. I use it until 10 bars with euro connectors and all is fine. I recommend this product
---
von: dave t
2019-04-28T00:00:00
I`ve been looking for a rubber air line since my original perished and this is it all at a decent and a good length purchased from Amozon yesterday and arrived today (Sunday) before mid-day.all fitted to my compressor and ready to go. A great price and super service
---
von: David B
2017-10-09T00:00:00
I''m very satisfied by this product !
---
von: Roy g
2017-03-05T00:00:00
The hose appears to be a quality product for a reasonable price
---
von: Andrew C
2017-02-12T00:00:00
Great quality at a fantastic price - thanks Silverline!
---
von: Caroline n
2016-10-10T00:00:00
Perfect for what I needed just the job
---
von: patrick r
2016-09-26T00:00:00
excellent value for money. enabled me to spray paint the exterior of the house ,barn,hanger and various outbuildings. resident in france purchased in uk due to the cost of most products in france. roll on brexit i live in france out of choice
---
Lebenslang Garantie
Dieser Silverline-Artikel Gummi-Druckuftschlauch verfügt über eine 30-tägige Garantie ab Kaufdatum, die ihn gegen Mängel infolge von Material- oder Verarbeitungsfehlern absichert. Um Ihre Lebenslang Garantie wirksam werden zu lassen, registrieren Sie Ihren Artikel bitte auf der Silverline-Webseite. Mangelhafte Artikel werden kostenlos ersetzt oder repariert.