686139
Verstellbarer Stiftschlüssel
15–52 mm
---
---
Von 15 bis 52 mm verstellbar
Gestufter Griff ermöglicht die Verwendung als Mutternschlüssel (10–19 mm)
Auch zur Montage von Zapfen in Winkelschleifern, Gehrungssägen, Kreissägen u.ä.
---
Online kaufen
Fachhändlersuche
Dieses Produkt bewerten
12 Bewertungen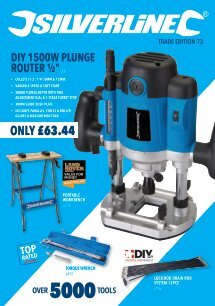 ---
Technische Daten
| | |
| --- | --- |
| Ausführung | Lackiert |
| Gewicht | 0,165 kg |
---
Ausstattungsmerkmale
Voll einstellbarer Stiftschlüssel mit einer Kapazität von 15-52 mm. Gestufter Griff ermöglicht die Verwendung als Mutternschlüssel zum Lösen von Muttern von 10 bis 19 mm. Auch verwendbar zur Montage/Demontage von Zapfen in Winkelschleifern, stationären Schleifmaschinen, Kapp- und Gehrungssägen und Kreissägen.
---
Lieferumfang
1 verstellbarer Stiftschlüssel
---
Kundenbewertungen
von: Les h
2020-05-31T00:00:00
Found this to be an excellent tool and great value for money
---
von: Simon W
2020-05-29T00:00:00
This adjustable pin wrench has been a great addition to my tool box, I initially bought it for my grinder but also works on my bench saw the added spanner slots are a welcome bonus it can also be used as a small prise bar. It is of sturdy construction so I don''t feel like it''s going to break on me, I am very happy with my purchase.
---
von: Graham
2020-01-20T00:00:00
Worked on my grinder happily. Seems sturdy enough. Great value too. Plus a lifetime guarantee.
---
von: Stephen E
2019-12-15T00:00:00
Goo little tool adjustable and can be used to undo nuts very good value for money
---
von: Peter G
2019-08-25T00:00:00
I bought these to use on my mitre saw, they are of good construction and flexible in use but more for grinders than mitre saws. I was unable to use them as they were too deep to fit in the blade guard of my saw. They may be fine with another make but useless on my Ryobi.
---
von: Lionel
2019-01-30T00:00:00
Good product, but not enough thin to be used to tune timing belt ball bearing on an 1,9tdi 115 (ATJ) engine...
---
von: Mat
2017-05-10T00:00:00
Superb bit of kit , fits all the different grinders I own.
---
von: Beat
2017-02-26T00:00:00
Ik was searching a longtime and finaly I found this wrench. Very good and strong tool for a nice price.
---
von: ian
2017-02-25T00:00:00
This fell apart on my first attempt to use it - one of the pins fell out and I damaged my hand - I''ve given these details via your on-line guarantee claim but have yet to receive a response !
---
von: Van
2016-10-10T00:00:00
Bought the wrench to use on an old 9" Makita grinder I''''d bought second hand off ebay that came without a pin spanner. Unfortunately the wrench was not up to the job - one of the pins broke off after very limited use. Would not buy again.
---
von: Victor H
2016-10-10T00:00:00
A very good tool that was good enough for the jobs I needed it to do.
---
von: Bal
2016-09-26T00:00:00
Fantastic tool, that is adjustable and works really well.
---
Lebenslang Garantie
Dieser Silverline-Artikel Verstellbarer Stiftschlüssel verfügt über eine 30-tägige Garantie ab Kaufdatum, die ihn gegen Mängel infolge von Material- oder Verarbeitungsfehlern absichert. Um Ihre Lebenslang Garantie wirksam werden zu lassen, registrieren Sie Ihren Artikel bitte auf der Silverline-Webseite. Mangelhafte Artikel werden kostenlos ersetzt oder repariert.