PC12
Splinttreiber, 8-tlg. Satz
8-tlg. Satz
---
---
Aus vergütetem Stahl
Gerändelte Griffe für erhöhte Griffigkeit
Zum Austreiben von Nieten und Stiften
Enthält 2,4- bis 9,5-mm-Splinttreiber
---
Online kaufen
Fachhändlersuche
Dieses Produkt bewerten
9 Bewertungen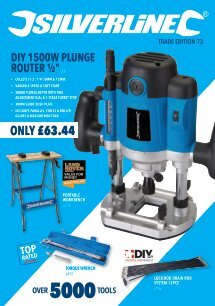 ---
Technische Daten
| | |
| --- | --- |
| Gehärtet | Ja |
| Gewicht | 0,680 kg |
| Ausführung | Splinttreiber |
---
Ausstattungsmerkmale
Aus vergütetem Stahl. Gerändelte Griffe für erhöhte Griffigkeit. Zum Austreiben von Nieten und Stiften. Satz umfasst 2,4-, 3,2-, 4-, 4,8-, 5,6-, 6,4-, 7,9- und 9,5-mm-Splinttreiber.
---
Lieferumfang
Splinttreiber: 3,2 x 155 mm, 0,045 kg
Splinttreiber: 4,0 x 155 mm, 0,047 kg
Splinttreiber: 4,8 x 165 mm, 0,049 kg
Splinttreiber: 5,6 x 165 mm, 0,051 kg
Splinttreiber: 6,4 x 175 mm, 0,086 kg
Splinttreiber: 7,9 x 175 mm, 0,121 kg
Splinttreiber: 9,5 x 175 mm, 0,171 kg
Splinttreiber: 2,4 x 150 mm, 0,043 kg
---
Kundenbewertungen
von: Mark S
2020-05-26T00:00:00
Very handy set of pin punches at an extremely reasonable price. Good quality and excellent guarantee.
---
von: Tadeusz D
2019-11-03T00:00:00
Very helpful set, good quality and I have many set tools also I very happy to use them...
---
von: Rob
2018-11-13T00:00:00
Great value for money nice range of sizes just the job.
---
von: ruben
2017-04-25T00:00:00
los botadores vienen bien presentados..son pesados y tienen un mango largo...solo usé 2 de ellos y uno ya se marco un poco al darle unos martilazos para sacar el pasador..pero por el precio que tienen estan bien
---
von: Moritz v
2016-12-11T00:00:00
I have been using the pin punches for some time now and i have nothing to complain about. They''re doing a good job.
---
von: darren m
2016-10-30T00:00:00
Wasn''''t expecting much for the price but was very surprised at the quality and robustness of the punch set. They''''ve stood up to every task so far and they still look new. They have a deep knurled grip, which is easier to hold, much better than other punches I''''ve used in the past. And with a lifetime guarantee you can''''t go wrong. The product might have been better if they''''d come with a case but at this money it does''t really matter as its the punch quality that counts.
---
von: Martin B
2016-10-12T00:00:00
They are well made and have proved to be very useful. The set contains all the sizes I require to carry out the various tasks on my restoration project.
---
von: Nick E
2016-09-19T00:00:00
One of those sets you''ll always need eventually!
---
von: philippe d
2016-08-22T00:00:00
hi i m from Paris, i ve bought some tools from SILVERLINE, for me it s the best choice ever. best price and great quality. a must have in any toolbox
---
Lebenslang Garantie
Dieser Silverline-Artikel Splinttreiber, 8-tlg. Satz verfügt über eine 30-tägige Garantie ab Kaufdatum, die ihn gegen Mängel infolge von Material- oder Verarbeitungsfehlern absichert. Um Ihre Lebenslang Garantie wirksam werden zu lassen, registrieren Sie Ihren Artikel bitte auf der Silverline-Webseite. Mangelhafte Artikel werden kostenlos ersetzt oder repariert.