380244
Pie de rey digital
---
---
Acero inoxidable endurecido
4 funciones de medición: interna, externa, profundidad y escala
Ruedecilla para ajustes precisos
Pantalla grande de fácil lectura
Graduaciones métricas e imperiales con precisión hasta 0,01 mm
---
Comprar online
Buscar un distribuidor
Comentar este producto
25 comentarios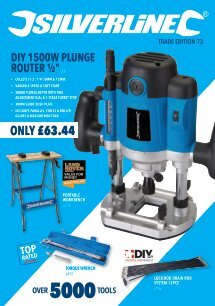 ---
Características técnicas
| | |
| --- | --- |
| Acabado | Aluminio pulido |
| Peso | 0,150 kg |
---
Descripción del producto
Fabricado en acero inoxidable de alta calidad, 4 funciones de medición: interna, externa, profundidad y escala. Ruedecilla para ajustes precisos y reinicio desde cualquier posición. Pantalla grande de fácil lectura. Gran precisión hasta 0,01 mm.
---
Contenido en el embalaje
Pie de rey digital
2 pilas LR44
---
Comentarios realizados por nuestros clientes
Por: Michael E
2020-05-14T00:00:00
Exactly what I wanted, nice instrument, easy to use and handle. Good storage case for safe keeping. Very pleased with the product 👍
---
Por: Ken
2020-05-14T00:00:00
Great value caliper, perfectly capable of fulfilling my DIY needs.
---
Por: Jon P
2020-04-20T00:00:00
I needed a tool which would enable me to gauge the size of random screws and bolts. I didn't need anything as fine as a micrometer and this fits the bill perfectly. Good price and delivered very promptly.
---
Por: Scott C
2020-04-15T00:00:00
Well packaged. A well made good quality product with great accuracy. A great addition to the toolbox.
---
Por: Russell D
2020-01-14T00:00:00
I''ve been messing around for years estimating thicknesses and depths and finally bought (a present for myself) these digital calipers. Already proven to be invaluable and the quality feels like they will last for years. Would recommend.
---
Por: Paul
2019-12-27T00:00:00
A well constructed vernier caliper - so much more so than the cheap plastic one it replaced - and for not much more money either. It even came with a spare battery!
---
Por: Michiyuki O
2019-07-13T00:00:00
The calliper has proven very useful and easy to use for both my hobbies and in a professional environment. It was good value for money and came in a handy box for storage as well as a spare battery! For the price I would definitely recommend it.
---
Por: SamK
2019-02-03T00:00:00
Great product for the price but constantly need re-setting to zero, sometimes go as far as 1-3cm out. Will manage with them for awhile but will be getting a more accurate set when I can afford too.
---
Por: Janet O
2019-01-23T00:00:00
This purchase was to replace a different make Vernier. This one is a great price, good quality and very accurate. The gaurantee makes me confident in the product, along with the fact that l have several Silverline products which are all good quality and reliable. Highly recommended.
---
Por: Roger
2019-01-20T00:00:00
Depuis que je l''ai, il fonctionne très mal. Si on va trouver vite il se dėregle... Aucune confiance en la lecture... Mauvais produit.
---
Por: de f
2019-01-07T00:00:00
utilisé pour faire du rechargement, des écarts de plusieurs millimétres constatés, le pied a coulisse ne revient pas à zéro utilisation dangereuse à éviter
---
Por: Deil C
2018-10-12T00:00:00
---
Por: Keith
2018-05-06T00:00:00
The digital calliper is easy to use and feels/Looks very substantial. I have used the tool on a few occasions now and it appears to be very accurate as I have ordered a few items with quite a low measure to tolerance and the items have been spot-on. very surprised that a digital calliper, this reasonably priced, can be so good. Why pay more when this will do the job admirably!,
---
Por: Richie
2017-07-10T00:00:00
Good value for money second one I''ve had
---
Por: C T
2017-06-19T00:00:00
Bought these due to misplacing my other pair. Digital display is far larger and easier to read. Storage box and extra battery a bonus. Slight and only a slight disappointment is the slide action feels gritty and rough straight from the box. Will try some lube if it bothers me. All in would buy again if required.
---
Por: John G
2017-04-13T00:00:00
Value for money product, delivered quickly by a company giving excellent service.
---
Por: Keith H
2017-04-03T00:00:00
Great quality component which is easy to use &amp takes all guess work out of measuring. Highly recommended
---
Por: luke w
2017-03-23T00:00:00
Have been using these for a few weeks now and does exactly what it says on the tin. Good quality feel in the hand with a sturdy slide. much better that the last set I had. I recommend this product.
---
Por: luke w
2017-03-16T00:00:00
solid feel tool. use all day everyday and no problems. quality product. can I have a free keyring?
---
Por: Marino C
2017-02-10T00:00:00
This calliper is very fialbe and partique of use for a low price: perfect!
---
Por: Michael V
2017-01-13T00:00:00
I''''d been looking around to get digital vernier calipers at a reasonable price. Many of the calipers I looked at on eBay and Amazon were either cheap and from China, or expensive, but from well-known brands. However, the Silverline calipers sat right in the middle, and I decided to go for them, as I have other Silverline products and know that they are good quality. I was not let down. They came well-packaged, and give a good, stable reading on the display when being used. It was definitely worth spending a little more for quality, as many reviews of cheaper calipers complained of unstable readings and faults.
---
Por: cyril m
2016-12-11T00:00:00
très produit , mesure précise .
---
Por: Harvie
2016-08-22T00:00:00
A simple to use, accurate instrument which is very good value. I had a problem with the original unit when I bought it as it did not work accurately at larger sizes, but Service from Silverline was excellent and a new unit was supplied free of charge.
---
Por: Malcolm B
2016-08-22T00:00:00
As good as any other I''ve purchased over the years but for a lot less money.
---
Por: Kevin W
2016-08-22T00:00:00
Excellent Product, with dual unit readout. Used often
---
Garantía 3 años
Este producto Silverline Pie de rey digital dispone de 30 días de garantía desde la fecha de compra contra defectos de fabricación y materiales defectuosos. Registre su producto online para extender el periodo de garantía 3 años. Todas las piezas defectuosas serán reparadas de forma gratuita.