427572
Herramienta para conexión de cables de red
180 mm
---
---
Herramienta para cortar y colocar cables en accesorios telefónicos
Mecanismo accionado por resorte
Ajuste bajo y alto
Prensador de cables, cuchilla
Tijeras
---
Comprar online
Buscar un distribuidor
Comentar este producto
8 comentarios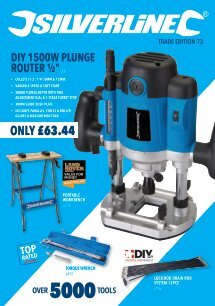 ---
Características técnicas
| | |
| --- | --- |
| Longitud de la hoja/disco | 36 mm |
| Rango/capacidad | Herramienta para cortar y colocar cables en accesorios telefónicos |
| Peso | 0,054 kg |
---
Descripción del producto
Herramienta para cortar y colocar cables en accesorios telefónicos. Mecanismo de impacto ajustable, prensador de cables, cuchilla y tijeras. Longitud 180 mm.
---
Contenido en el embalaje
Herramienta para conexión de cables de red
---
Comentarios realizados por nuestros clientes
Por: Craig H
2020-05-28T00:00:00
Better than other cheap ones in a similar price bracket. Good for a casual user. Not sure how it would stand up to a couple of hundred punches a day.
---
Por: Jason H
2020-03-20T00:00:00
I bought my punch down tool as it looked good quality and the price was fantastic, especially when it was available on Prime for next day delivery. Little did I know until it was delivered that it also has a lifetime guarantee! I'm extremely impressed with the build quality and it makes easy work of patching networks.
---
Por: Timo S
2020-02-02T00:00:00
Hab damit meine ersten zwei Netzwerkdosen angeschlossen. Hätte nicht einfacher gehen können als mit diesem Werkzeug. Bin mehr als zufrieden und kann es zu 100% weiterempfehlen
---
Por: Harry F
2018-07-26T00:00:00
Tool wird ohne Gebrauchsanleitung geliefert. Sinnlos.
---
Por: Oliver
2017-11-21T00:00:00
Very good Item, great value for money.
---
Por: Allard
2017-09-27T00:00:00
Tool that I won''t use on a daily basis, but when you want to do a proper job,then this is the tool to do it punches down with little effort then cuts off the excess wire all in one operation. Also a life time guarantee is a big bonus.
---
Por: Thorsten H
2017-03-11T00:00:00
quality is much better than expected; however the "scissors" that should cut the stub of the cable often fail to cut the cable completely
---
Por: Brian D
2016-09-05T00:00:00
This excellent tool ensures a secure joint, easy to use and has a solid construction. Would recommend this tool to DIY or professional users.
---
Garantía de por vida
Este producto Silverline Herramienta para conexión de cables de red dispone de 30 días de garantía desde la fecha de compra contra defectos de fabricación y materiales defectuosos. Registre su producto online para extender el periodo de garantía de por vida. Todas las piezas defectuosas serán reparadas de forma gratuita.