128999
Flachdübelfräse, 900 W
900 W
---
---
Robuster Aluminiumanschlag mit einem Winkelbereich von 0º bis 135º
Leicht ablesbare Skalen und Entriegelungstaste
Für Hart- und Weichholz geeignet
Staubabsauganschluss mit Staubfangbeutel
Für Flachdübel der Größen 0, 10 und 20
---
Online kaufen
Fachhändlersuche
Dieses Produkt bewerten
17 Bewertungen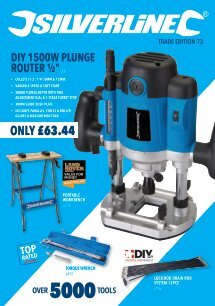 ---
Technische Daten
| | |
| --- | --- |
| Sägeblattdurchmesser | 100 mm |
| Höhenbereich | 0–30 mm |
| Schutzart | IP20 |
| Leistung | 900 W |
| Leerlaufdrehzahl | 10.800 min-1 |
| Staubabsaugung | Ja |
| Gewicht | 3,55 kg |
| Gehrungswinkelbereich | 0–135° |
| Max. Schnitttiefe | 0–19 mm |
| Material (Schutzhaube) | Aluminiumanschlag |
---
Ausstattungsmerkmale
Sind Sie auf der Suche nach einem qualitativ hochwertigen und dabei preisgünstigen Werkzeug, mit dem sich eine erstklassige Oberflächengüte erzielen lässt? Dann haben Sie mit der 900-W-Flachdübelfräse von gerade Ihr Traumgerät gefunden!
Einfacher geht's nicht: Effektiver als mithilfe einer Flachdübelfräse lassen sich Holzverbindungen wohl kaum anfertigen. Die geniale Idee, eine Nut zu fräsen, in die ein Flachdübel als unbewegliches Scharnier eingesetzt wird, stammt aus dem Jahr 1956, als die Flachdübelfräse in einer kleinen Zimmerei in der Schweiz das Licht der Welt erblickte. Noch heute gehen wir nach demselben grundlegenden Prinzip vor; dank des kraftvollen 900-W-Motors der Silverline-Flachdübelfräse lassen sich Arbeiten jedoch wesentlich schneller und unkomplizierter erledigen als damals.
Kunstschreinerei sowie andere Möbelbauarbeiten sind dank der professionellen Funktionen dieses Gerätes ein wahres Kinderspiel, wodurch nicht zuletzt größeres Vertrauen in die eigenen Fähigkeiten gefördert wird.
Perfektionisten werden die Präzision der einstellbaren Frästiefe in einem Bereich zwischen 0 und 19 mm zu schätzen wissen, während der robuste Aluminiumanschlag einen Winkelbereich von 0º bis 135º aufweist und eine große Bandbreite an verschiedenartigen Frässchnitten ermöglicht.
Für Flachdübel der Größen 0, 10 und 20 von Silverline (Art.-Nr. 245065, 457012 und 598520) geeignet.
---
Lieferumfang
1 Flachdübelfräse, 900 W
1 Sechskantschlüssel
1 Staubfangbeutel
1 Schutzhaube
1 Paar Ersatzkohlebürsten
1 Bedienungsanleitung
---
Kundenbewertungen
von: Robbie H
2017-02-01T00:00:00
Great price but biscuits are a bit tight
---
von: Peter A
2016-10-10T00:00:00
The first one was broken in one day but sevice is great ! the second one is still going !!
---
von: SEGUIN A
2016-09-15T00:00:00
Good product, easy to use
---
von: Norman D
2016-09-12T00:00:00
I bought the 900W biscuit jointer to help me with large picture framing. Because of the cost of buying frames or having them made, I decided to have and go and make them myself. However it was difficult to joint the large frames with traditional methods so I decided to purchase the biscuit jointer. It has proved a very easy tool to use, it is robust but manageable and I have so far successfully produced half a dozen perfect frames. I have bought several Silverline products in the past so knew it would be reliable, well made and a good price.
---
von: Peter
2016-09-12T00:00:00
Good working robust machine
---
von: Steve S
2016-09-12T00:00:00
Excellent value for money would suit a DIY person easy to use used it several times and still gives a good clean cut would recommend this product especially at the price
---
von: derek h
2021-06-09T00:00:00
made my diy jobs so much easier brilliant tool
---
von: Ron
2020-06-01T00:00:00
Worst quality tool I have ever purchased. When I received it, it would not retract after cutting a buiscuit slot. Dissassembeled it to see problem and the tool hase been fitted together with what seems to be an angle grinder as the sliding fitting was binding Tried to get warranty service but Silverline want me to return it to UK at my expense which would cost close to the cost of the tool. Will throw it in the garbage as it is not usable, even dangerous. Will never buy another Silverline tool.
---
von: Shaun M
2019-12-25T00:00:00
Polite,business-like ,fast delivery not the cheapest but good quality.
---
von: Dave
2019-08-22T00:00:00
I am only a hobby wood worker and this is my first attempt at biscuit joinery. This is the bees knees so easy to use. It seems solidly made and so far I happy with it.
---
von: Keith t
2019-05-31T00:00:00
Bought one of these about 2 weeks ago familiarised myself with it and my conclusion of it is that alot of improvements to the quality of it without much cost would make it alot better machine 1 put a decent blade in it 2 put a metal bottom plate not plastic on it 3 make the depth gauge relate to biscuit sizes i.e. 0 10 20 Not much really is it without much cost
---
von: Mike P
2018-11-30T00:00:00
I brought this because it was very reasonably price and after doing a lot of research fitted in with what I do in my workshop, the Biscuit Joiner is 900 watt which is plenty of power, the tool is very well build and the feel when using it is very comfortable, the setting are well mark on the cutter and the instruction for use are layout very well and easy to understand, also a lot of videos on the internet and silverline have there own channel on YouTube . The power cord or wire is over six feet which is plenty long enough, the cutting for the biscuits is spot on and the dust bag does the job Just build some cupboards for the workshop and I am more than pleased. I would recommend this tool to anyone thinking of buying or replacing an older tool.
---
von: Gordon C
2018-10-05T00:00:00
Have only used it three times but it does what I want it to do. Sturdy tool.
---
von: Jesus M
2017-05-31T00:00:00
---
von: Martin w
2017-04-12T00:00:00
Great tool really pleased with it .
---
von: M.wykes
2017-04-07T00:00:00
Absolutely useless made 12 joints and motor seized up had not registered for warranty as Christmas present and too old from date of purchase to register don''t know about industrial quality it''s not worth the space it takes up in the workshop
---
von: Mike L
2017-03-16T00:00:00
For the price a good sturdy machine that feels it will stand the test of time used in the DIY environment. Reasonably easy to adjust the settings but do not rely on the scales provided. This really applies to all low end machines. A good ruler used accurately will produce good results. The depth adjustment is not marked with the "0", "10", "20" biscuits sizes but 0,2,4,12,19,7,5. Haven''t worked why but settled on a number that gave me a close fitting for the biscuit size I was using. I found I had to adjust the depth stop slightly to ensure a good fit but again this was a fairly easy thing to do. It produces a clean cut. So far the blade seems fine but have only used it with softwoods so far. All in all a good machine for the price and a lot better than some of the more expensive machines I looked at. One Happy Chappie.
---
Drei Jahre Garantie
Dieser Silverline-Artikel Flachdübelfräse, 900 W verfügt über eine 30-tägige Garantie ab Kaufdatum, die ihn gegen Mängel infolge von Material- oder Verarbeitungsfehlern absichert. Um Ihre Drei Jahre Garantie wirksam werden zu lassen, registrieren Sie Ihren Artikel bitte auf der Silverline-Webseite. Mangelhafte Artikel werden kostenlos ersetzt oder repariert.