264895
Oberfräse, 1500 W, 1/2 Zoll
1500 W
---
---
Spannzangen: 1/2 Zoll, 1/4 Zoll, 8 mm und 12 mm
Drehzahlsteuerung und Sanftanlauf
0–50 mm Fräskorbhub, Feineinstellfunktion und 7-stufiger Säulenanschlag
30-mm-Kopierhülsen
Inkl. Parallelanschlag, Kreis- und Rollenführungen und Messleiste
---
Online kaufen
Fachhändlersuche
Dieses Produkt bewerten
42 Bewertungen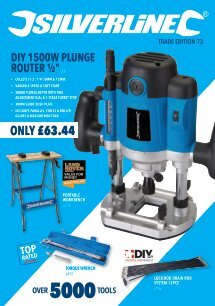 ---
Technische Daten
| | |
| --- | --- |
| Schutzart | IPX 40 |
| Drehzahlregelung | Vorhanden |
| Leistung | 1500 W |
| Fräsergröße | 1/2 Zoll |
| Leerlaufdrehzahl | 6.000–26.000 min-1 |
| Eintauchtiefe | 50 mm |
| Anzahl Spannzangen | 4 |
| Spannzangengröße | 8 und 12 mm,1/2 Zoll, 1/4 Zoll |
| Staubabsaugung | Vorhanden |
| Gewicht | 4,1 kg |
---
Ausstattungsmerkmale
Elektronische Drehzahlsteuerung mit Sanftanlauf, zwischen 0 und 50 mm verstellbare Eintauchtiefe mit Feineinstellfunktion, 7-stufiger Revolveranschlag. Parallelanschlag und Kreis- und Rollenführungen. Inkl. vier Spannzangen (1/4 Zoll, 1/2 Zoll, 8 mm und 12 mm). Grundplatte mit geraden und gerundeten Kanten. Grundplattendurchmesser: 170 mm. Leerlaufdrehzahl: 6.000–26.000 min-1. Inkl. Kopierhülse und Messleiste.
---
Lieferumfang
1 Oberfräse, 1500 W
1 Kreisführung
1 Rollenführung
4 Spannzangen (1/2 Zoll, ¼ Zoll, 8 mm u. 12 mm)
1 Messleiste
1 Staubabsaugeinheit
1 Paar Ersatzkohlebürsten
1 Spannzangenschlüssel
1 Kopierhülse, 30 mm
2 Führungsstangen
1 Parallelanschlag
1 Bedienungsanleitung
---
Kundenbewertungen
von: James f
2020-06-01T00:00:00
It Does what it says on the box
---
von: Chris
2020-05-03T00:00:00
I''m really happy with this router especially with 3years warranty
---
von: Tony R
2020-04-30T00:00:00
I knew very little about routers when I went looking. Fortunately I chose this Silverline 1500w and am so pleased with the choice. First thing that I realised was that you need all 4 collets to have the best options on bits. I''m currently using 1/4", 8mm and 1/2", mose othe machines on have either metric or imperial. Then the power, I thought that 800w would be enough, but see the need for 1500w when using the 12.7mm router for cutting. Very comfortable to hold and control. Great tool, very happy with my choice.
---
von: David C
2020-01-03T00:00:00
Very good tool, helped me make my own professional looking mouldings
---
von: D F
2019-12-08T00:00:00
---
von: Steven E
2019-11-18T00:00:00
Great and robust tool with plenty of power for the job
---
von: Mike
2019-10-04T00:00:00
Machine is very heavy for its wattage and I found the handles were not always easy to keep a grip of, prefer round ones on my old model. Machine very noisy and disappointed that you have to keep the trigger depressed to activate the machine and cant just leave it switched on like the old model. No information in the hand book as to the corresponding speeds to the variable dial had to contact cust services, who were still not exactly sure.
---
von: melle
2019-09-25T00:00:00
excellent plunge Router !
---
von: John H
2019-07-06T00:00:00
Can't believe how good this is compared to my old Makita! Lots of clever features and well built.
---
von: Stephen M
2019-07-01T00:00:00
A bargain at the price with a 3 year guarantee plenty of power and easy to set up
---
von: Nick B
2019-06-04T00:00:00
I haven''t used it in anger yet but have tried it out with several different router bits and I must say I am quite impressed. Got a nice feel to it and is excellent value for the money
---
von: Andy
2019-05-02T00:00:00
I have use the router a few times now. I like the soft start. Also it has different size couplets so I can use my cutters from an old router. Not keen on the dust extraction cowl as it is difficult to see the job. Would I buy it again, yes I would
---
von: Michael J
2019-04-17T00:00:00
Excellent product,better than a dearer branded model I last bought
---
von: Alan S
2019-01-13T00:00:00
The router arrived with a part missing plus a plastic lever broken, the supplier immediately sent a replacement router. The router operates fully in all functions.
---
von: David E
2019-01-04T00:00:00
I am a keen DIY hobbyist. Already had a small table mounted touter but wanted a full size one but could not afford to pay the earth for one. PPurchased this one and am not disappointed. Worth every penny and more and at a giveaway price. Well done Silverline.
---
von: Alan B
2018-11-28T00:00:00
You get a lot stuff in the box which can be classed as extras with other brands.. Features not on cheaper models include micro adjustment and a cast:alloy fence. This give a lot of confidence when operating along a piece of timber or board. Spare motor brushes removable plastic base plate.. so you can mount inverted into a table or even just Ply or MDF board. a 30mm bush (£20 optional extra with some Bosch router apparently) Powerful enough to drive 1/2 inch bits.. There are 4 included along with the other common size.1/4 inch. Some have complained it is not for Pro or Trade.. Well it does say DIY series on the front of the router body. Look after your tools and they last.. What can you buy for this money, with this power and features?
---
von: Clive W
2018-11-12T00:00:00
Good deal of use both on and off a router table. There are others out there that are more sophisticated so basically it is good value for the money. All tasks I''ve had have been satisfied with accuracy. Can''t find a fault as a good workman never blames his tools; good aint I!
---
von: William M
2018-07-01T00:00:00
Excellent tool for DIY, it does everything I ask of it. Plenty power for all routing work, and I think the soft start is a good feature.
---
von: Fritz B
2018-05-25T00:00:00
excellent router , powerful, easy to handle. and last not least: pretty cheep
---
von: Brunet
2018-04-29T00:00:00
---
von: Stewart s
2018-04-06T00:00:00
Excellent value for the money.
---
von: Jim J
2018-01-13T00:00:00
As a keen D.I.Y''er I have collected a lot of tools over the years, many of them Silverline. To-date I have never had a problem with any of them. So there was no hesitation in purchasing the 1500W Plunge Router. I have used it on practical jobs and some experimental tests and found it perfect in every way. This is an excellent piece of kit, extremely versatile and well made and have no hesitation in recommending it to both D.I.Y. enthusiasts and professionals alike.
---
von: Leslie N
2017-12-27T00:00:00
I bought the router to use with the 30mm guide bush to mitre some worktops. The bush slipped out of the jig and damaged the jig and worktop. Upon investigation it was found the base plate had warped and the bush was left with 2mm of protrusion,very poorly made. The seller accepted to have it returned but in the end I made my own guide bushes to make it work.
---
von: Brian B
2017-11-01T00:00:00
I was apprehensive about buying this tool as I didn''t believe it could be any good for such a low price. How wrong I was ! This is a great tool with accessories and once set up it performed the job of cutting down a kitchen worktop with no trouble at all. The dust extractor was coupled to my "George" vacuum and saved covering everything in wood dust. I particularly liked the stepped turret to control the depth cuts, a nice touch. My only criticism was the instructions were a bit light when it came to using the attachments. A Youtube video on using this router and attachments would be a great help for "newbie" users.
---
von: Colin A
2017-10-09T00:00:00
Have used it several times so far &amp works very well-powerful enough for 1/2" cutter in worktops- However found I had to really tighten up the clamp screw on the plunge setting adjuster more than seemed sensible to stop hand pressure making it slip-also find it awkward to set the plunge depth as there doesn''t seem to be any markings to work to other than the fine adjustment screw.
---
von: John W
2017-09-23T00:00:00
After many years with my old router it "gave up the ghost". I must have looked at hundreds of routers to replace it before deciding to choose SILVERLINE 1500W 1/2" and I have not been disappointed, it also takes four bit sizes, 1/4", 1/2", 8mm, 12mm. All aspects of the router are excellent from the feel quality, performance, accuracy, extras, a real quality product.
---
von: Christophe E
2017-08-01T00:00:00
Très bonne ergonomie, assez puissante, prix imbattable
---
von: Strassner K
2017-07-26T00:00:00
Habe mir die Oberfräse von Silverline im Netz gekauft. Absolut tolles Gerät, Sanftanlauf, Robuster Anschlagwinkel, 4 verschiedene Spannzangen. Die Maschine wäre auch, aufgrund der Leistungsklasse sehr gut geeignet für Unterbau, leider ist der Schalter aber nicht einrastend. Abhilfe kann aber ein einfacher Kabelbinder schaffen, in Verbindung mit einem Netzverteiler mit Schalter, der dann mit dem Fuß schaltbar wäre. Auch die mitgelieferten Ersatzkohlen sprechen für das Produkt. Würde ich mir sofort wieder kaufen. Übrigens: Garantieerweiterung über das Netz ist super ( auf 3 Jahre)
---
von: DUNCAN J
2017-04-15T00:00:00
This is the first time I have bought and used a router, don''t know why I didn''t buy one years ago, this Silverline Router is absolutely perfect for my needs and is so versatile and the price is brilliant, cannot wait to buy myself a router table and start to make so many different things with this router. I would highly recommend this Silverline 1500W 1/2" Plunge Router to anybody.
---
von: Evan J
2017-03-18T00:00:00
Got to say a very good product. Handles well and got some good weight. Only thing is would be good to have some instructions for fitting the attachment.
---
von: George F
2017-02-22T00:00:00
As far as the router goes it performs well and will do what it''s supposed to do. The guide bush I feel is not really of any importance at all. However I do have a set of guide bushes so may be biased. As far as the tool is concerned I''m very happy with it. However what I''m not happy with is the lack of answers to my queries from Silverline. I have twice emailed them for information and on both occasions never had the courtesy of a reply. If it hadn''t been for a very good offer I would not have purchased my Silverline planer. I sincerely hope that they will improve their respect for customers who have purchased their equipment. I would recommend the router and some of the other products from Silverline, I have several.
---
von: George F
2017-02-15T00:00:00
No real problems with the product. It represents good value. The only problem I had was with the lack of responses to two emails sent asking for a minor help with fitting one part. In fact neither technical support or sales replied to my request. this has left a very bad taste in my mouth. I have since purchased a bench planer but only because it was an excellent offer and made financial sense but I came close to buying another make.
---
von: João M
2017-01-13T00:00:00
Good machine. Reliable and easy to use. Does a good job even in more complicated situations.
---
von: Peter J
2016-10-22T00:00:00
Why would you purchase the same tool at least twice the price or more when here is the tool you need, and from a company that is interested in the goods it makes and sells.
---
von: John B
2016-09-12T00:00:00
Sturdily built router well up to any DIY job. As a result quite a heavy beast so perhaps not the best choice for delicate work.
---
von: M F
2016-09-12T00:00:00
Not the most expensive router out there and slightly heavy, but, did my kitchen worktops and internal doors (oak) without struggling once. A purchase I would make again.
---
von: Mr. N
2016-09-12T00:00:00
Unbeatable at the price. A 1/2" 1500w router with 4 collets and a very sturdy guide -- it''s a no-brainer really. ( this is the second one I''ve bought, as the first one has done so well and still going strong ).
---
von: Richard W
2016-09-12T00:00:00
The router is brilliant. Can''t fault it in any way at all. I''ve used loads of routers before but the silverline router is the best yet, thankyou
---
von: John F
2016-09-12T00:00:00
Needed a new router to use installing a new kitchen for my son, this machine fitted my requirements, worked perfectly and deffinately made the job easier. I now have another top tool for my workshop.
---
von: Nigel
2016-09-12T00:00:00
It has done all I have asked of it. For the handyman I would recommend it. Light work and heavy work has been accomplished with satisfaction. I still have more jobs for it in my house renovation. 😀
---
von: craig t
2016-08-30T00:00:00
no nonsense worked perfectly with the silverline work top jig 10 out of 10
---
von: Richard E
2016-08-15T00:00:00
Overall, it is a well made budget tool, and it has to be recognised that it is a fraction of the cost of both the professional equivalent, as indeed many of it''s direct competitors. The fault I found was that when plunged, the pillars permitted the router to descend unevenly, thus allowing the cutting head to move laterally. The movement was perhaps little more than 1-2mm, but that makes the tool unsuitable for precision work, and more especially for work with precision jigs. I am sure this matter can be addressed at the manufacturing level. That done, it would be an excellent tool, and exceptional value for money
---
Häufig gestellte Fragen und Antworten
Can this router be mounted to a router table?
Yes, provided you have compatible table
What size is the base?
The base plate for this router is 170mm
Is this supplied with a guide bush?
Yes, a 30mm bush is included
Can this be used with a work top jig?
Yes, here is a link, http://www.silverlinetools.com/en-GB/Products/Power%20Tool%20Accessories/Router%20Templates/633488
---
Drei Jahre Garantie
Dieser Silverline-Artikel Oberfräse, 1500 W, 1/2 Zoll verfügt über eine 30-tägige Garantie ab Kaufdatum, die ihn gegen Mängel infolge von Material- oder Verarbeitungsfehlern absichert. Um Ihre Drei Jahre Garantie wirksam werden zu lassen, registrieren Sie Ihren Artikel bitte auf der Silverline-Webseite. Mangelhafte Artikel werden kostenlos ersetzt oder repariert.